Nezir Hadzimejlic was a Bosnian calligrapher who lived in the 19th century and only two levhas (calligraphic panels) by this great master have been preserved.
This article is a part of the project 'Promotion of the Ottoman Cultural Heritage of Bosnia and Turkey' which is organized by Monolit, Association for Promoting Islamic Arts and supported by the Republic of Turkey (YTB - T.C. BAŞBAKANLIK Yurtdışı Türkler ve Akraba Topluluklar Başkanlığı / Prime Ministry, Presidency for Turks Abroad and Related Communities).
Nezir Hadzimejlic was born in 1876 in Vukeljići near Fojnica, and he died in 1919. He was educated in his homeland, where he finished the madrasa in Fojnica. He was a hafiz and a sheikh. It is not known who was his calligraphy teacher. To date, two levhas (calligraphic panels) have been preserved, which are in possession of his descendants. They testify to progress in his calligraphic path.
The first levha dates from 1893 (h.1312). It is written in thuluth style, the composition is made as musena and represents a canonized way of writing the name of Messenger Muhammad. The calligraphy was done with a traditional technique, a black ink (is murekeb) on a brown paper that darkened over time. The letters appear to be massive, and somewhat larger diacritical signs also contribute to this impression. The mirrored composition interweaves in the middle where the letters dal overlap, creating a strong vertical shape, while the sides of the letters mim and ha form a zigzag shape to the lower part. The knots of the letters mim and semicircular letter dal hold firmly the entire calligraphy. The composition has a circular border - a crocheted branch of leaves. Inside the circle there are drawn symbols of the five-pointed star, left, right and above the writing. These stars are stained with a red colour, in addition to grey and white tones with a gently warmer chromatic value (cream). On the left side there is a drawn vase with flowers, and on the right a jar (ibrik). Bellow these miniature drawings on the left there is a simply executed signature and parallel to the right is the year of writing.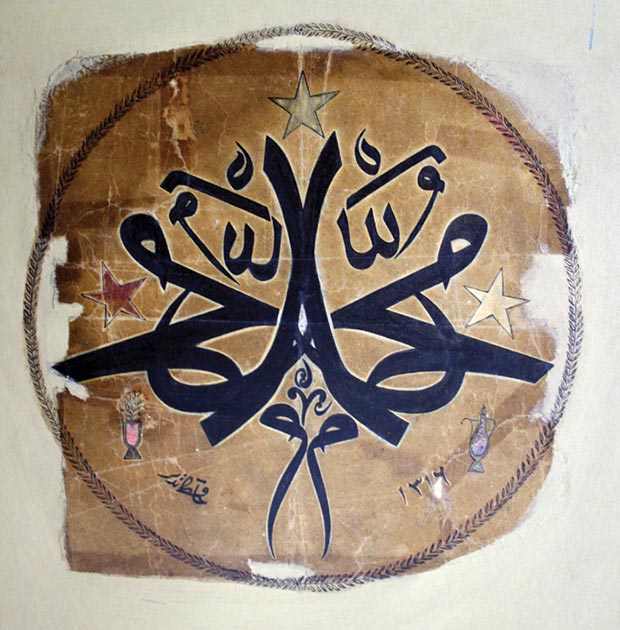 The first levha by Nezir Hadzimejlic / Courtesy of Dr Meliha Teparic
The second levha was created ten years later, more precisely in 1901-02 (h.1320). It was made with a traditional technique, a black ink (is murekeb) on a brown paper that darkened over time. This levha shows a mature approach, which is noticed in composing of letters and the proportions, as well as the traces of the pen. The letters, written in jeli-thuluth style are now much more sophisticated, more elegant and have no more that severe massiveness. The composition is quite unusual and shows originality. The writing is the 84th Qur'anic paragraph of Surah Al-Maida 5:84 (Wa mā lanā lā nu'min bi Allāh wa mā'ā'anā min al-Ḥaqq wa naṭma' 'an yudḫilanā rabbunā ma'a al-qawm al- Ṣāliḥīn - Why should we not believe in Allah and the Truth that comes to us, when we are eagerly waiting for our Lord to join us with the good people), and the central word wa naṭma' is written in jeli-thuluth style, the letters are bound in an elaborate knot, and the inner white space, smaller and larger, is completely balanced. Within the three larger empty fields, the first part and the continuation of this Qur'anic verse, is written in tiny naskh style. The composition is probably done by the artist himself as the similar composition in the Ottoman calligraphy it is not known. On the left side there is almost identical motif like on the previous levha, a flower vase, and on a right side the motif of a jar. The author's signature is below the composition, this time more skillfully executed in a form of istif. The year is written on the right side of the composition, below the jar. Above the inscription itself there is also a smaller writing.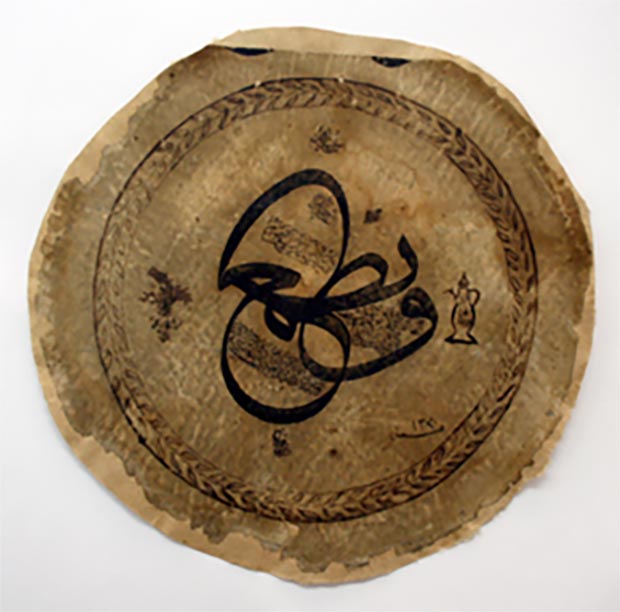 The second levha by Nezir Hadzimejlic / Courtesy of Dr Meliha Teparic
Thus, the two levhas by Nezir Hadzimejlic created within less than ten years show the artist's path of progression, from a large and massive writing, a canonized calligraphic composition, which could mark his initial artistic stage, to an elegant proportional writing, created in an original composition, very elaborate and skilfully designed. This second work could represent his mature period. Through this levha, it can be concluded that calligrapher Nezir Hadzimejlic had a sense of proportions, ratios, symmetry, in essence he created a harmony that reflects in his works. So, Nezir in his mature stage was not making canonized levhas any more, but rather searched for new textual contents and based on their meaning he formed his original compositions. Although it is unknown whether and where he perfected his calligraphic skills, according to these two levhas he can certainly be classified among educated calligraphers - hattat.