Thirty-nine contemporary artists – most of them Palestinian, Native American, and Irish – explore the profound specific and unusual intersections between the three cultures with original paintings, photographs, prints, drawings, artist books, and films. They consider such topics as conflict, resistance, land, food, diaspora, identity, and persistence.
'The Map is Not the Territory' – co-curated by Jennifer Heath and Dagmar Painter, looks at relationships and commonalities in Palestinian, Native American, and Irish experiences of invasion, occupation, and colonization – not as novelty or polemic, but as history and current events. To understand history is the first step toward peace.
Participants include emerging, as well as internationally renowned artists, such as Jaune Quick-to-See Smith – member of the Confederated Salish and Kootenai Nation of Montana, whose work is featured in prestigious museum collections worldwide – Rita Duffy – one of Ireland's leading artists, whose work has appeared in, among others, London's Tate Modern – and Hani Zurob – Paris-based Palestinian painter from Gaza Palestinian painter from Gaza.
A full list of the artists includes:
6+: A Women's Art Collective, Nadema Agard, Norman Aker, Fatin Al-Tamimi & Lisamarie Johnson, Neal Ambrose-Smith, Rawan Arar, Scott Benesiinabandan, Claudia Borgna, Rajie Cook, Wahsontiio Cross, Manal Deeb, Rita Duffy, Matthew Egan, Mona El-Bayoumi, Michael Elizondo, JR., Najat El-Taji El-Khairy, Elena Farsakh, Najib Joe Hakim, John Halaka, Michelle Horringan, Andrew Ellis Johnson, Michael Keating, Tom Quinn Kumpf, Jane McMahan, Alan Montgomery, Malaquias Montoya, Mick O'Kelly, Vivien Sansour, Donna Schindler, Susanne Slavick, Jaune Quick-To-See Smith, Mary Tuma, Kerry Vander Meer, Sherry Wiggins, Melanie Yazzie, Helen Zughaib and Hani Zurub.
Highlights from the Exhibition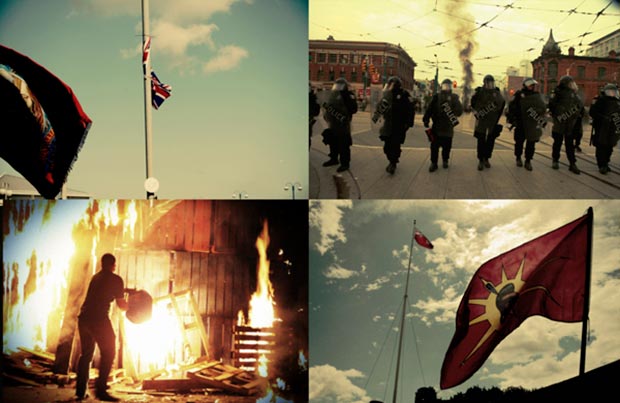 Scott Benesiinaabandan, Flags of Our Fathers / Courtesy of the Artist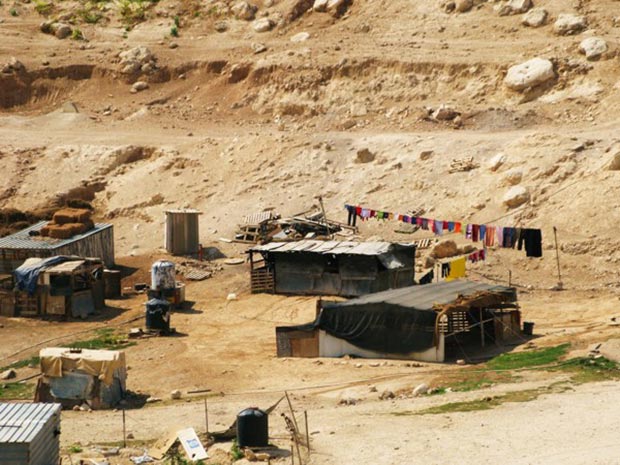 Elena Farsakh, Displaced / Courtesy of the Artist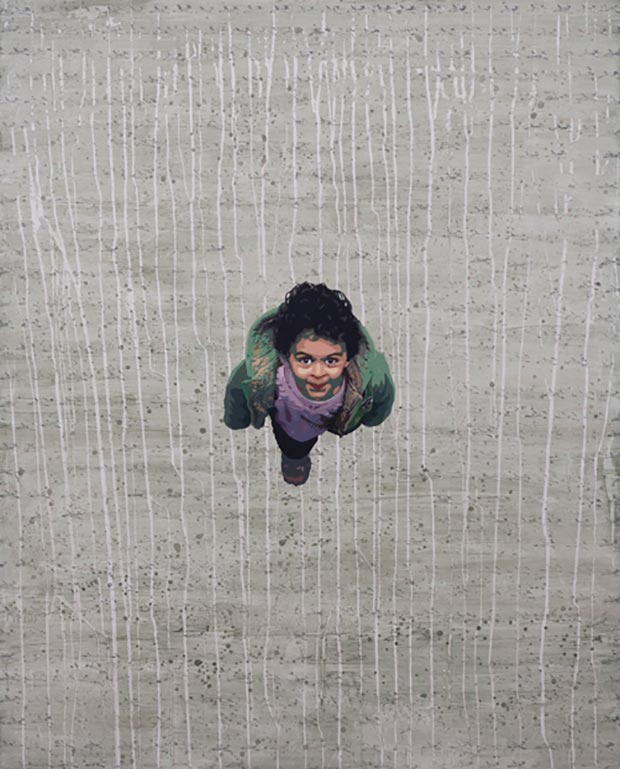 Hani Zurob, Flying Lesson_07 / Courtesy of the Artist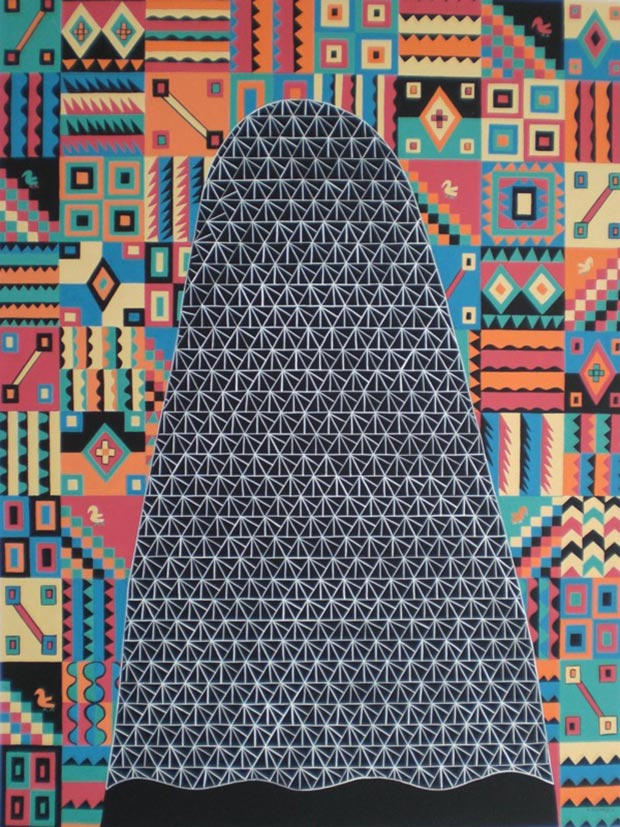 Helen Zughaib, Woven in Exile / Courtesy of the Artist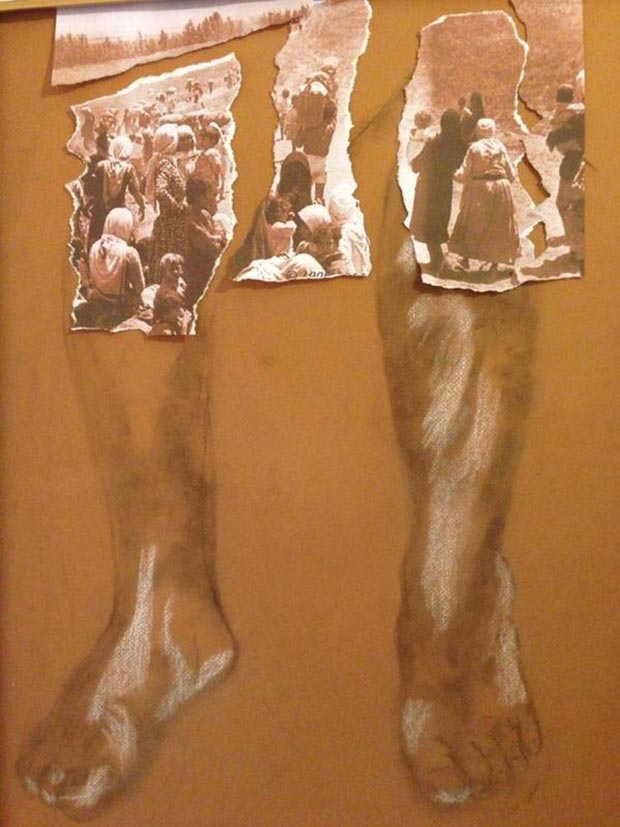 Manal Deeb, Diaspora / Courtesy of the Artist
Mary Tuma, Lingering Presence / Courtesy of the Artist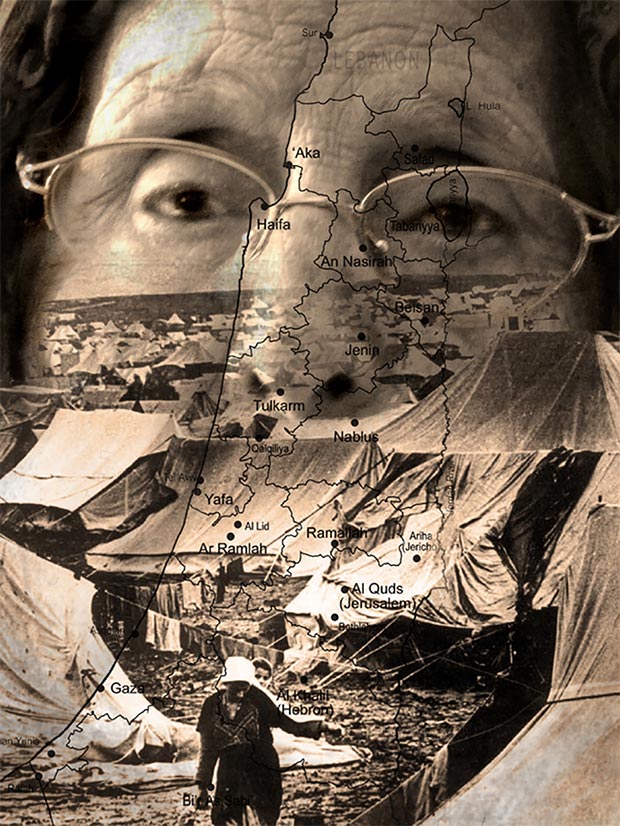 John Halaka, Forgotten Survivors, from the series: Portraits of Denial and Desire / Courtesy of the Artist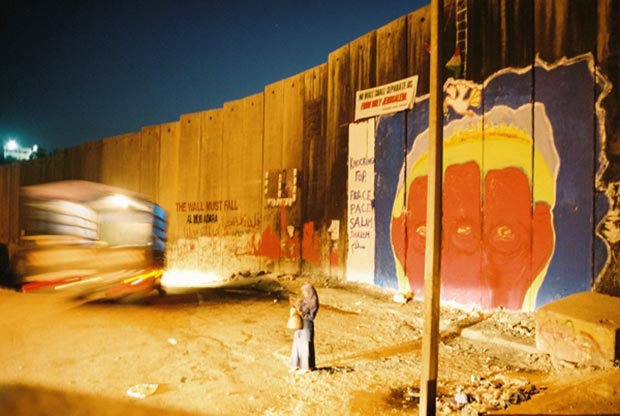 Michael Keating, Abu Dis - The Wall at Dusk / Courtesy of the Artist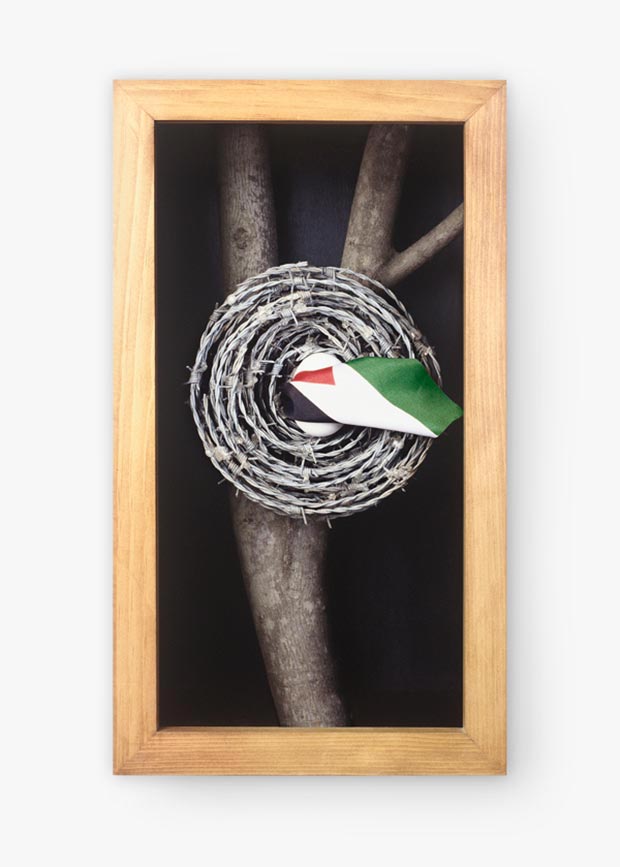 Rajie Cook, Birth of a Nation / Courtesy of the Artist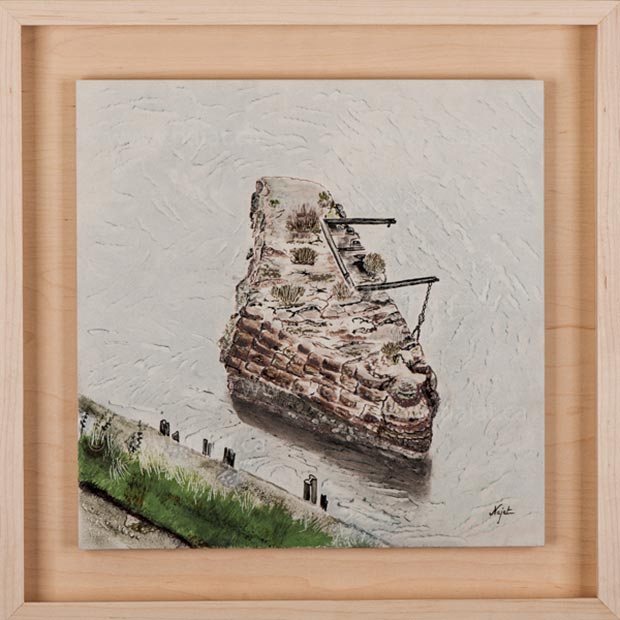 Najat El-Taji El-Khairy, The Rock of Palestine in Basel / Courtesy of the Artist
Jennifer Heath
Jennifer Heath founded Baksun Books & Arts in 1992 as a small press and independent curatorial project, dedicated to de-commodifying the word and to creating visual arts exhibitions that address issues of social and environmental justice. Baksun's travelling exhibitions include, among others, Black Velvet: The Art We Love to Hate; The Veil: Visible & Invisible Spaces, and Water, Water Everywhere: Paean to a Vanishing Resource.
Heath is the author/editor of eleven books, including SuperColón: Admiral of the Ocean Sea; On the Edge of Dream: The Women of Celtic Myth and Legend (Penguin, 1998), The Scimitar and the Veil: Extraordinary Women of Islam (Paulist Press, 2004), The Veil: Women Writers on its History, Lore, and Politics (University of California Press, 2008), Land of the Unconquerable: The Contemporary Lives of Afghan Women (with Ashraf Zahedi, University of California Press, 2011), Children of Afghanistan: The Path to Peace (with Ashraf Zahedi, University of Texas Press, forthcoming), and El Repelente (Or the Anti-Nuke Antics of Anabela).
She is currently at work on two environmental and human rights photo exhibitions and a new book about some of the consequences of occupation. She recently completed The Jewel and the Ember: Love Stories of the Ancient Middle East.
Dagmar Painter
Dagmar Painter is the founder and curator of the Jerusalem Fund Gallery Al Quds, the cultural program of The Jerusalem Fund for Education and Community Development, which is Washington D.C.'s only full-time art gallery featuring the work of contemporary artists whose art centers on issues of the Arab and Islamic worlds, with a special emphasis on Palestinian art. She has lived and worked in the Arab world for more than 12 years and has travelled extensively in the Islamic world for more than 30. In Washington, she previously established and ran the art gallery of the Embassy of Tunisia. She also directed Gallery Patina, a non-profit gallery of the National Council on Aging, which was featured on NBC's Today Show. In 2012, she was chosen as an Advisory Review Panellist for the D.C. Commission on the Arts and Humanities Grants Panel. In Cairo, Egypt, she curated exhibitions of Egyptian and American artists; in Tunisia she developed a cooperative designing and marketing crafts for local artisans.
She has written and lectured extensively in the United States and abroad on cross-cultural and arts issues, at such venues as the Textile Museum in Washington D.C., and Meridian House International. She also taught seminars on Middle Eastern textiles at the University of Tunis and the Centre D'Etudes Maghrebines, as well as classes at the National Museums of Lagos, Nigeria and Bangkok, Thailand. Selected publications include Arts in the Islamic World, Ornament, Cairo Today, Focus on Pakistan, The Herald, India Today, Arts in Embassies, A Practical Guide to Cairo and Savior: Tunis.