One of the most advanced forms of Ottoman art is a painting on ceramic tiles. This form of decoration is a trademark of indoor decorating of Ottoman mosques and other buildings. Usually it was a large wall composition.
The walls of Topkapi Palace, or rather the individual pavilions, were decorated with painted tiles, inside and outside. On the other hand, the exterior of the mosques have never been painted, only the interiour.
The art of ceramic tiles was present in almost all periods of history of Islam. Seljucs in Anatolia and the Umayyads in Spain used painted plates as geometric compositions in the form of a mosaic. The plates were of different shapes, the Safavid, and Ottoman tiles Timurides were quite large, square shape and were treated as "background art" for different floral motifs. The ceramic art by Ottomans reached its peak in the 16th century. Later, it was largely neglected, particularly in the 18th and 19th century, when it was influenced by European styles.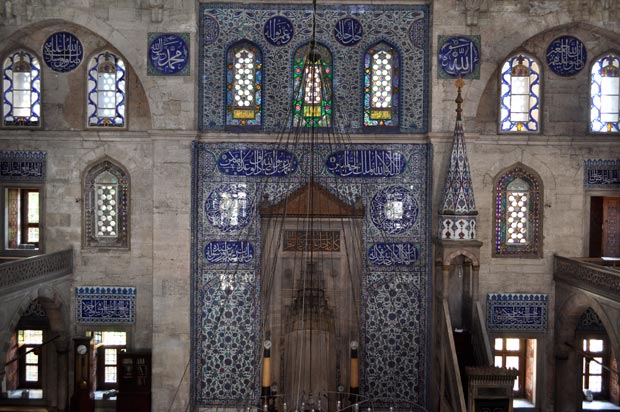 The Islamic tiles from Iznik at the Mehmed Pasha Sokolovic Mosque in Istanbul / Photo by Islamic Arts Magazine
The center for ceramic art wasn't in Istanbul, but in Iznik (ancient Nicaea). Development of the Iznik tiles can be divided into three periods: the old (1490 - 1525), the middle (1525 - 1535) and the late period (1550 until the early 18th century).
The motifs were floral, mostly flowers. In the 16th century the hatayi style was highly developed. Hataji style implies a composition dominated by the different types of flowers. These motifs are largely abstracted (stylized), and partly presented realistically, which is one of the characteristics of the Ottoman art.
A great example of Iznik tiles is the mihrab wall in the Mehmed Pasha Sokolovic Mosque in Istanbul. The mosque was built by famous architect Mimar Sinan in 1571. In addition to the mihrab, the complete wall from floor to dome, along with two pandatifs is covered with tiles; large floral patterns painted in red, blue and green on a white background, and white calligraphic prints are made on dark blue background. The colour contrast of the whole composition enhances the dynamics of the flower patterns.
All the beauty of ceramic art is pushed to the maximum, so the walls in the Mehmed-Pasha Sokolovic Mosque remain as an example of superior quality of Ottoman art.