The Mayor of London, Boris Johnson, last night hosted a reception at The Victoria and Albert Museum in London to celebrate Shubbak, London's first festival of contemporary arts, organised by the office of the Mayor of London and sponsored by HSBC.
The guest of honour was Zaha Hadid, the celebrated London based Iraqi architect.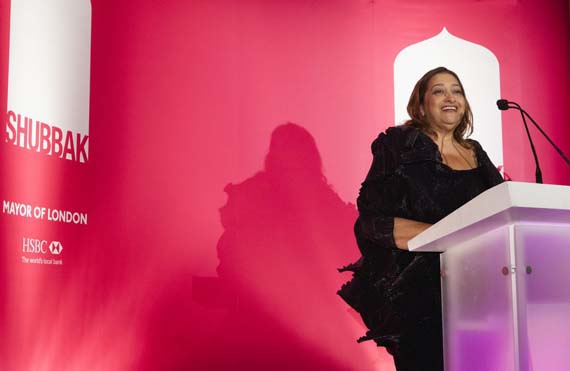 Zaha Hadid / Photo by Maike Zimmermann
Among those speaking at the reception were Beth McKillop, Acting Director of the V&A; Sandy Flockhart, Chairman, HSBC, UK; HE Mr. Khaled Al-Duwaisan, Kuwait's ambassador to the UK, Zaha Hadid and The Mayor of London.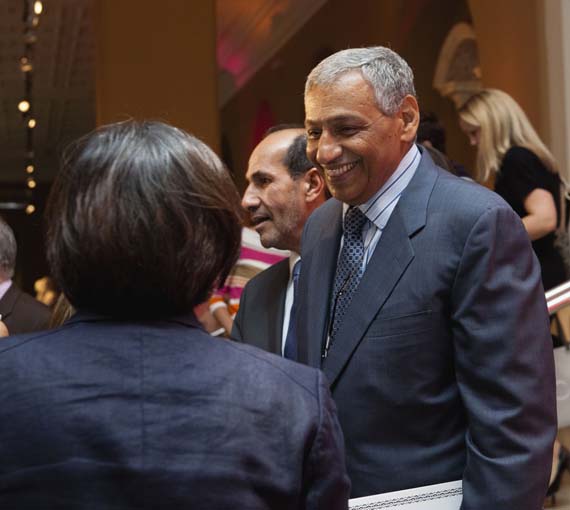 H.E. Mr. Khaled Al-Duwaisan, Kuwait's ambassador to the UK / Photo by Maike Zimmermann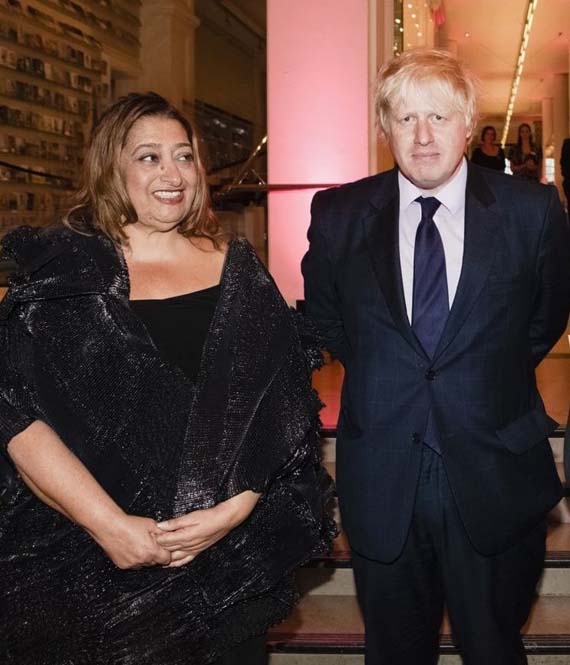 Zaha Hadid and The Mayor of London, Boris Johnson / Photo by Maike Zimmermann
Among the guests attending were leaders from the cultural and diplomatic community from London and across the Arab world including:
H.E. Mr. Amar Abba, Algerian Ambassador to the UK; Noreen Abu Oun, Executive Director of the Arab-British Centre; Jananne Al-Ani, Iraqi Artist; Wassan Al-Khudhairi, Director, Mathaf: Arab Museum of Modern Art, Doha; Sheikh Abdullah Al Rashid; HRH Princess Alia Idris Al-Senussi; H.E. Shaikh Abdulaziz bin Abdullah bin Zahir Al-Hinai, Oman's ambassador to the UK; Stephen Deuchar, Director of The Art Fund; H.E. Mr. Hatem Seif El Nasr, Egyptian Ambassador to the UK; Delfina Entrecanales, Founder of the Delfina Foundation; Professor Manuel Hassassian, Ambassador/Palestinian General Delegate to the UK; H.E. Mr. Mazen Homoud, Jordanian Ambassador to the UK; Munira Mirza, Mayoral Advisor on Arts and Culture; Gregor Muir, Executive Director, the Institute of Contemporary Arts, London; curator and writer Jack Persekian; Dr Venetia Porter, Curator, Department of the Middle East at the British Museum; Maya Rasamny, Patron and Collector of Middle Eastern Art; Vicky Richardson, Director, Architecture, Design, Fashion, British Council; Leading Egyptian Artist, Wael Shawky; H.E Mr. Mohamed Taha Mustafa Ambassador of Yemen to the UK; Salma Tuqan, Contemporary Middle Eastern Curator at the V&A; Ed Vaizey MP Minister for Culture, Communications and Creative Industries; Tate Modern's chief curator Sheena Wagstaff, and British sculptor, Richard Wentworth.
Shubbak: A Window on Contemporary Arab Culture
The Festival is showcasing one hundred artists in over seventy events in more than thirty key cultural venues throughout the city until 24 July 2011.
Presenting organisations include:
Arab British Centre, Arab New Trends, Arts Canteen, Barbican Centre, The British Museum, Brunel Institute of Contemporary Middle-Eastern Music, Cadogan Hall, Café Oto, Dash Arts, Delfina Foundation, English Chamber Orchestra, Foyles Bookshop, Freeword, Gate Cinema, ICA, The Idler, iniva, Land in Focus, Leighton House Museum, LIFT, London Review of Books, London Walks, MICA Gallery, The Mosaic Rooms, Museum of London, Musicstage Promotions, Nous, Poet in the City, The Prince's School of Traditional Arts, Resonance FM, Rich Mix, Royal Institute of British Architects, Sadler's Wells, Saqi Books, Scoop at MORE London, Selma Feriani Gallery, Serpentine Gallery, Six Pillars, SOAS, Sotheby's, Southbank Centre, Tate Modern, V&A, Young Vic, Westfield Shopping Centre, Zenith Foundation.
Countries around the world are represented
including Algeria, Bahrain, Canada, Egypt, India, Kuwait, Lebanon, Libya, Oman, Palestine, Qatar, Saudi Arabia, Spain, Sudan, Sweden, Tunisia, Turkey, USA and the United Arab Emirates.