Sabrina Amrani will present a solo show by Timothy Hyunsoo Lee at Art Stage Singapore 2015.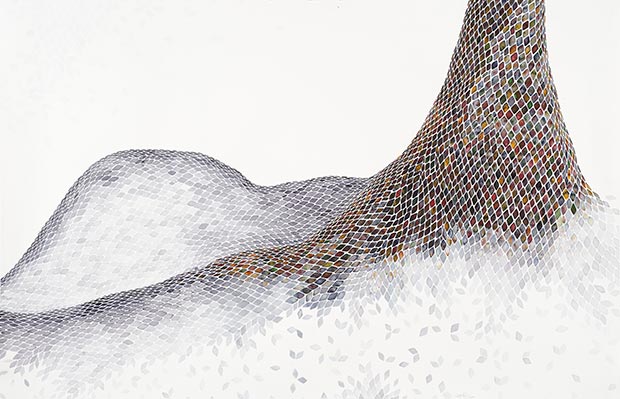 Timothy Hyunsoo Lee / 296.35, 2013. Watercolour on Arches Aquarelle paper. 174x113 cm / Courtesy of Sabrina Amrani
Sabrina Amrani will participate at Art Stage Singapore for the first time, with a solo presentation by South Korean-North American emerging artist Timothy Hyunsoo Lee. The artist draws on his own traumatic experience of anxiety and panic disorders as a child, which then translated into his work as a site of reconstruction: the missed encounter with the real at the heart of trauma can only be explored through repetition and surveying. Expanding his psyche as an abstract territory, Lee maps out cartographies and topologies onto large-scale watercolors which operate as both surface and object. The traditional inertia of classical painting is abandoned for the sake of a sensorial experience engaging all manners of motion and bending, and splitting the gravity of space into an open field of impressions and traces. Beyond the rigid impositions of conceptual art, Lee turns away from reductionism, liberating expression from description.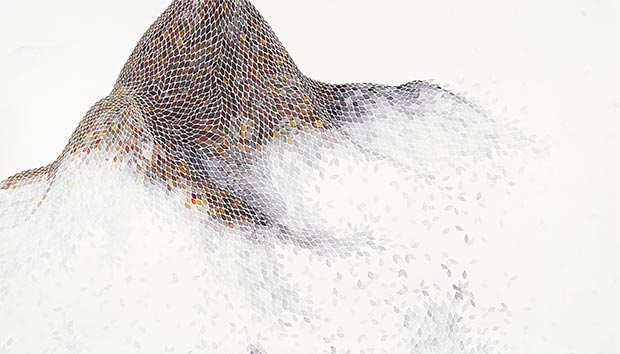 Timothy Hyunsoo Lee / 301.4 (II), 2013. Watercolor on Arches Aquarelle paper, 197x113 cm / Courtesy of Sabrina Amrani
His expressiveness however is not unbound but meticulous. The painted diamond-like cells, basic unit of his grammar, is a reference to the visual culture of cytohistology - the study of cells and tissues, which maps out mental illness not as a psycho-social condition but as a psycho-biological singularity. The works in the exhibition, loyal to the topological nature of Lee's practice are not a seamless units but a surface in constant growth.
In the large watercolors 296.35, 303.8, 301.4 (I) and 301.4 (II), from the 2013 series 'Traces', a polymorphous surface begins to appear, attesting to Lee's engagement with the spirituality of Kandinsky, and the outreach for the 'other self', finding solace in the purity of color and line, and dwelling on his own double-entendre; at a precarious threshold between moderation and madness. In the most recent works from the 2014 series 'Impressions', Composition I, Composition I and Composition IV, the artist has internalized his 'other self', in order to create ever more complex structures, simultaneously abstract and intimate - an architecture of the mind.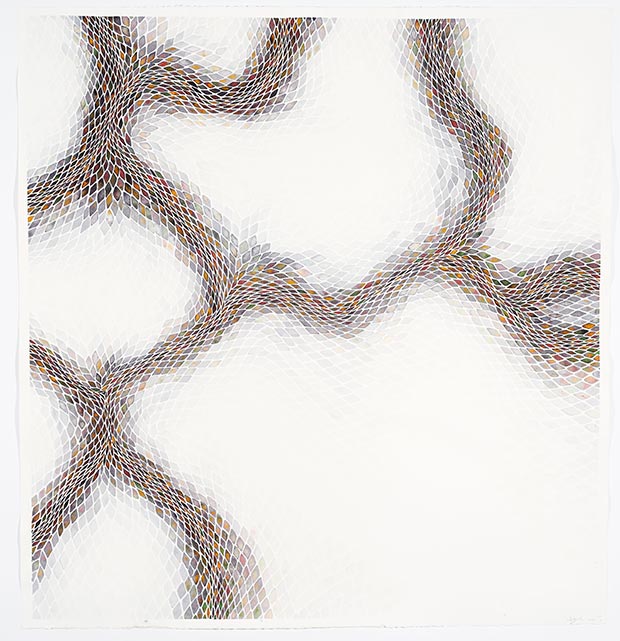 Timothy Hyunsoo Lee / Composition I, 2014. Watercolor on Arches Aquarelle paper. 113 x 113 cm / Courtesy of Sabrina Amrani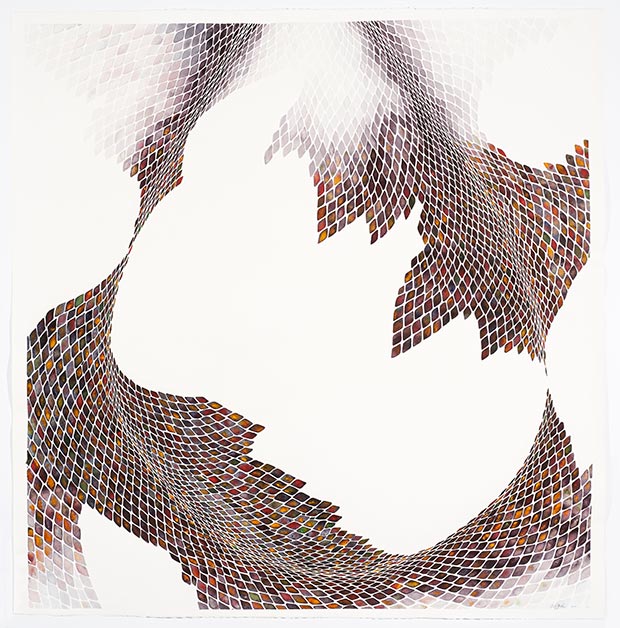 Timothy Hyunsoo Lee / Composition I, 2014. Watercolor on Arches Aquarelle paper. 113 x 113 cm / Courtesy of Sabrina Amrani
Timothy Hyunsoo Lee (born 1990, South Korea), is an emerging Korean-American artist working in Brooklyn, New York, USA. Hyunsoo Lee's works are inspired by themes of social stigma, identity, psychological disorders, and more recently, of spirituality and religion. He explores these themes through a novel vector – paintings and sculptures consisting largely of cell-like marks that vary in size, color, and saturation. He is the recipient of the 3rd International Emerging Artist Award in 2014, which earned him a 2-year representation by Sabrina Amrani. The artist has been awarded by the Alliance of Young Artists & Writers, the National Young Arts Foundation and the VSA Emerging Young Artists Program, and was longlisted for the Aesthetica Art Prize.