The exhibition of selected paitings by Vaseem Mohammed opens today at 'The Old Soup Kitchen' in Spitalfields, UK. The exhibition will run until December 2, 2016.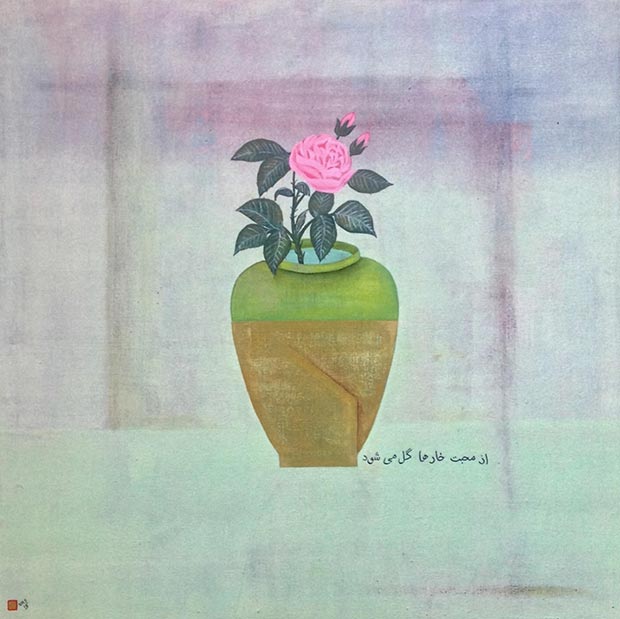 Vaseem Mohammed, STILL LIFE, SCRIPT, 'Through Love thorns become roses.' (Rumi), 75 X 75cm, Oil on canvas, 2015 / Courtesy of Vaseem Mohammed
The flower art which Vaseem has been doing is a change from his usual work. His palette and style resembles more of a Persian or Islamic miniature art but strips it down in isolating the subject matter(s) which he uses as a metaphor for an event or an emotion which he has experienced or been effected by. He draws on the idea of although things can look beautiful and hopeful, there is always an underlying message of a journey of struggle to achieve ones goal. His Flower art tries to evoke 'Hope out of adversity', in an emotional or a physical struggle but at the end we turn to something more higher in a spiritual sense to find a balance in our lives.
'The Light & The Wound' is a homage to Rumi's "The wound is a place where the light enters you." For Vaseem the power of light (moon) is reflected in the flower as it levitated towards the light…the light of a higher being for him namely God. The Vase is 'us'sometimes filled and other times empty which in a spiritual sense can be equated to the state of human condition today.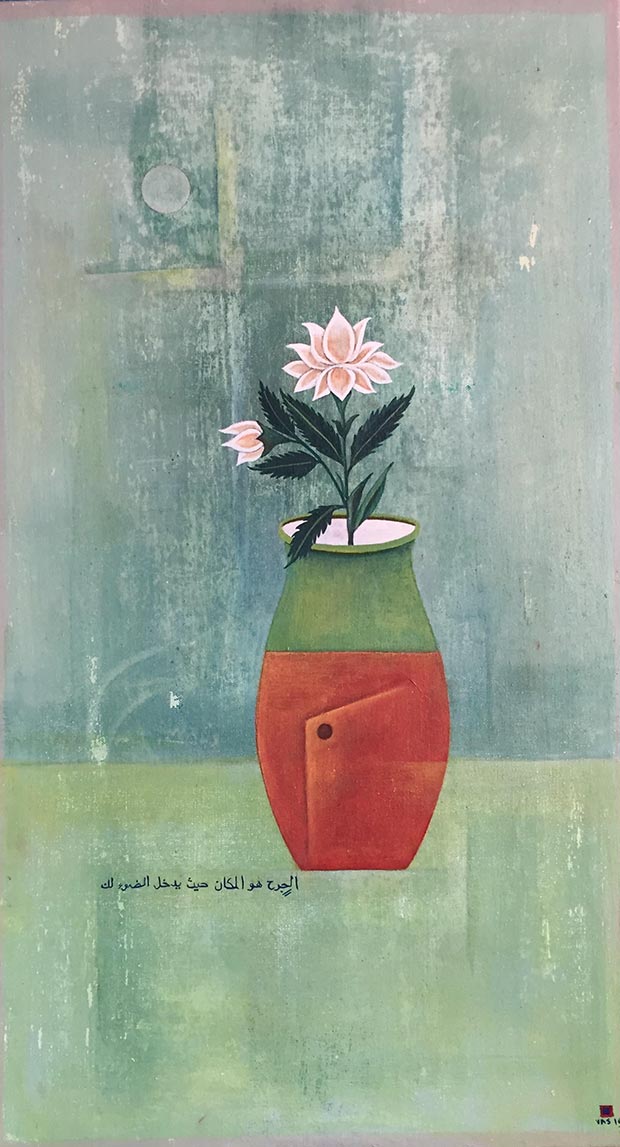 Vaseem Mohammed, THE LIGHT &THE WOUND SCRIPT, 'The wound is the place where the light enters you.' (Rumi), 39 x 70cm, Oil on canvas, 2016 / Courtesy of Vaseem Mohammed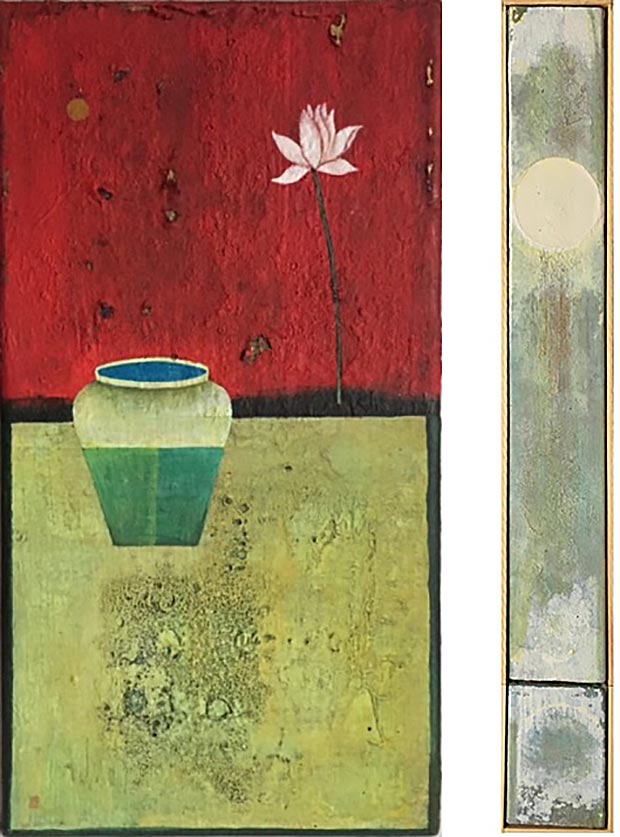 Vaseem Mohammed / L. FREEDOM (FLOWER, LIFE STILL), 20 x 38cm, Oil on canvas, 2016 / R. A NARROW VIEW (REFLECTION), 9.5 x 77cm (Depth 2cm), Frame depth; 4.5cm, Oil, acrylic, gouache, oil & gold on canvas, 2016 / Courtesy of Vaseem Mohammed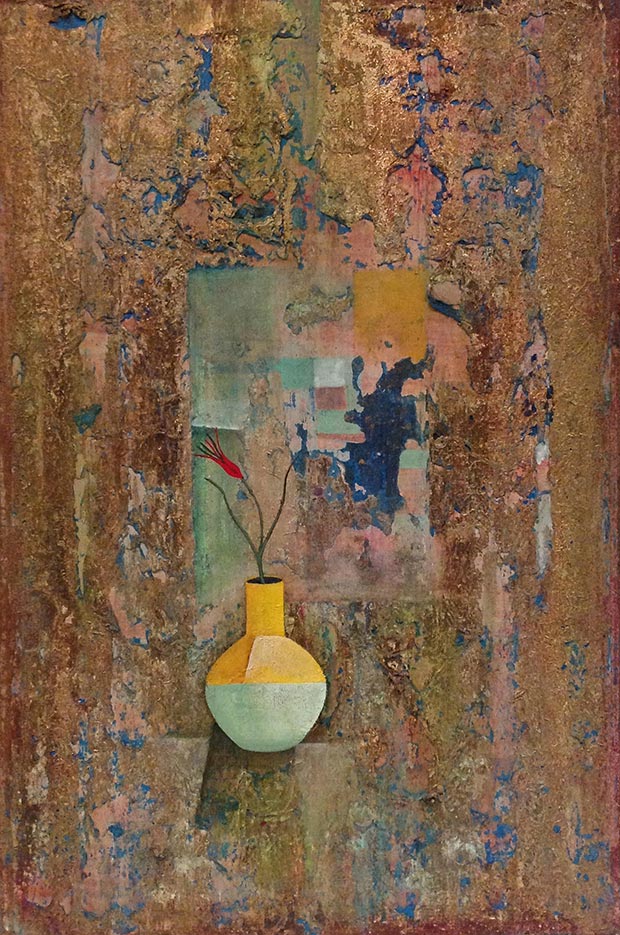 Vaseem Mohammed, THE VISTA (TULIP, STILL LIFE), 40 X 60cm, Oil on canvas , 2015 / Courtesy of Vaseem Mohammed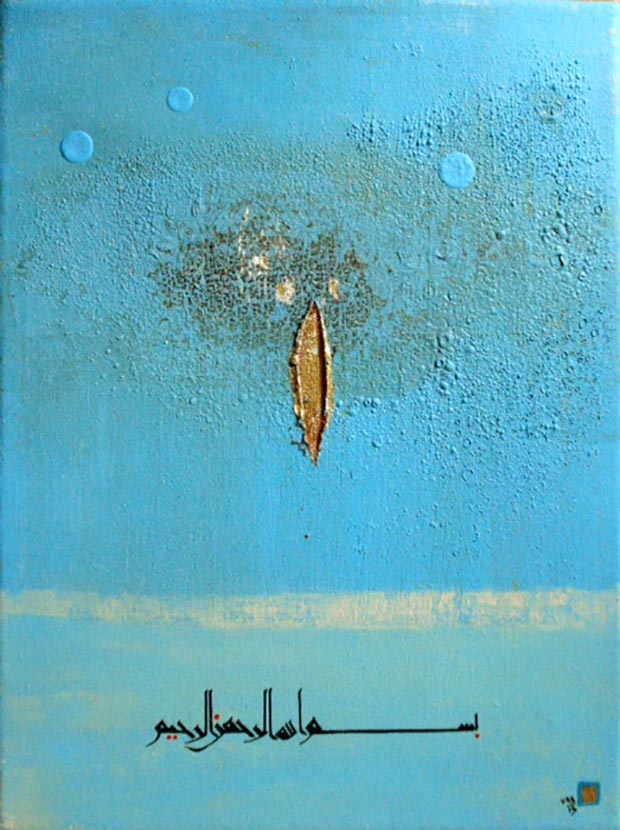 Vaseem Mohammed, The Sea (Horizon) / Courtesy of Vaseem Mohammed
Vaseem explains the venue, "This exhibition makes me look back at my London heritage & my memories of growing up in a derelict post war East London. I remember the diaspora of communities who were all struggling to come to terms in adjusting in a new found city, trying to make a living to survive. Consequences of persecution, war and economic reasons has always been a migratory factor for people to migrate, to find safety and protection, many settling in London's East End which included my parents who settled nearby in Wapping in the early 1960s. The building once used for the Jewish Poor was originally set up to help provide food and help to the Jews fleeing from pogroms, who were arriving in London with no money and no immediate prospect of employment."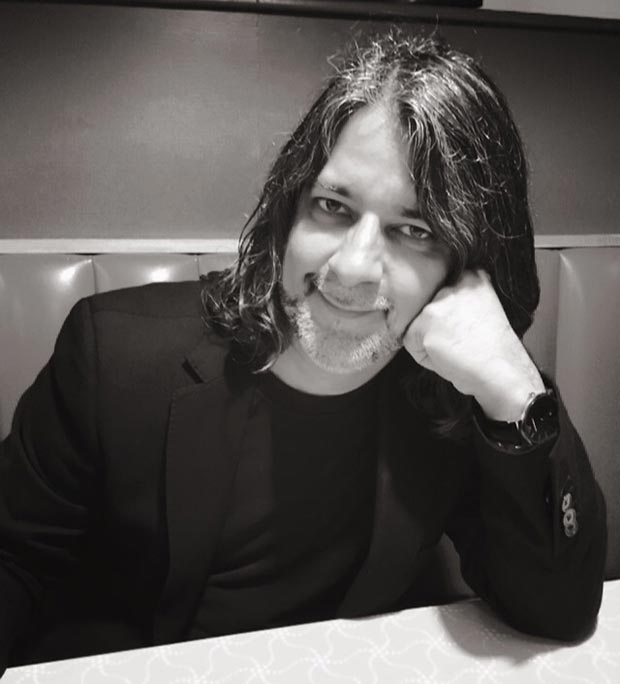 Vaseem Mohammed / Courtesy of Vaseem Mohammed
Growing up in the East End of London Vaseem has always been interested in shapes, textures and atmospheres of his urban childhood. This fascination developed into a vocational interest in art during his mid twenties when he enrolled at a local College to do access courses in Art & Design, Graphics and Creative Computing & Illustration. Although mainly self taught he then freelanced in graphic design and furniture renovation with Islamic inspired decoration, through which he found his niche in fine art which he has concentrated on for the past 20 years. Vaseem launched his work at Spitalfields art collective in the east end of London, and remained there for 4 years before moving on to open his own gallery nearby, in the creative hub of Cheshire Street E1 off brick Lane. He has regularly exhibited his work, and continues to do so.
Collectors of Vaseem's original paintings include Ted Baker founder Ray Kelvin, Chris Evans, actress Laila Rouass, Nahid Majid OBE, Ishaque Dar (Finance Mister of Pakistan), Mohammed Sayed Khatami (Former President of Iran) amongst many others. Vaseem is now based in Bow, London, where he works from his studio. Some of his work is being sold/auctioned through Sotheby's. Distinguished projects include: painting an 8 piece collection for Mohammed Bin Issa Al Jaber's MBI international private jet; producing Qur'anic manuscripts & Qur'an bindings used as props for a film, Red-light Runners (Directed by Michael Madsen).
His current projects include a commission from The High Commissioner of Pakistan in London. Diversification, fatherhood and changes in personal space, and the dynamics of political Islam have all affected his work, yet the previously mentioned elements and themes are all still ever present in different personas. More recently, the paintings have become more of a platform for a political expression (although sometimes not obvious), drawing from imagery of bombings, war and war torn cities which have all left their consequences, displacing and severing humanity.
The opening of the exhibition starts at 16:00 h. The exhibition will run until December 2, 2016 at 'The Old Soup Kitchen' in Spitalfields, UK.