Sadberk Hanım Museum's outstanding embroidery collection is on display. The exhibition 'Skill of the Hand Delight of the Eye' is on view until 26 May 2013.
Vehbi Koç Foundation's Sadberk Hanım Museum opened in 1980 as Turkey's first private museum. Since then the museum has continued to gather the most exquisite examples of Ottoman period embroideries, creating a collection of exceptional diversity and breadth.
Curated by Hülya Bilgi and İdil Zanbak, the 'Skill of the Hand Delight of the Eye' exhibition, accompanied by a lavishly illustrated exhibition catalogue, includes 167 textiles of different types worked in a wide range of needlework techniques that illustrate the richness and diversity of the embroideries that were such an essential part of Ottoman life.
Through these selected pieces, visitors to the exhibition will gain insight into the story of Ottoman embroideries over a period of over 300 years, between the 17th and early 20th centuries. Embroidery is one of the oldest of the decorative arts, and changes in style over the centuries parallel those of other Ottoman arts like fabrics, tiles and metalworks. Whether at magnificent palace ceremonies or in the activities of ordinary daily life, embroideries served a myriad of functions for Ottoman people.
Ranging from items of clothing to military equipment, embroidery was widely used to decorate artefacts of many different kinds, enabling embroidery to develop as a separate trade and the production of exquisite masterpieces that can be regarded as works of art. Craftsmen and craftswomen poured their skill and creativity into finely worked artefacts embroidered with beautiful designs reminiscent of imaginary flower gardens. Using silk thread and gold and silver wire, embroideries in a thousand and one colours and compositions can be seen at Sadberk Hanım Museum until 26 May 2013.
The highlights from the exhibition: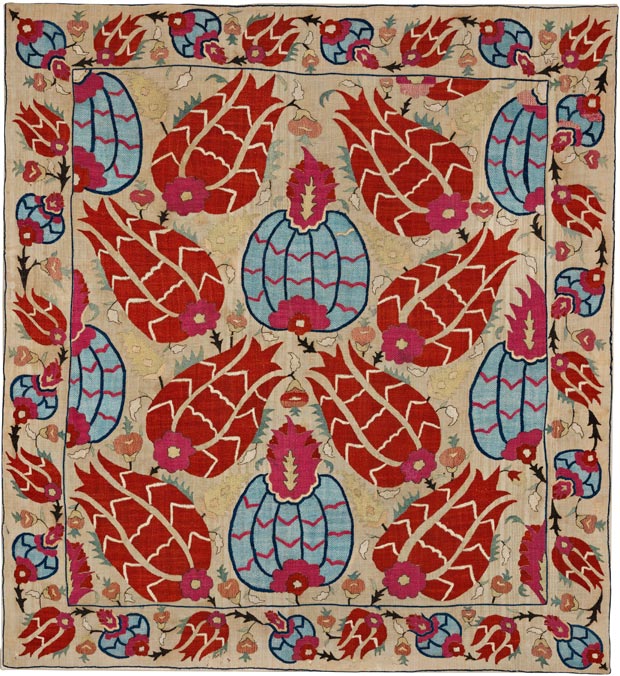 Wrapping cloth, Ottoman, late 17th century, 122 x 112 cm, SHM 9582 - İ.571 / Courtesy of Sadberk Hanım Museum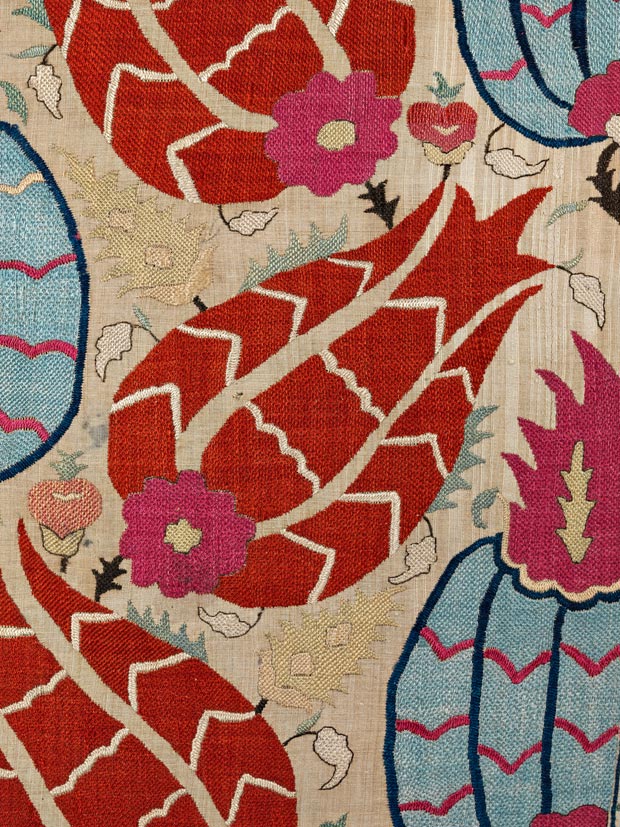 Wrapping cloth - detail, Ottoman, late 17th century, 122 x 112 cm, SHM 9582 - İ.571 / Courtesy of Sadberk Hanım Museum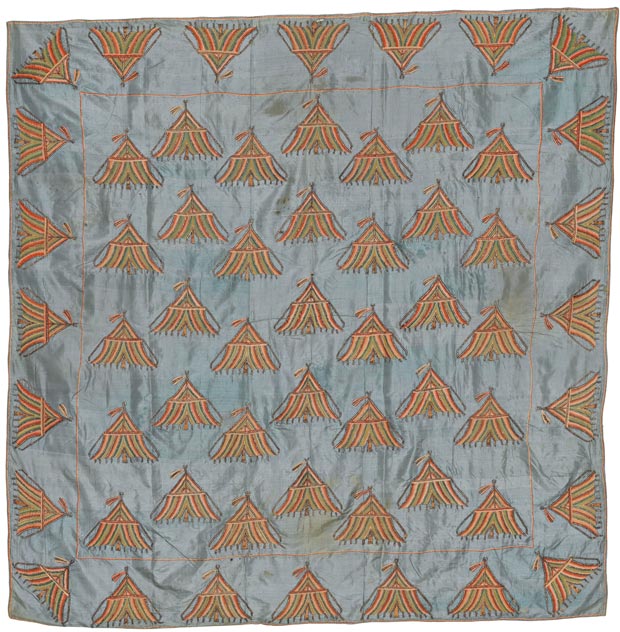 Wrapping cloth, Ottoman, 18th century, 155 x 155 cm, SHM 10682 - İ.1109 / Courtesy of Sadberk Hanım Museum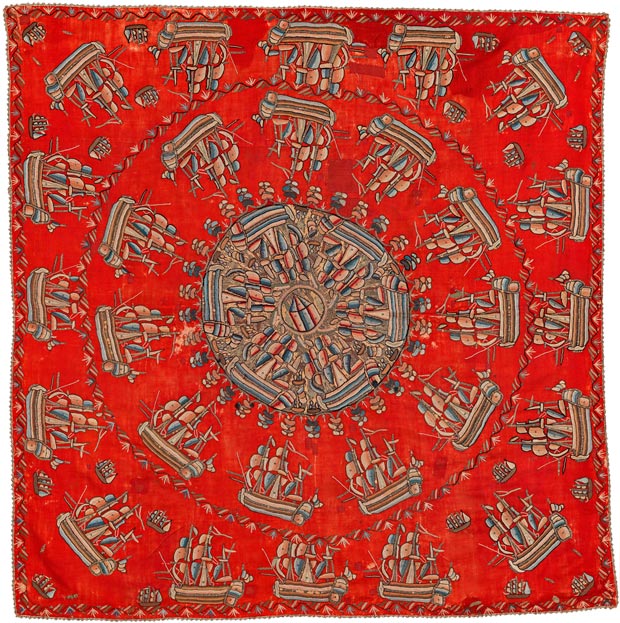 Turban cover, Ottoman,18th century, 110 x 110 cm, SHM 12254 - İ.1214 / Courtesy of Sadberk Hanım Museum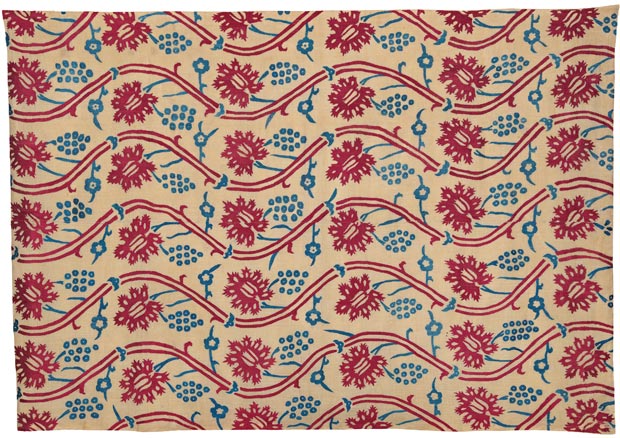 Quilt facing, Ottoman, 17th century, 168 x 117 cm, SHM 3058 - İ.895 / Courtesy of Sadberk Hanım Museum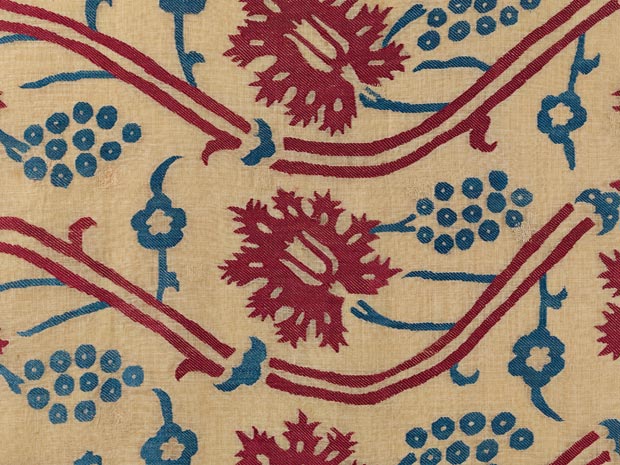 Quilt facing - detail, Ottoman, 17th century, 168 x 117 cm, SHM 3058 - İ.895 / Courtesy of Sadberk Hanım Museum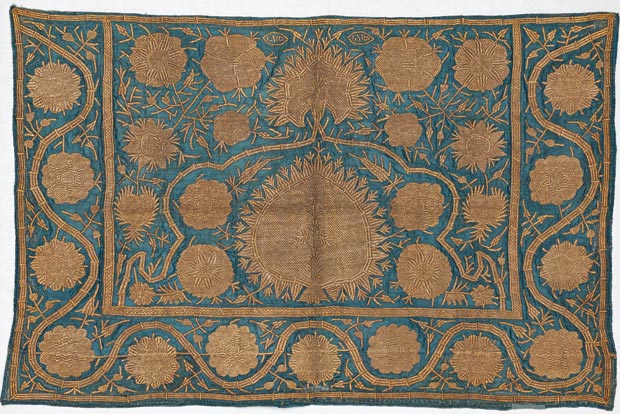 Wrapping cloth, Ottoman, late 17th century, 122 x 112 cm, SHM 9582 - İ.571 / Courtesy of Sadberk Hanım Museum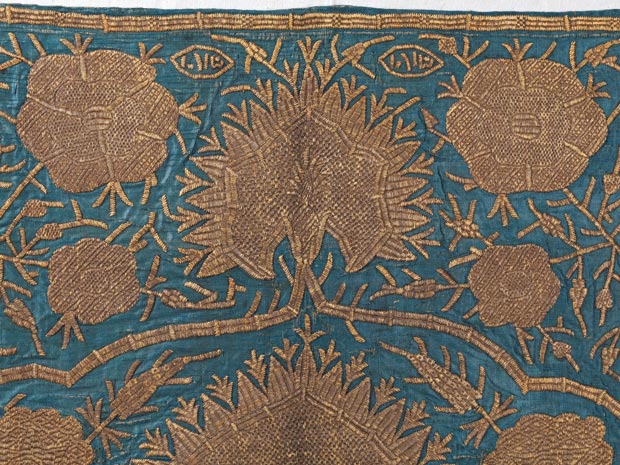 Wrapping cloth - detail, Ottoman, late 17th century, 122 x 112 cm, SHM 9582 - İ.571 / Courtesy of Sadberk Hanım Museum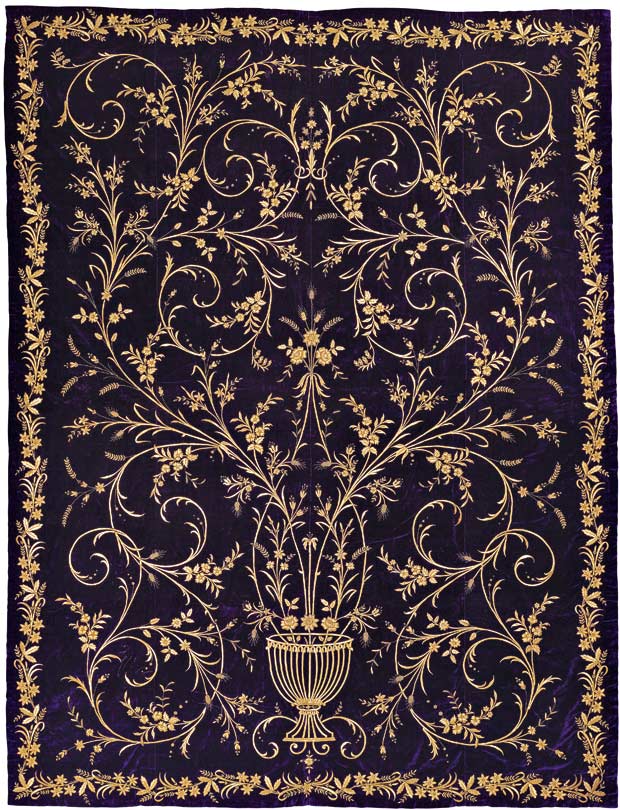 Bedspread, Ottoman, 19th century, 221.5 x 170 cm, SHM 2000 - İ.13 / Courtesy of Sadberk Hanım Museum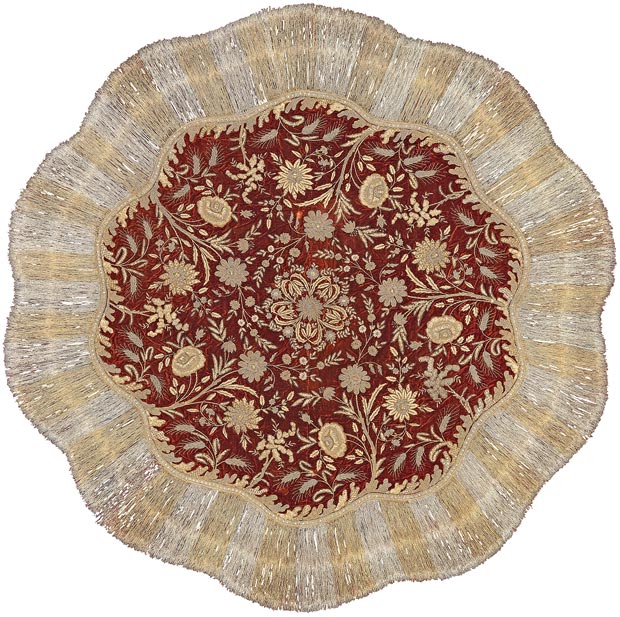 Coffee serving cloth, Ottoman, 19th century, Diam. 93 cm, SHM 18070 - İ.1634 / Courtesy of Sadberk Hanım Museum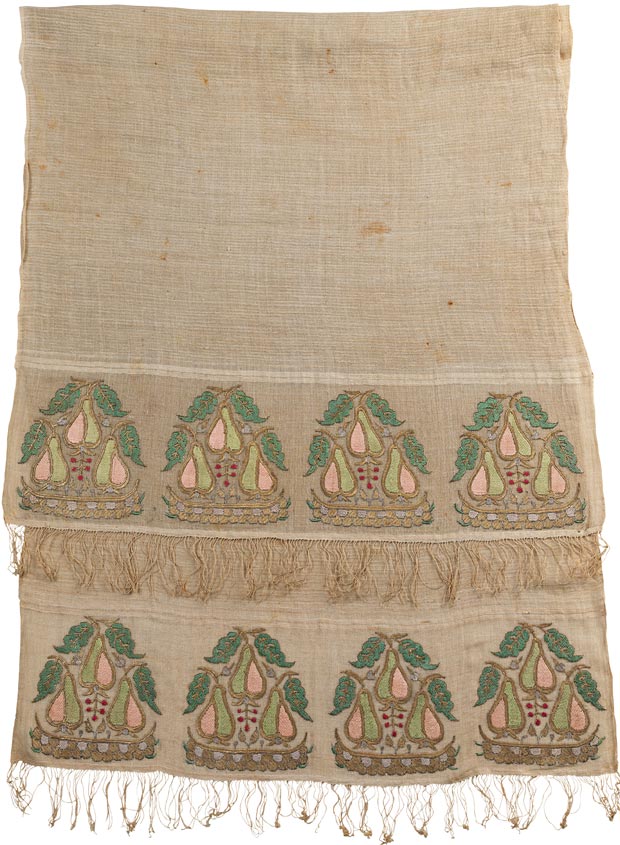 Hand towel, Ottoman, late 18th century, 160 x 65 cm, SHM 1669 - İ.872 / Courtesy of Sadberk Hanım Museum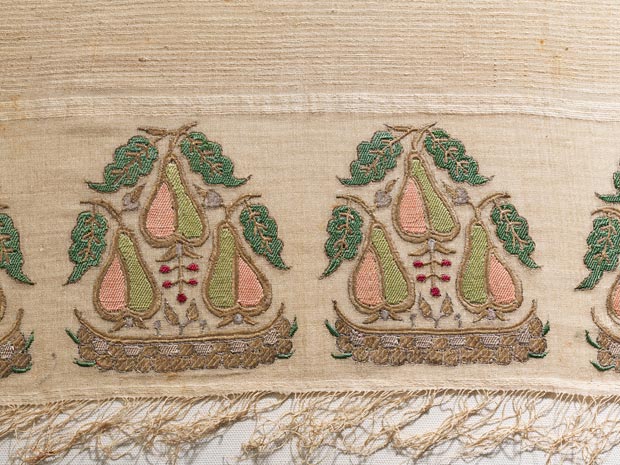 Hand towel - detail, Ottoman, late 18th century, 160 x 65 cm, SHM 1669 - İ.872 / Courtesy of Sadberk Hanım Museum

Multiple-niche prayer mat, Ottoman, early 19th century, 588 x 162 cm, SHM 12448 - İ.1284 / Courtesy of Sadberk Hanım Museum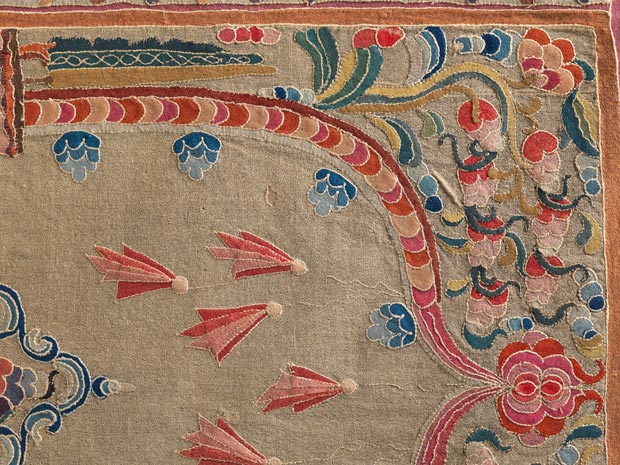 Multiple-niche prayer mat - detail, Ottoman, early 19th century, 588 x 162 cm, SHM 12448 - İ.1284 / Courtesy of Sadberk Hanım Museum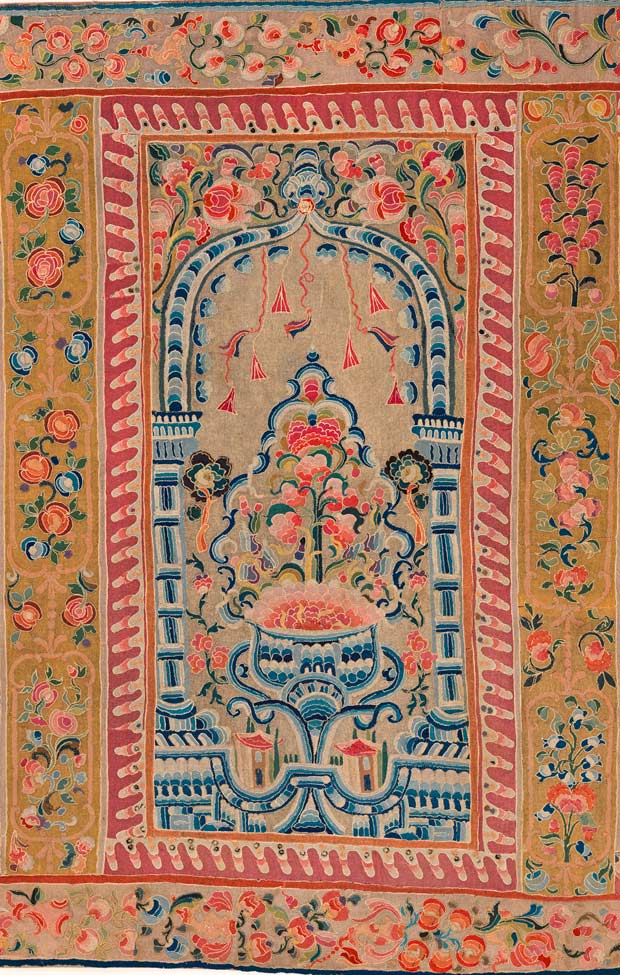 Multiple-niche prayer mat - detail, Ottoman, early 19th century, 588 x 162 cm, SHM 12448 - İ.1284 / Courtesy of Sadberk Hanım Museum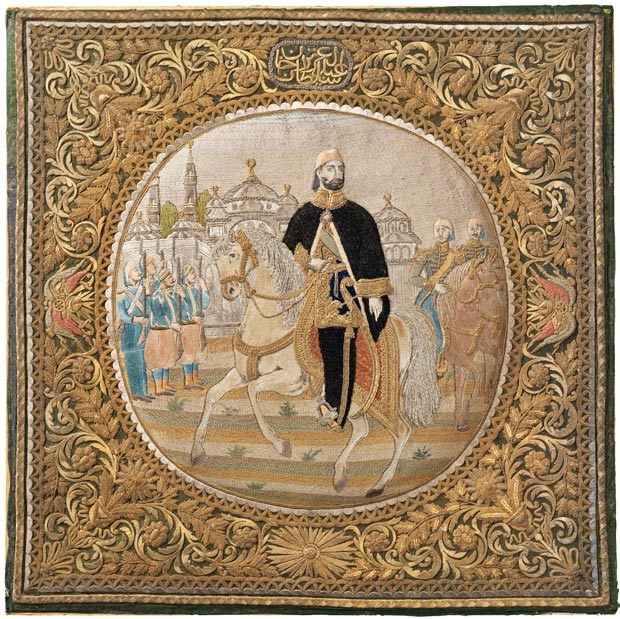 Cushion cover, Ottoman, late 19th century, 37.5 x 37.5 cm, SHM 18133 - İ.1642 / Courtesy of Sadberk Hanım Museum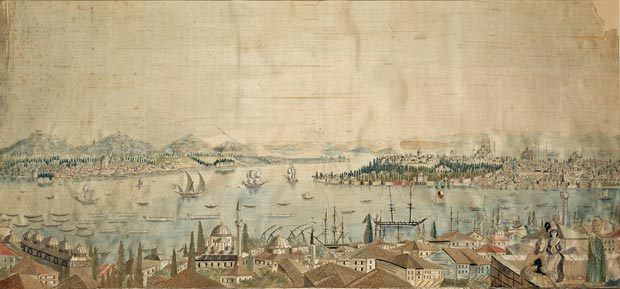 Panorama of Istanbul, Ottoman, late 18th – early 19th century, 58 x 27.1 cm, SHM 12449 - İ.1285 / Courtesy of Sadberk Hanım Museum