70 artefacts that include textiles, musical instruments, jewelry, rudimentary weapons, books and manuscripts from the Vatican Ethnological Museum's Islamic Collection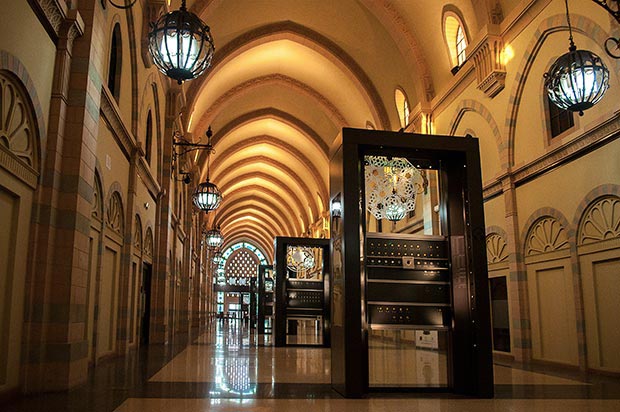 The Sharjah Museum of Islamic Civilization / Photo © Islamic Arts Magazine
The exhibition 'So that you might know each other' commemorates an unprecedented collaboration between the Sharjah Museum of Islamic Civilization and the Vatican Ethnological Museum and displays 70 artefacts that include textiles, musical instruments, jewelry, rudimentary weapons, books and manuscripts.
For the first time ever in its 300-year history the Vatican has collaborated with a partner in the Muslim world for an exhibition. The objects being showcased in the exhibition have been carefully selected by a curatorial team made up of experts from Sharjah and the Vatican. The final selection, bringing together a broad spectrum of artefacts from imperial enamels to village instruments, aims at highlighting the fascinating cultural diversity of Muslim communities around the world, the achievements, of its people, their daily lives, their customs and their spirituality. In date, the objects range from the 17th to the early 20th century, therefore symbolizing traditional ways of life that pre-date the onset of modernity and globalization.
This remarkable exhibition at Sharjah Museum of Islamic Civilization (SMIC) is closing today. Islamic Arts Magazine has visited the exhibition and we are bringing you the photo tour.
Highlights from the Exhibition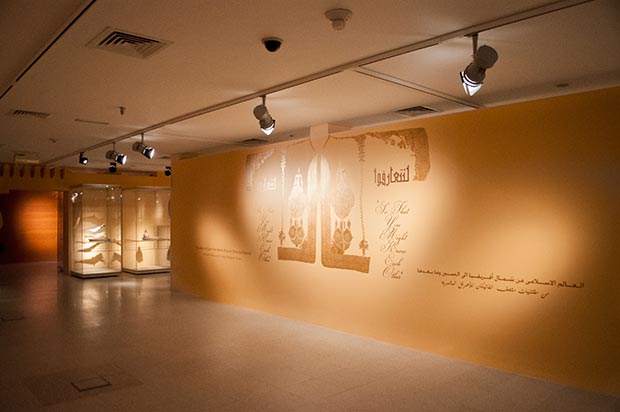 Exhibition 'So that you might know each other' / Installation view / Photo © Islamic Arts Magazine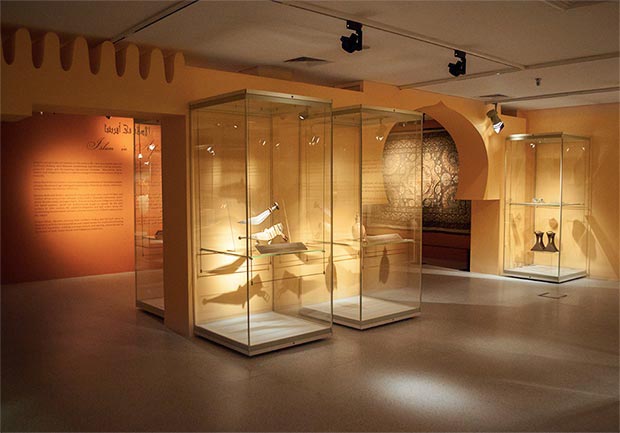 Exhibition 'So that you might know each other' / Installation view / Photo © Islamic Arts Magazine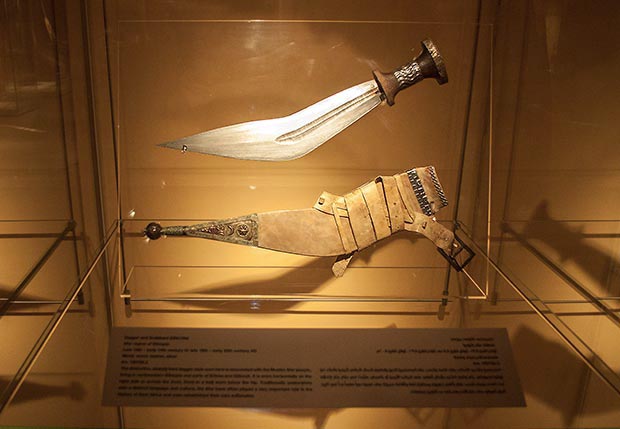 Exhibition 'So that you might know each other' / Installation view / Photo © Islamic Arts Magazine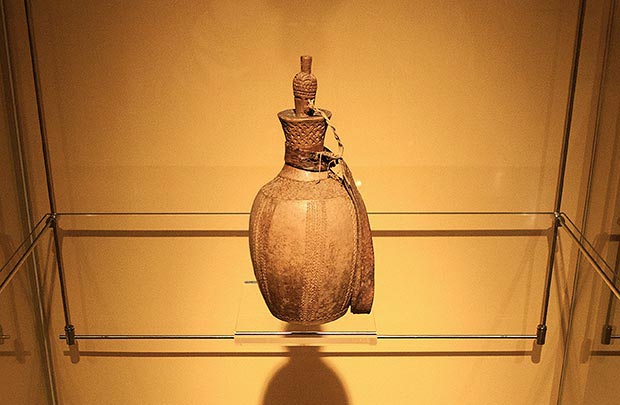 Exhibition 'So that you might know each other' / Installation view / Photo © Islamic Arts Magazine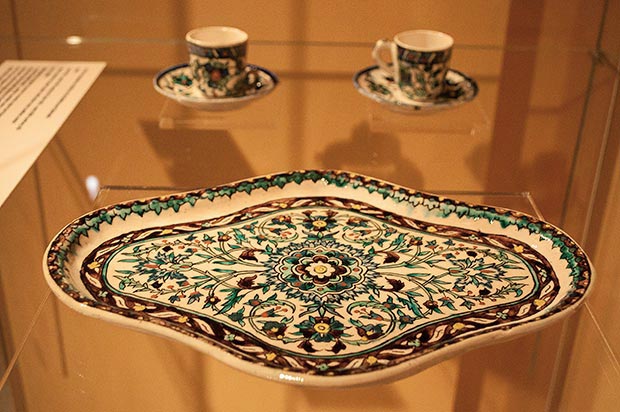 Exhibition 'So that you might know each other' / Installation view / Photo © Islamic Arts Magazine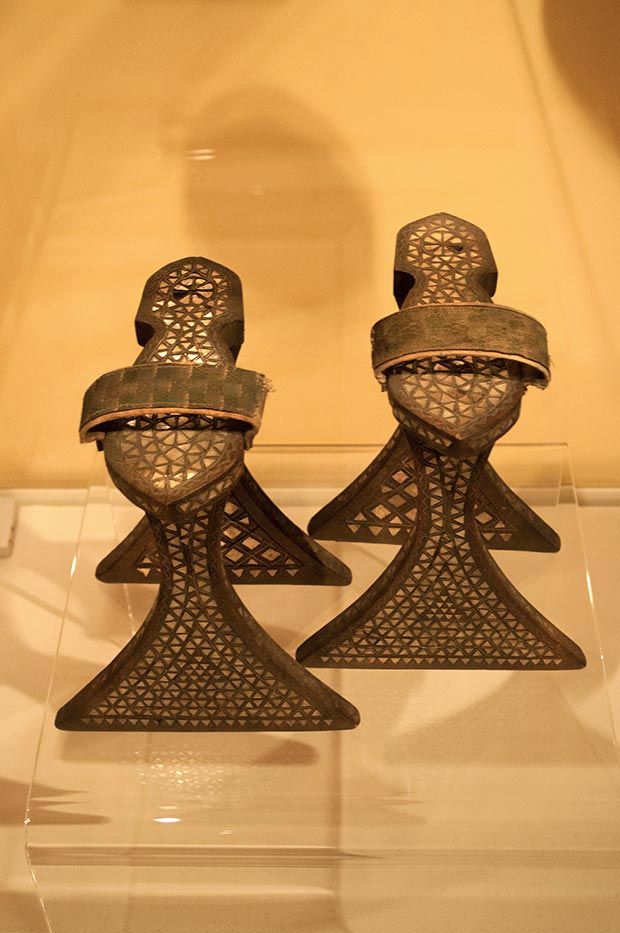 Exhibition 'So that you might know each other' / Installation view / Photo © Islamic Arts Magazine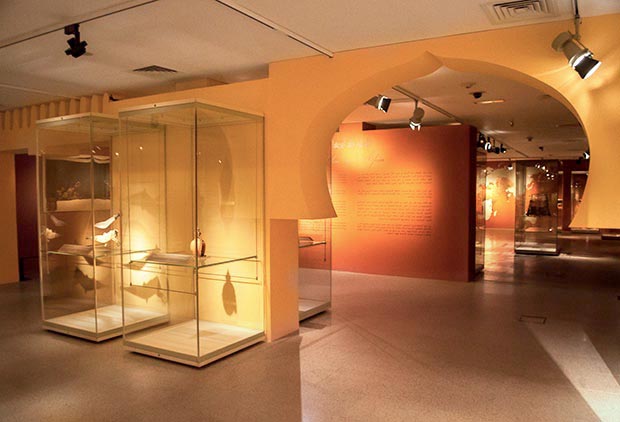 Exhibition 'So that you might know each other' / Installation view / Photo © Islamic Arts Magazine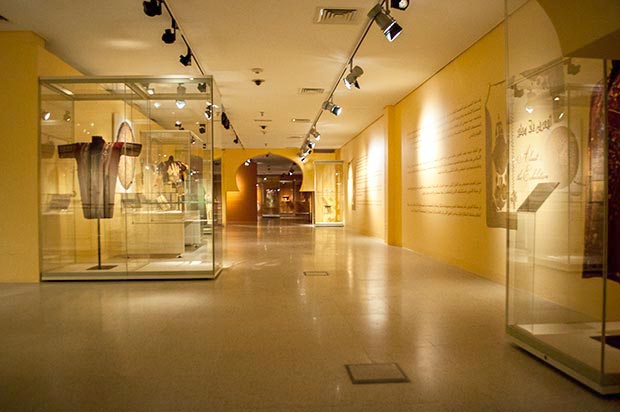 Exhibition 'So that you might know each other' / Installation view / Photo © Islamic Arts Magazine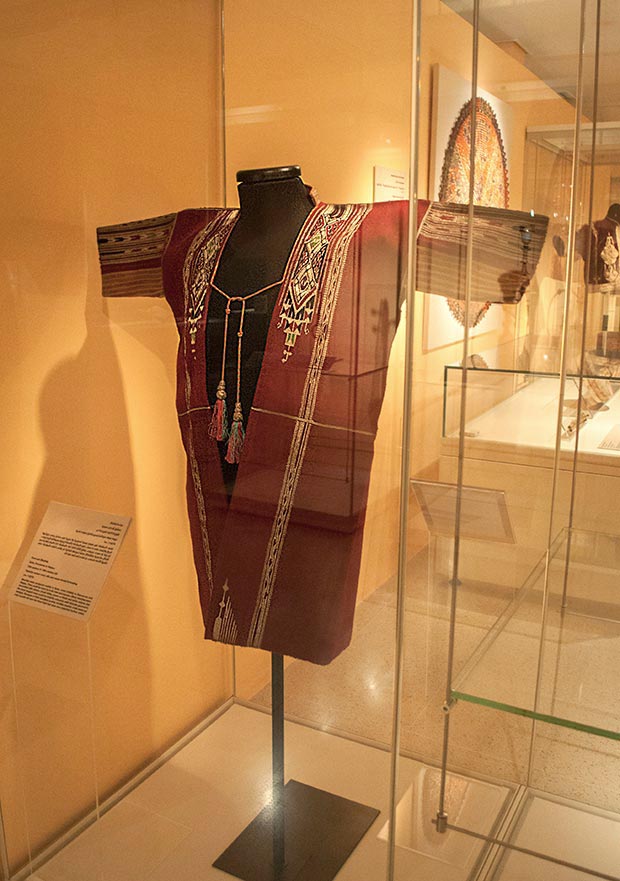 Exhibition 'So that you might know each other' / Installation view / Photo © Islamic Arts Magazine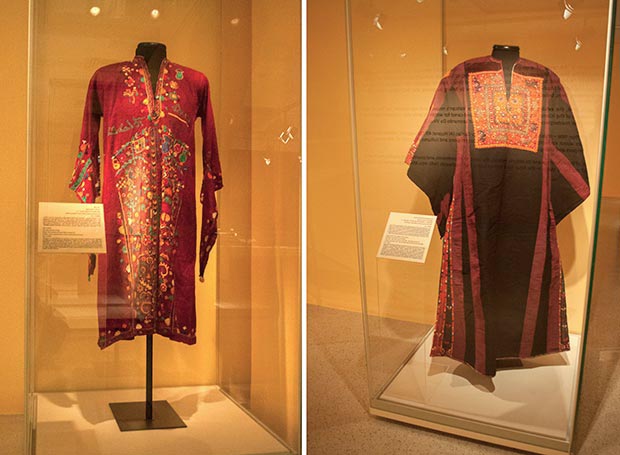 Exhibition 'So that you might know each other' / Installation view / Photo © Islamic Arts Magazine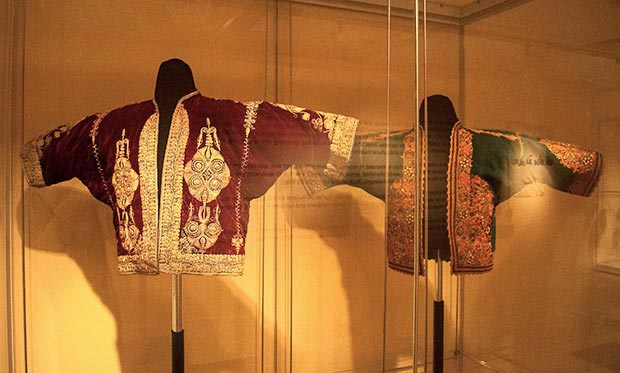 Exhibition 'So that you might know each other' / Installation view / Photo © Islamic Arts Magazine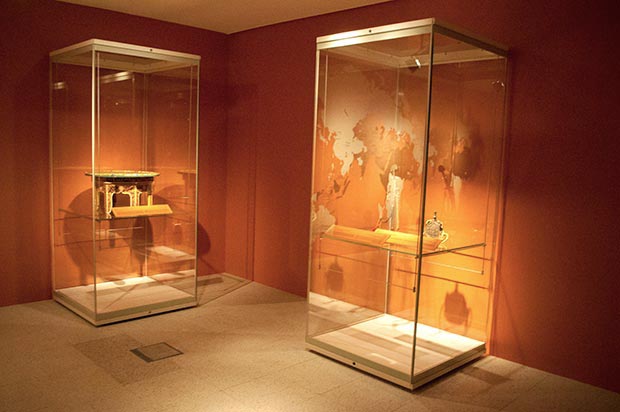 Exhibition 'So that you might know each other' / Installation view / Photo © Islamic Arts Magazine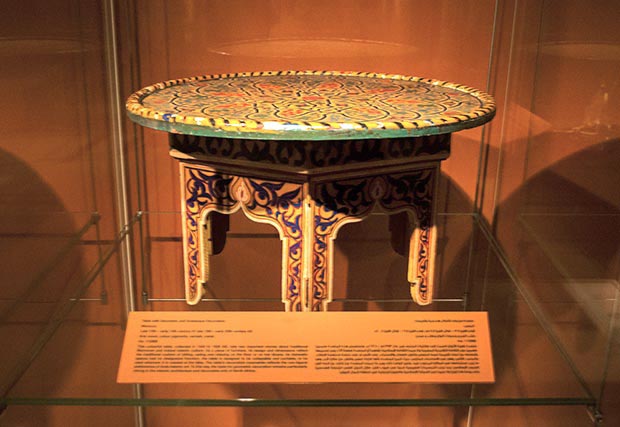 Table with geometrical and arabesque decoration, Morocco, late 19th century - early 20th century / Photo © Islamic Arts Magazine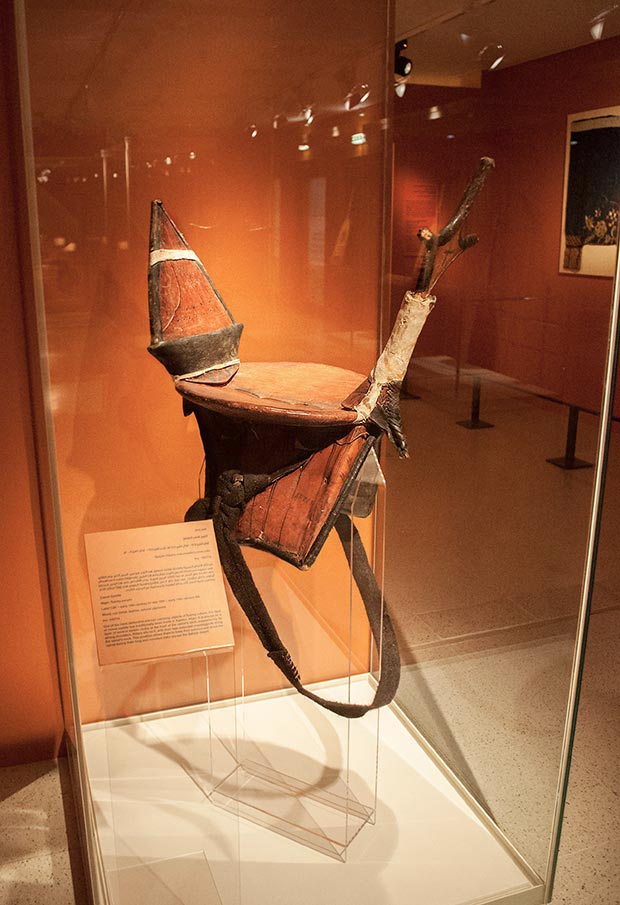 Camel saddle, late 19th century / Photo © Islamic Arts Magazine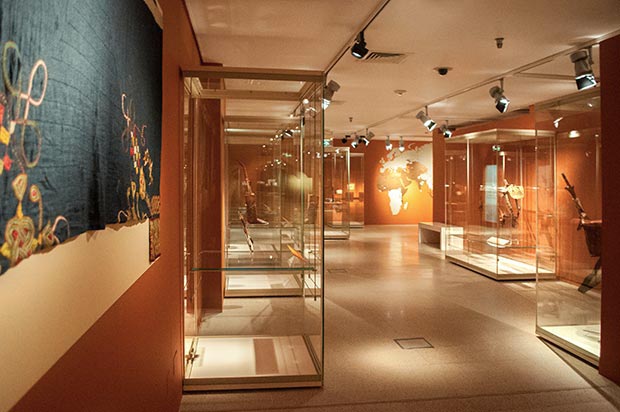 Exhibition 'So that you might know each other' / Installation view / Photo © Islamic Arts Magazine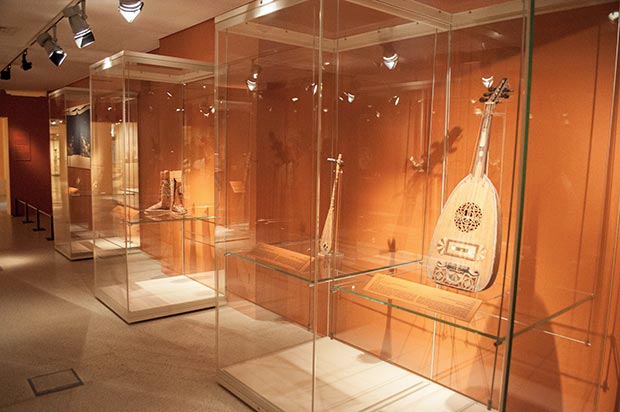 Exhibition 'So that you might know each other' / Installation view / Photo © Islamic Arts Magazine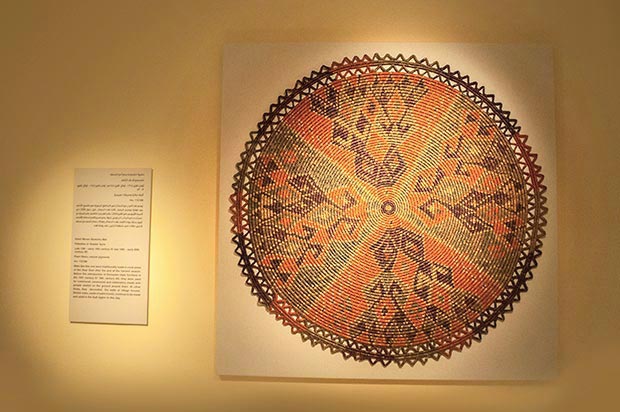 Hand woven basketry mat, Palestine or Syria, early 20th century. Plant fibers, natural pigments / Photo © Islamic Arts Magazine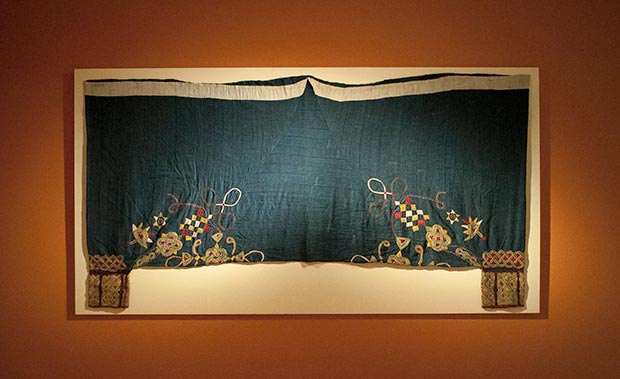 Embroidered Trousers with Ancklebands, Nigeria, Housa people, late 19th - early 20th century, indigo-dyed cotton, wool, embroidered with silk / Photo © Islamic Arts Magazine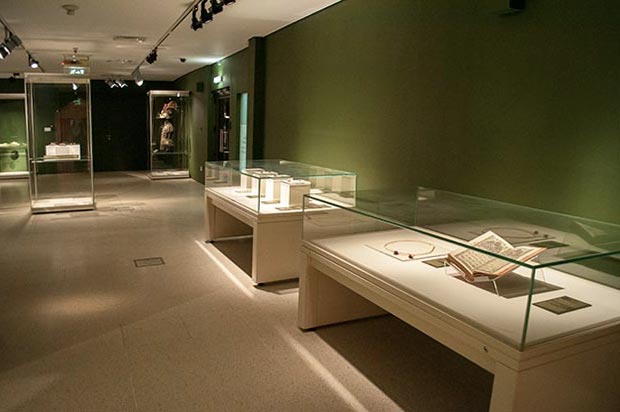 Exhibition 'So that you might know each other' / Installation view / Photo © Islamic Arts Magazine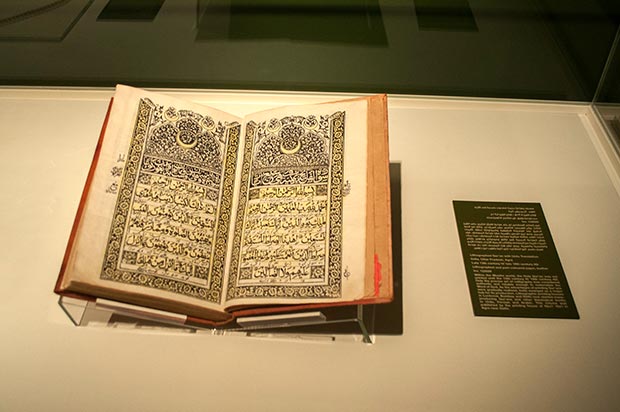 Lithographed Qur'an with Urdu translation, India, late 19th century / Photo © Islamic Arts Magazine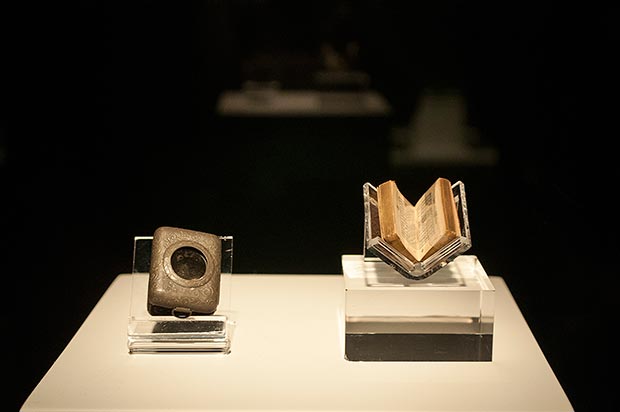 Locket with printed miniature Qur'an, collected in Indonesia, early 20th century / Photo © Islamic Arts Magazine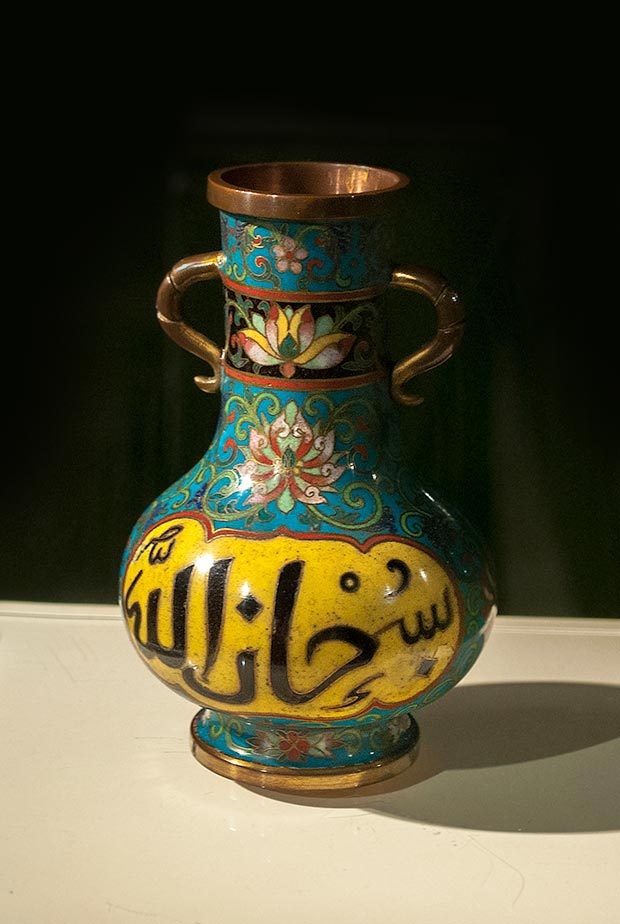 Cloisonne enamelled vase with Islamic Inscriptions, China, early 18th century, Brass, polychrome enamels / Photo © Islamic Arts Magazine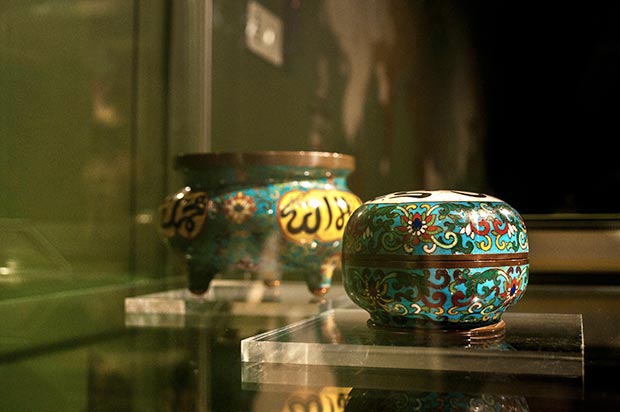 Incense box and burner with Islamic Inscriptions, China, early 18th century / Photo © Islamic Arts Magazine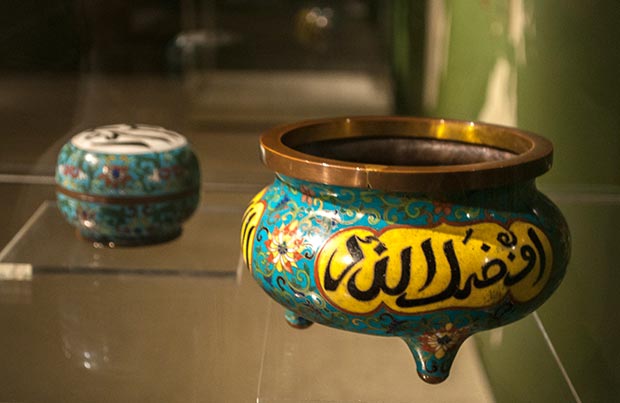 Incense box and burner with Islamic Inscriptions, China, early 18th century / Photo © Islamic Arts Magazine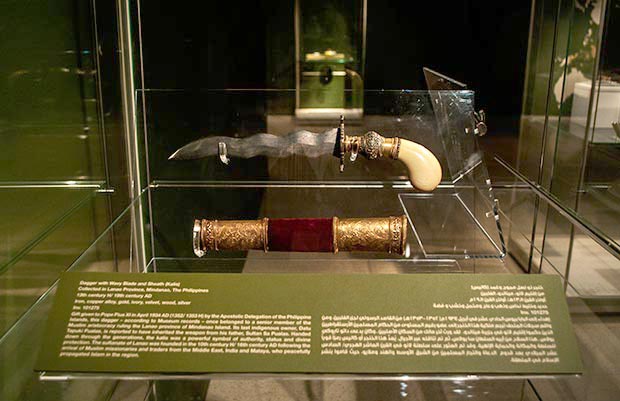 Dagger with wavy blade and sheath, Phillippines, 19th century. Iron, copper alloy, gold, ivory, velvet, wood, silver / Photo © Islamic Arts Magazine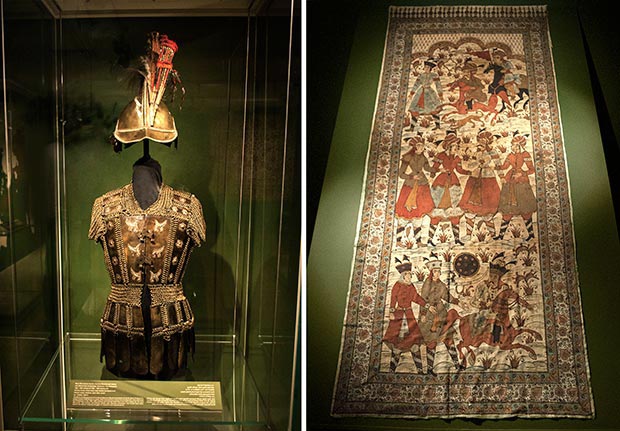 Left: War armeour, 19th century Right: Block printed and painted hanging, Iran, Isfahan, early 20th century / Photo © Islamic Arts Magazine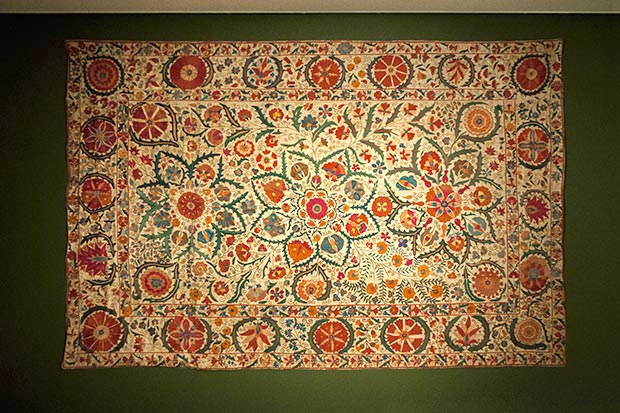 Exhibition 'So that you might know each other' / Installation view / Photo © Islamic Arts Magazine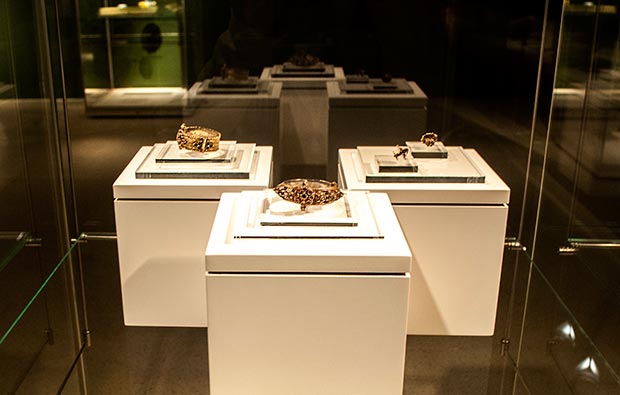 Exhibition 'So that you might know each other' / Installation view / Photo © Islamic Arts Magazine