Celebrating Indian and Islamic Art through an Exciting Series of Public Exhibitions, Auctions and Events 3 – 8 October 2014
In order to celebrate the rich traditions of Indian and Islamic art, Sotheby's has mounted 'Indian and Islamic Week', a high profile series of public exhibitions and three dedicated auctions presenting the works of renowned artists and craftsmen from the Indian Subcontinent and the Islamic world. These exciting initiatives will take place at Sotheby's in London from 3 - 8 October 2014. The sales comprise Modern and Contemporary South Asian Art on 7 October, and Art of Imperial India and Arts of the Islamic World on 8 October. The combined estimate across the three sales is £11,200,000-16,000,000.
Yamini Mehta, Sotheby's International Director, Indian and South Asian Art, Benedict Carter, Sotheby's Head of Auction Sales, Middle East and Indian Art, commented: "We are thrilled that Sotheby's reach with its clients from across India, the Middle East and beyond will advance to a new stage this autumn when we mount the inaugural 'Indian and Islamic Week' in London. Through this endeavour, featuring the very best of fine and decorative arts from India and the Islamic World spanning 1500 years, the company's unrivalled global network continues to serve our clients by providing world-class collecting and educational experiences. We are proud that with this series of three dedicated sales, we will further demonstrate Sotheby's ability to enhance the growing dialogue of cultural exchange across these regions."
Arts of the Islamic World (October 8, 2014)
Bringing together manuscripts, paintings and works of art created under Islamic patronage over eleven centuries, Arts of the Islamic World provides an opportunity for collectors and institutions to acquire beautiful and sought-after pieces.
From the collections of the Dukes of Northumberland is an extremely well-preserved leaf from a 16th-century copy of Sa'di's Gulistan, attributed to the famed courtly artist Mahmud Muzahhib. Depicting 'the captured Arab robbers before the King', this rare discovery is estimated to bring £60,000-80,000.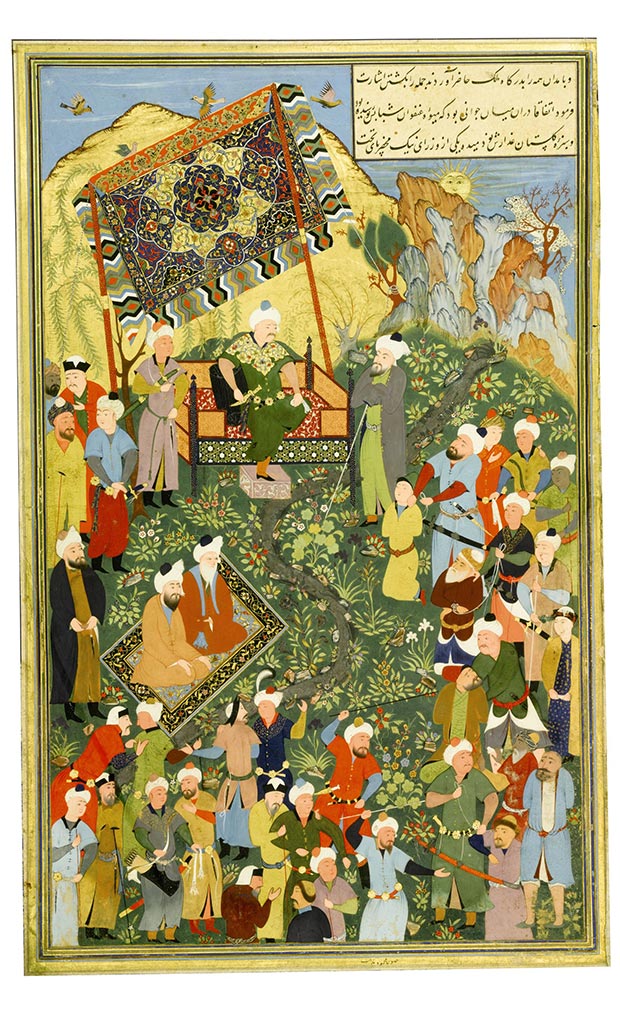 An Illustrated and Illuminated Leaf from a copy of Sa'di's Gulistan: The captured Arab Robbers before the King, Ascribed to Mahmud Muzahhib, Bukhara, Mid 16th Century / Courtesy of Sotheby's
Also from the collections of the Dukes of Northumberland at Alnwick castle and never before offered at auction is the unparalleled Arabic-English Lexicon of Edward William Lane, estimated at £200,000-300,000 (illustrated on following page). This copy in forty volumes represents the monumental achievement of the pioneering Egyptologist and eminent Orientalist. Still in production at the time of Lane's death in 1876 after thirty-four years' dedication, it is a truly remarkable work of scholarship that has yet to be surpassed in the realms of lexicography and remains an essential tool to scholars well into the twenty-first century. The accompanying ten volumes of al-Saghani's U'bab, used as source material for the Lexicon, are important Mamluk manuscripts in their own right, acquired in London on behalf of the fourth Duke of Northumberland in 1864 and placed at Lane's disposal.
From the Ottomans come three masterpieces of the early 16th century: a royal astrolabe dedicated to Sultan Bayezid II (r.1481-1512), an extraordinary blue and white Iznik dish from circa 1520, and a beautifully-illuminated Qur'an attributed to the master calligrapher Mustafa Dede. The sale will also include a very rare oil portrait of Sultan Suleyman the Magnificent by a follower of Gentile Bellini, and an exceptional 14th-century gilt-copper and silvered pyxis from the Nasrid period of Al-Andalus.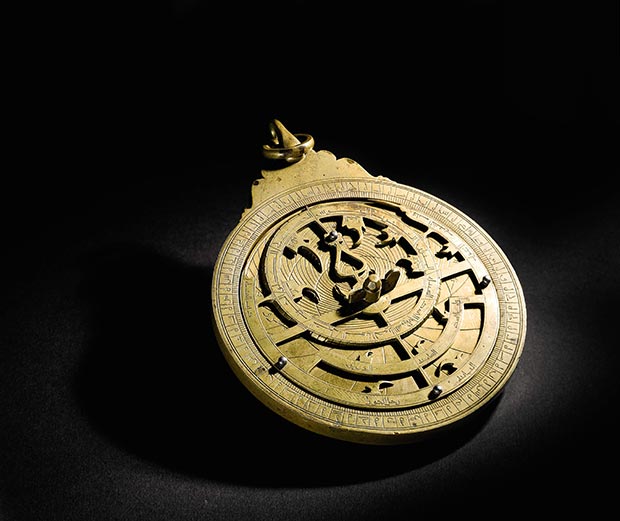 A Royal Brass Astrolabe made by Al-Ahmar Al-Nujumi Al-Rumi for the treasury of the Ottoman Sultan Bayezid II (R.1481–1512), Turkey, Dated 911 AH/1505-6 AD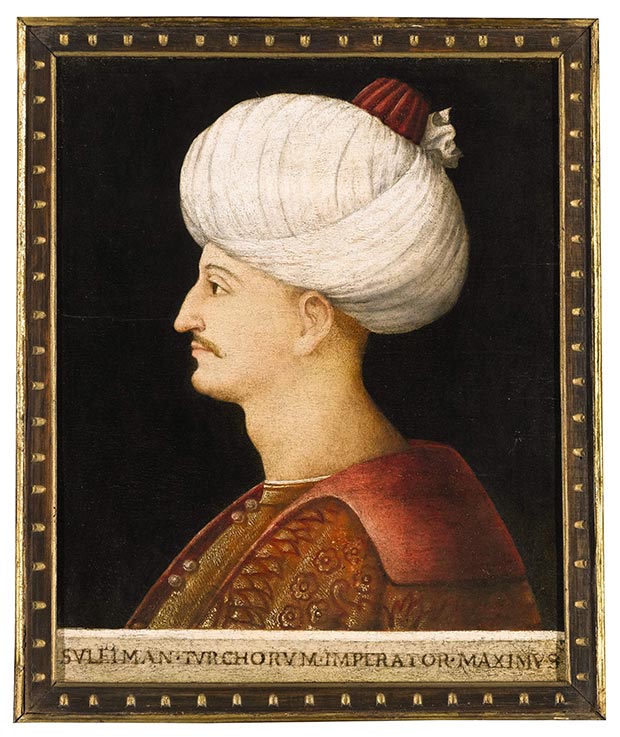 A Portrait of Sultan Suleyman II, by a follower of Gentile Bellini, Italy, Probably Venice, Ca. 1520. Oil on panel, framed, painting: 32.5 by 28cm, frame: 42 by 36cm / Courtesy of Sotheby's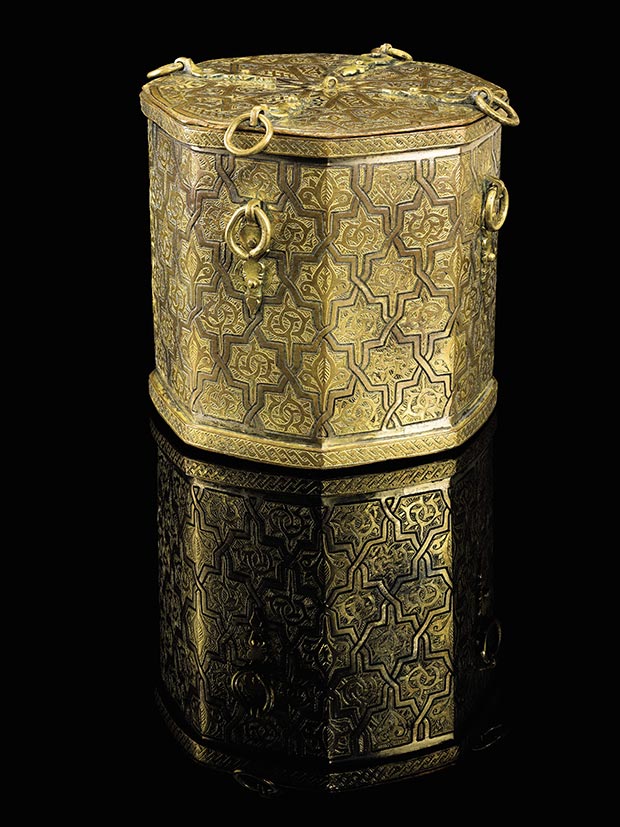 A rare and exceptional gilt-copper and silvered pyxis, the Nasrid period of Al-Andalus, 14th century. 11.8cm. height, 12.5cm. diam. / Courtesy of Sotheby's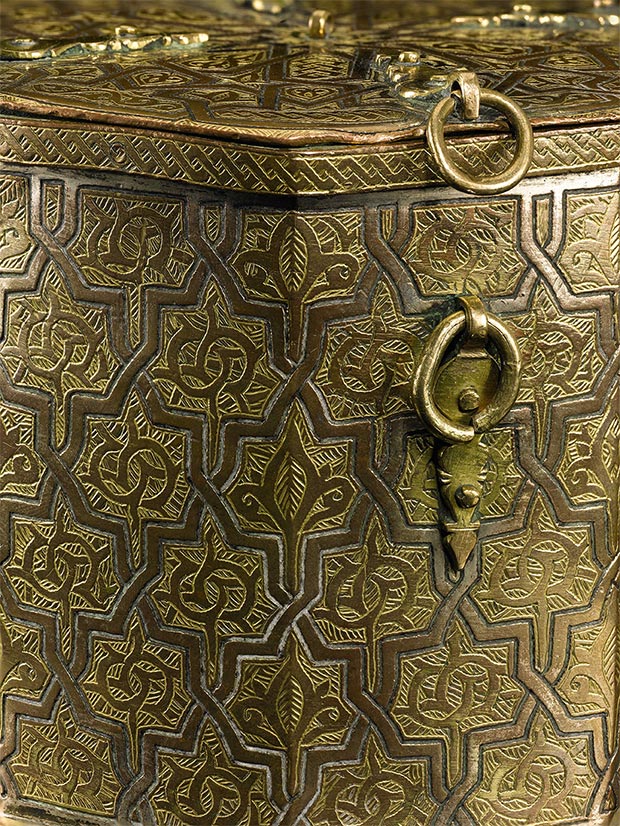 A rare and exceptional gilt-copper and silvered pyxis, the Nasrid period of Al-Andalus, 14th century. Detail / Courtesy of Sotheby's