Mid-point in their 11-month New Media Artist residency programme at Tashkeel, Fari Bradley and Chris Weaver present 'Systems for a Score', an exhibition exploring visual language and its relation to sound via installation, sculpture and collaborative action within the space.
Photo above: Fari Bradley and Chris Weaver in the studio at Tashkeel. Photo: Jerry Balloch / Courtesy of Tashkeel
For their first solo exhibition in the region, new media artists Bradley and Weaver have constructed a possible grammar of sound art, taking it from its physical through to non-apparent principles. Reiterating sound across divergent forms, from the material to the social (such as sculptures and a recording studio), the artists explore the capacity of sound to bridge actual and imagined states.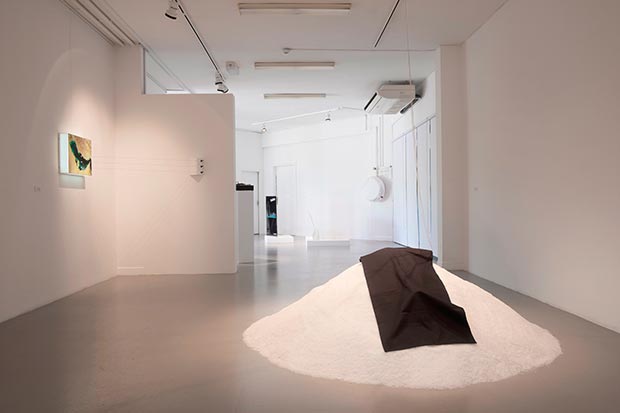 Systems for a Score a Sound Art exhibition at Tashkeel / Photo by Jerry Balloch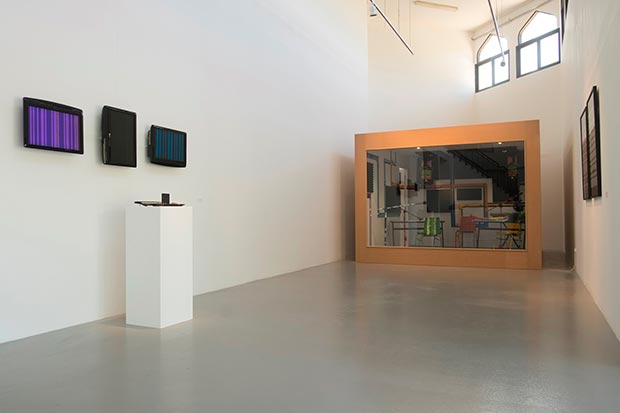 Systems for a Score a Sound Art exhibition at Tashkeel / Photo by Jerry Balloch
"Sound is used as a semantic tool and structuring device with which to deconstruct and formulate coded images, sculpture and video," says artist Chris Weaver. Sound is the defining feature of several sculptural works in the exhibition, whilst others silently prompt an aural concept or experience in the mind of the observer. "Sound art works to an unprecedented set of scores, inspiration for form appears everywhere. Yet currently the language of sound, determined by subjective imagination and context, still enjoys a fluid space within the arts. As it is still relatively 'new', it is in a period of self (re)definition," adds Fari Bradley.
The central installation, A Model Studio, adds a social aspect to the exhibition, creating a space for cumulative experience. Working from the studio during the exhibition Bradley and Weaver have invited musicians and artists met while in the UAE to collaborate. The physical form of A Model Studio, and the happenings within it, take as a departure point the Al Sadu (sadoo) weave, a long-standing textile tradition of the Emirates. The weave patterns appear implicitly similar to coded sound in their repetitive, formalised structure, which signify the hand of the maker in the fractionally irregular knots. These forms and methods inspired graphics generated on an 80s Atari game console, which was physically modified by the artists.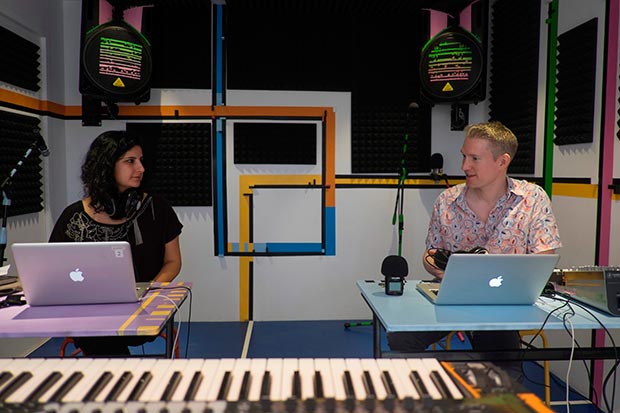 Chris Weaver and Fari Bradley in collaboration, A Model Studio / Photo by Jerry Balloch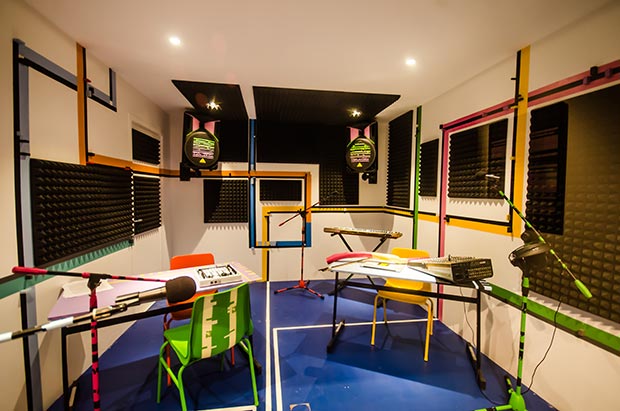 Bradley and Weaver's A Model Studio inspired by Atari code / Photo by Darwin Guevarra
Whilst on residency at Tashkeel, the artists set out to examine the language of sound art, examining the precepts that hearing is another form of seeing; and that sound is considered to only have meaning when paired with a visual. The results are a series of installation-based and sculptural works that collectively experiment with the varied patterns and technologies of sound making. The works trigger our innate ability to decode, decipher and extract composition and rhythm from both visual and auditory matter combined. The exhibition challenges and conflates our understanding of listening as a sensory experience conditioned by context, exploring how sound can be used to delineate the invisible or intangible.
System for a Score, Fari Bradley & Chris Weaver, Tashkeel Exhibition / Shot by Ekta Saran, Edited by Gayathri Krishnan, Produced by Wild Beast Media
Bradley and Weaver, on residency since June 2014, were commissioned with an experimental site-specific installation and performance at ISEA which explores the relationship between architectural spaces and sound. They curated a series of public talks on sound in the gallery space and on film, and gave workshops on the DIY culture of sound art and radio. Signifying the close of their 11 month residency, the artists will present a major work during Dubai's art season in March, inside the art fair, as part of Art Dubai Commissions.