JEDDAH / Athr Gallery is proud to announce a unique collaborative event this July, as two globally-acclaimed calligraphers – Samir Al Sayegh and Wang Dongling - come together in 'Strokes In Dialogue', a joint exhibition of Arabic and Chinese calligraphy, uniting the two masters' distinctive practices and styles.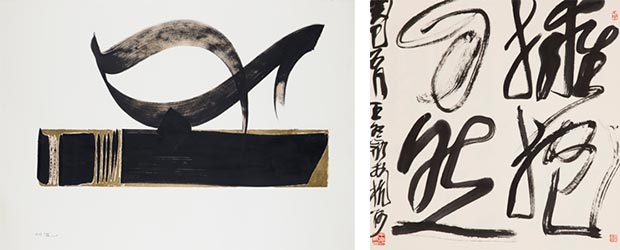 Left: Samir Sayegh / Right: Wang Dongling / Courtesy of Athr Gallery
The exhibition will be launched on July 23rd, presenting an exciting artistic collaboration between Dongling and Al Sayegh. On the opening night, in front of guests, the artists will interact live in the gallery, to produce a one-off artwork that will blend Arabic and Chinese calligraphy into a monumental work, which will resonate in a vibrant and contemporary expression of cross-cultural experimentation and visual forms.
For over a thousand years, calligraphy has been the most spiritual of Middle and Far Eastern artistic forms. Traditionally associated with articulating beauty and the solemnity of the written word in prayer and religious texts, the very act of executing calligraphy is almost a devotional ritual itself, passed down from generation to generation. Today, leading practitioners of the form characteristically combine historic styles, scripts and techniques with contemporary twists and approaches, ensuring the form remains culturally relevant and vital, while retaining its poetic ability to enchant, inspire and delight.
Samir Sayegh / Asmaa Allah Al husna, Ink on paper, 40x60 cm / Courtesy of Athr Gallery
Lebanese-born, Paris-educated Samir Al Sayegh is a globally-renowned master of Arabic calligraphy. A specialist of the form, Al Sayegh is known for his inventive approach to transposing traditional styles and textual forms into modern, progressive visual contexts. He typically experiments with the geometric, structural and abstract possibilities of traditional calligraphy, which inevitably, has led to him creating distinctive typefaces of his own.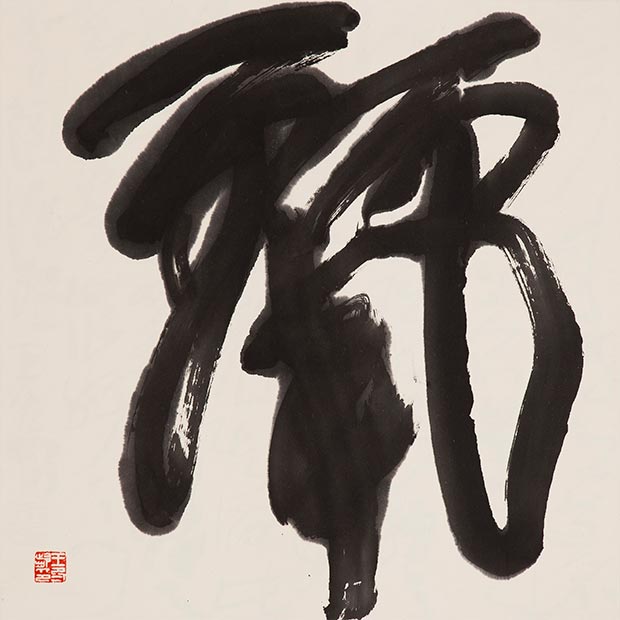 Wang Dongling / Beauty, 2013, Ink on paper, 68x68 cm / Courtesy of Athr Gallery
Professor Wang Dongling, a professor at the China Academy of Art, is an acclaimed practitioner of traditional Chinese typography and calligraphic techniques. Having exhibited his dynamic works worldwide at institutions including the Metropolitan and Guggenheim Museums in New York, the British Museum in London and the Sorbonne in Paris, Dongling is known for his performative approach to executing his vast calligraphic works – where physicality and gestural motion become integral to his large-scale, visual harmonics.
With 'Strokes in Dialogue' Athr Gallery again positions itself as one of the Gulf's most progressive and exciting art spaces, searching out combinations of historical and contemporary forms in artistic expression. The exhibition will run from July 24 until September 3, 2013.