All monumental domed mosques in Bosnia have high quality calligraphic inscriptions made in stone that were generally created by the domestic calligraphers and masters.
This article is a part of the project 'Promotion of the Ottoman Cultural Heritage of Bosnia and Turkey' which is organized by Monolit, Association for Promoting Islamic Arts and supported by the Republic of Turkey (YTB - T.C. BAŞBAKANLIK Yurtdışı Türkler ve Akraba Topluluklar Başkanlığı / Prime Ministry, Presidency for Turks Abroad and Related Communities).
At the end of 15th century and at the beginning of 16th century, we already meet first domestic calligraphers and copyists, even at that early period, Tasmanian craft is developing and first domestic masons of tarih and epitaphs appear. The first important inscriptions by domestic masters are observed on the domed mosques at the beginning of 16th century. That is the time when the first great Bosnian calligraphers and poets appear. The Tasmanian craft already existed in Sarajevo at that time, and it is mentioned for the first time as the organized guild in one sijjil (court protocol) from 1555, which means that it existed before this date too.
There are three names that are distinguished among first great Egyptian poets in Bosnia of 16th century: Mohammad Karamusic with artistic name Nihadi, Zijaji Celebi and the poet Tariha Fejzur.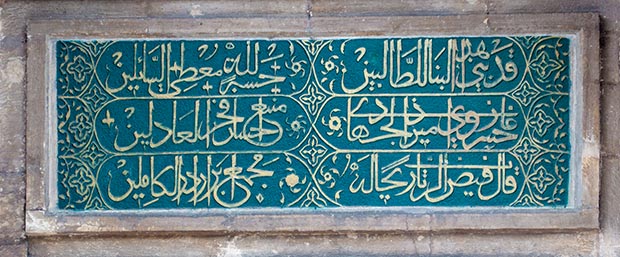 Inscription (tarih), Kursumli Madrasa, Sarajevo / Photo © Islamic Arts Magazine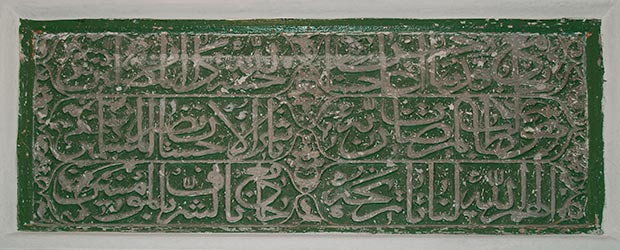 Inscription (tarih), Eski Mosque, Travnik / Photo © Islamic Arts Magazine
The poet from Sarajevo Mohammad Karamusic Nihadi is the author of two inscriptions, one located on the Mehmed Pasha Sokolovic Bridge in Visegrad, documenting the beginning and the end of the construction of this monumental bridge. It is interesting that his poet work is related to many waqfs built by great vizier Sokolovic in Istanbul. Besides that, he is also the author of inscription on the Seher Cehaja Bridge in Sarajevo. A collection of his poems is in the National Library in Berlin.
Zijaji Celebi, with his real name Hasan, is one of the greatest lyric poets of Bosnia in 16th century. He is the author of the famous tarih on the Sinan Pasha Mosque in Cajnice, especially described by Evlija Celebi, thus comparing it, in sense of painting, with the best achievements in Istanbul.
The third known epigraphic poet of the 16th century is Fejzur, we only know him by this name, or nickname. He composed two very important inscriptions in Sarajevo, one on the Gazi Husrev Beg Madrasa and the second one on the Buzadži Hajji Hasan Mosque. The first one is very interesting because it represents one of the best made inscriptions in Bosnia, as in calligraphic sense as well as in the poetic and symbolic sense.
Inscription (tarih), the Gazi Husrev Beg Mosque, Sarajevo / Photo © Islamic Arts Magazine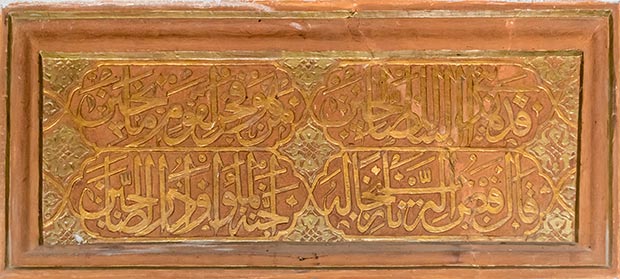 Inscription (tarih), the Buzadži Hajji Hasan Mosque, Sarajevo / Photo © Islamic Arts Magazine
The one more that should be distinguished from the 18th century is Dervish Mehmed Mejli el-Kurani. Mejli was his pseudonym. According to some data, he was born in January 28, 1713 and he died in 1780/81. He graduated at the Gazi Husrev Beg Madrasa or Haniqah. He was dervish of the cadrian order, so his lyrical poetry was mostly woven by mysticism. His calligraphic opus is not well known, except that he copied famous Islamic works, as well that some calligraphic panels on the walls of Sinan Tekke are related to his name. However, the calligraphy in stone by Mejli is preserved. That opus is extensive. For the titles hewn in stone, where he was the author of the verses, he was the author of calligraphic samples on paper. Some of the best made inscriptions from Sarajevo are connected to his signature.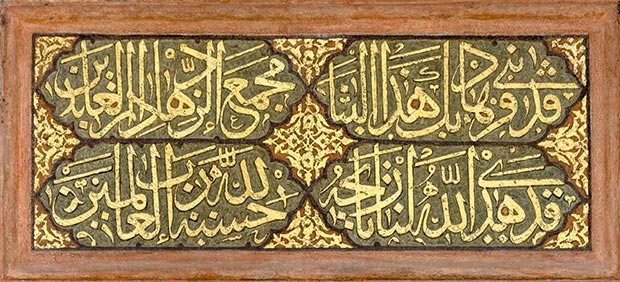 Inscription (tarih), Ferhad Beg Mosque, Sarajevo / Photo © Islamic Arts Magazine
Another great calligraphic poet that will be mentioned here is Fadil Pasha Serifovic. He was born in Sarajevo in 1802/3, and he died in Istanbul in 188. Just like Mejli, he was also excellent calligrapher and some of his levhas are preserved for us today. Serifovic was especially known by his cultural and political engagement. Considering that he originated from very rich noble family, he gave his maximum effort for the affirmation of educational institutions that he founded himself. In the Gazi Husrev Beg Library he endowed two famous transcripts of Qur'an by the calligrapher Dagistani that represent the masterpieces of Ottoman calligraphy of 19th century. The most characteristic thing is that Fadil Pasha Serifovic made all calligraphic design for the inscriptions on all monuments that he founded and endowed. When it comes to painting, those inscriptions are different from the earlier periods and they are the typical example of the 19th century art, considering that oval and emblematic forms and italic script prevail. His works also represent the last big opus of the art of calligraphic inscriptions (tarih) on stone in Bosnia and Herzegovina.