More than eighty rare and precious objects, including textiles, ceramics, paintings and photographs drawn from across the Islamic world will go on show at the Museum of Islamic Art in Doha in a special exhibition, The Hunt: Princely Pursuits in Islamic Lands. The exhibition will run from Sep 16, 2015 – Jan 9, 2016.
Drawing extensively on the Museum of Islamic Art collection and featuring loans from Qatari and Turkish museum collections, the exhibition includes artworks from the 11th to the 20th centuries, telling the story of hunting as a pursuit of kings and rulers during this period. The exhibition demonstrates the extraordinary skill and artistry of the craftsmen of the time, who used a wide range of intricate techniques and materials.
Quivers, bows, an archer's ring set with precious stones, rifles, daggers, powder and hunting horns, swords, helmets, pomanders, falcon hoods, paintings of hunting scenes, and early photographs, are among the exhibited objects. The artworks come from locations including modern day Afghanistan, Egypt, India, Iran, Iraq, Pakistan, Uzbekistan, Italy, Syria and Turkey.
Highlights from the Exhibition
Illuminated pages from the exquisite 'Muraqqa-e Gulshan' (literally the Flower Garden Album) or Jahangir Album from Mughal, India, completed between 1600 and 1618 CE, featuring portraits of Mughal courtiers and princely hunting scenes painted in opaque watercolours, ink and gilt on paper.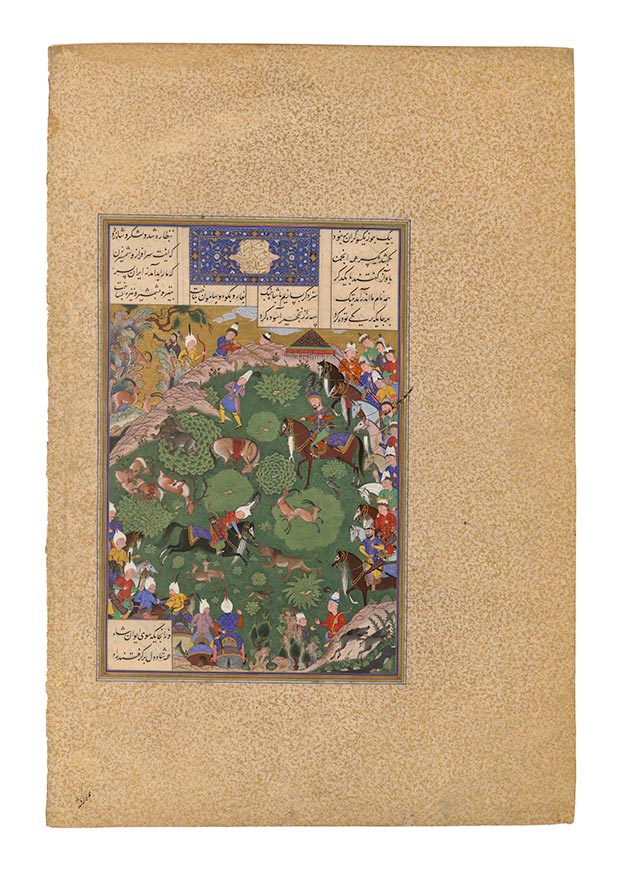 'Siyavush and Afrasiyab in the hunting field', folio 182 of the Shahnameh of Shah Tahmasp, Attributed to Qasim bin Ali Safavid, Iran (Tabriz), c. 1525-1540 CE, Opaque watercolours, ink and gilt paint on paper H: 47.2 cm; W: 31.8 cm / Courtesy of MIA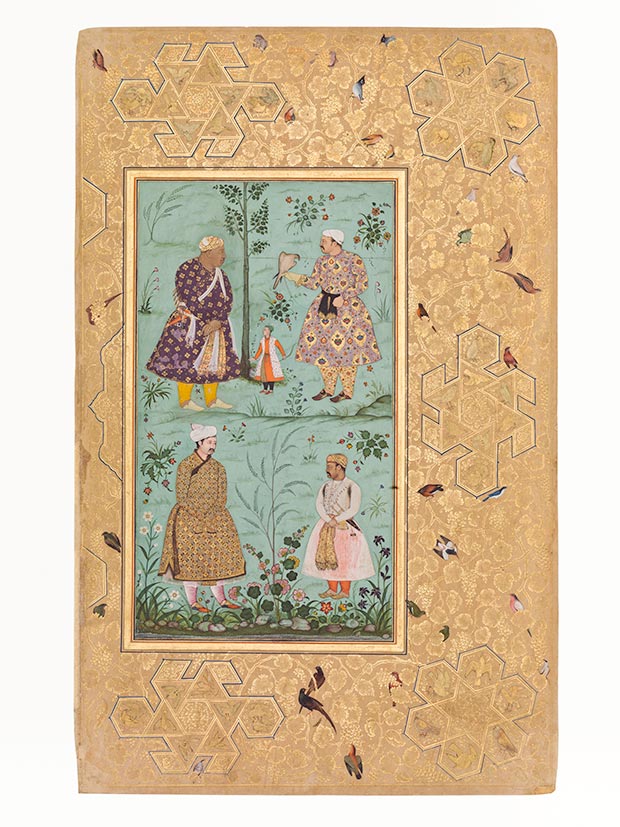 Portraits of Mughal courtiers Illuminated page from the Jahangir album Mughal, India c. 1600-1618 CE Opaque watercolours, ink and gilt paint on paper H: 42.5 cm; W: 26.5 cm (open) / Courtesy of MIA
An archer's ring from North India, made of gold, diamond and enamel, dating from the 19th century. Elaborately decorated and jewelled rings such as this one were often given as gifts and tokens of favour within the Mughal court.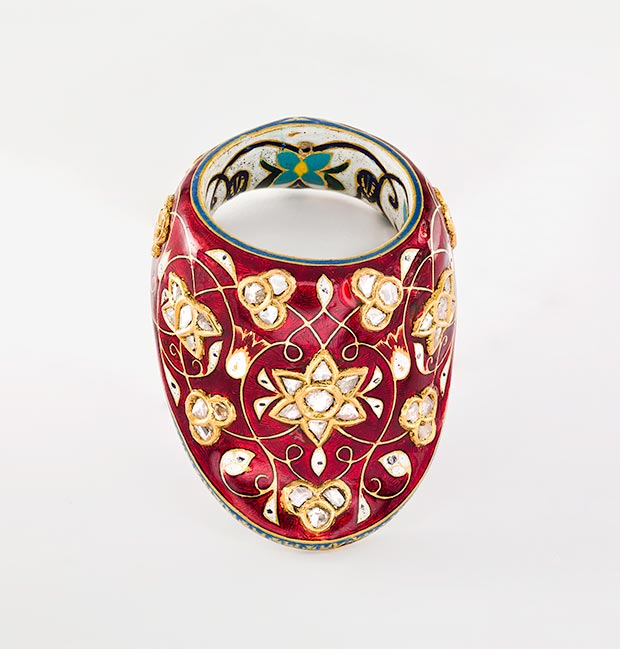 Archer's ring Mughal, India 19th century Gold, diamond, enamel H: 2 cm; Diam: 4.4 cm / Courtesy of MIA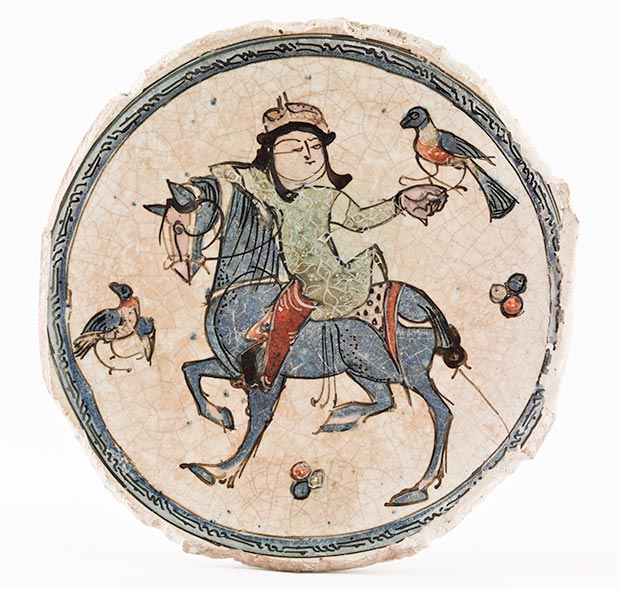 Bowl Base, Saljuq or Khwarezmid, Iran (Kashan), 12th century, Fritware, glaze, enamel, Diam: 13.5 cm / Courtesy of MIA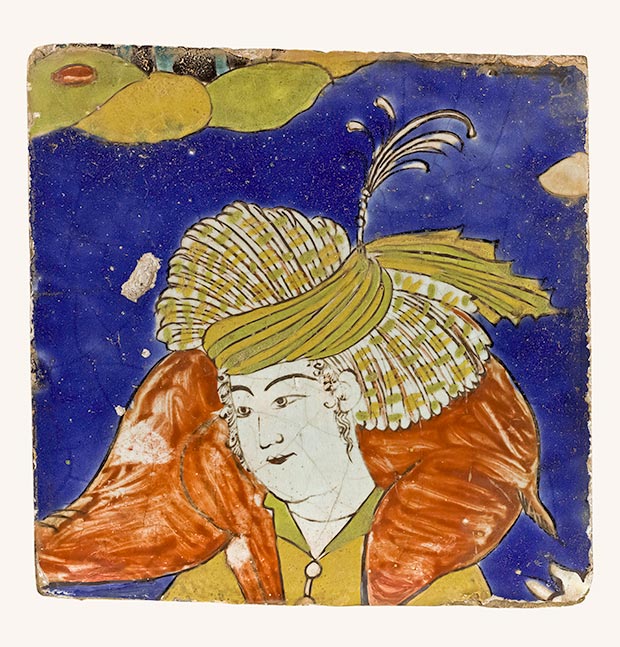 Tile with a Hunter Carrying a Dead Deer Safavid, Iran, 17th century, Glazed ceramic with cuerda seca technique, H: 23 cm; W: 23.4 cm / Courtesy of MIA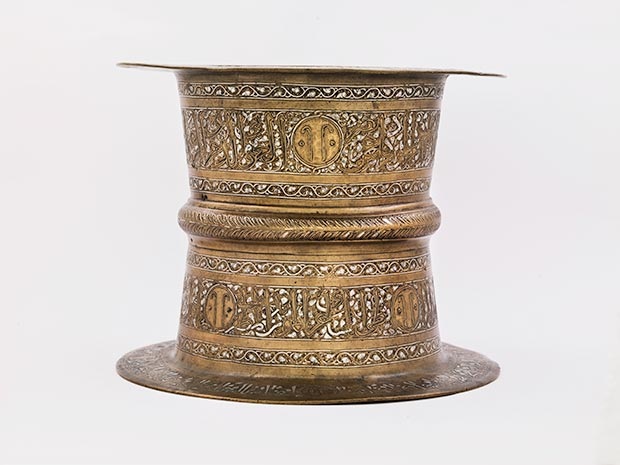 Tray Stand Mamluk, Egypt or Syria Late 13th century Bronze, silver H: 18.8 cm; Diam: 24.2 cm / Courtesy of MIA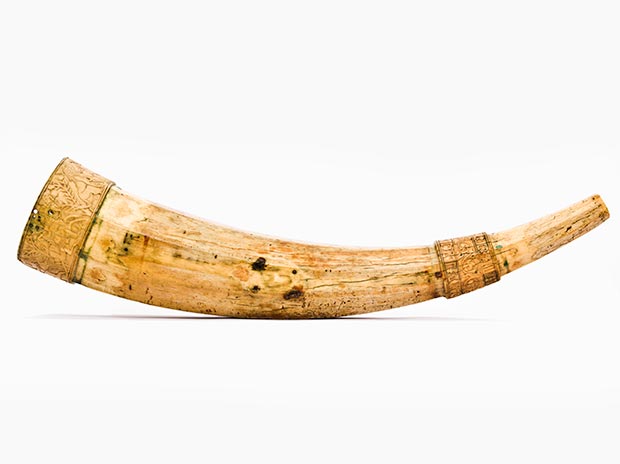 Oliphant (Hunting Horn), Norman Sicily or southern Italy, Mid-12th century, Carved and incised ivory, bronze, L: 53 cm; Diam: 9.8 cm (mouth) / 2.3 cm (base) / Courtesy of MIA
Among the exhibited objects are also:
An image of a falcon from Ottoman Turkey, created with the découpage technique, a technique that rose to new heights in the 16th century in the Ottoman Empire. This particular example features a falcon surrounded by vine leaves and saz leaves in watercolour illuminated with gold, with floral borders in coloured pigment and gold.
A series of rarely seen photographs taken by the celebrated French photographer, Paul Nadar, of the hunt in Russian Turkestan (now Uzbekistan), taken on a voyage that Nadar undertook to the region in order to promote the Nadar studio at an international exhibition in Tashkent in 1890.
Decorated falcon hoods made of silk and gold, from the British Raj (Rajput) in India, dating from the 1900s. Crafted in Rajasthan for local Sultans during the rule of the British Raj in India, these hoods attest to the persistence of falconry, maintaining a direct connection to the traditions of a pre-colonial princely sport.
A 17th century Mughal carpet from Pakistan depicting animals engaged in hunting including a leopard, stag, lion, gazelle and tiger, with a floral decorated border. This type of carpet was intended to decorate the palaces of the court, used to spread the luxury of the Mughal court when foreign delegations visited the Emperor.
A quiver and arrows dating from the 18th-19th century, either Mughal or Deccani, from India. The quiver is intricately decorated with silk velvet and gold embroidery, with red silk and passing metal threads and flat metal sequins. With the quiver are 28 metal tipped arrows made of bamboo.
The Museum of Islamic Art (MIA)
Founded in 2008, the Museum of Islamic Art (MIA) was first of the major museum to be developed by Qatar Museums. Designed by the great Chinese American architect, I M Pei, the MIA is a globally acclaimed museum showcasing Qatar's world-class collections of Islamic art spanning 1,400 years to the present day. Representing the full scope of Islamic art, the MIA collection features manuscripts, ceramics, metal, glass, ivory, textiles, wood and precious stones. Collected from three continents—including countries across the Middle East and reaching as far as Spain and China—the Museum's artworks represent the diversity of the Islamic world and date from the 7th through the 20th centuries. The museum stands majestically on a specially created cornice, with panoramic views across Doha's waterfront. MIA also presents a changing programme of exhibitions, as well as extensive education activities for schools and community groups. The MIA has been a popular and critical success in the region and internationally, attracting over 200,000 visitors a year.