NEW YORK / The Morgan Library & Museum launched an extensive online exhibition in conjunction with its exhibition, Treasures of Islamic Manuscript Painting from the Morgan, on view until January 29, 2012.
More than 120 religious and secular works from the Morgan's outstanding collection of Islamic manuscripts are presented, including thirty not in the museum exhibition. Magnifying capabilities bring rich details—often nearly hidden even from a short distance—into view, while accompanying commentary from exhibition curator William Voelkle provides context and insights.

The online presentation is divided into six sections:

 


1. The Qur˒an, the Holy Book of Islam
Eighteen Qur'ans and Qur'an leaves, dating from the 10th through the 19th centuries, reveal a wide range of decorative motifs and calligraphic styles. 


2. Natural History and Astrology
Five illustrations from a thirteenth-century treatise on the benefits of animals—ranked among the ten most important Persian manuscripts in existence—mark the beginning of the Natural History and Astrology section. Several works based on astronomy, cosmology, demonology, poetry, and mysticism are also included.


3. Rūmī, Persian Mystic And Poet
Over thirty illustrated manuscript pages depict a variety of scenes from the life of Persian mystic and poet Rumi, including a water monster begging Rumi's wife to intercede on his behalf, Rumi restoring his favorite flute player back to life, and the Prophet Muhammad reading Rumi's poetry. 


4. The Read Persian Album
The Read Persian Album, one of two disassembled albums that once belonged to Sir Hercules Read, a curator at the British Museum in the early twentieth century, contains exceptional depictions of secular subjects.
5. The Read Mughal Album
The second album, known as the Read Mughal Album, is particularly notable for its life-like portraits of Mughal rulers, and several composite drawings, such as an elephant, horse, and lion made of entwined animal and human figures.


6. Persian poetry
The importance of Persian poetry and poets is evident in their rich representation in the online exhibition. Thirty-six manuscripts illustrate some of the most beloved Persian poems, like Nizami's Khamsa, which includes the story of Laila and Majnun, the Persian Romeo and Juliet.


Please visit their website to see amazing art works in great detail, an example: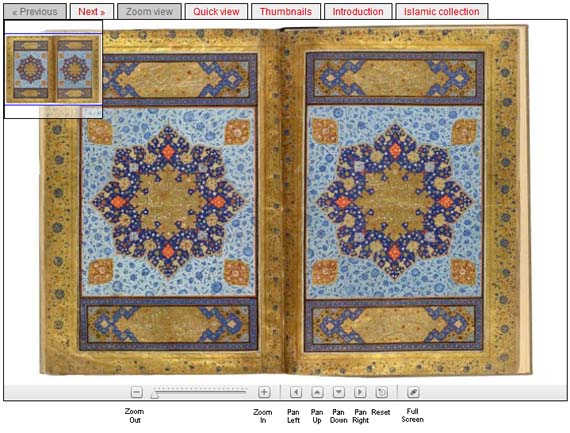 The Jerrāh Pasha Qur'an / Qur'an, in Arabic. Persia, Shiraz, ca. 1580. On paper, 483 x 340 mm. Purchased by Pierpont Morgan, before 1913; MS M.532 (I), fols. 1v–2r
The Qur'an can be seen in greater detail (also in full screen):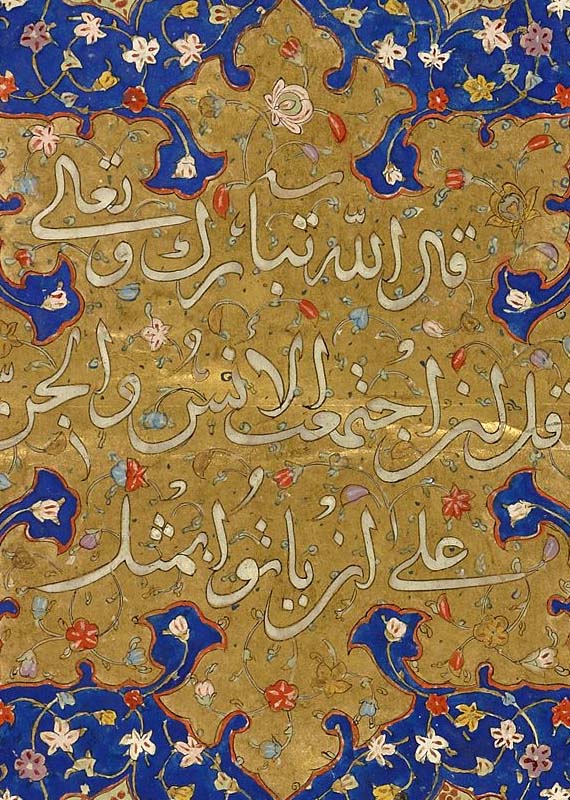 This online exhibition was created in association with the exhibition Treasures of Islamic Manuscript Painting from the Morgan, on view 21 October 2011 through 29 January 2012, organized by William Voelkle, curator and head of the Department of Medieval and Renaissance Manuscripts. The exhibition is supported in part by a generous grant from the Hagop Kevorkian Fund and by the Janine Luke and Melvin R. Seiden Fund for Exhibitions and Publications.
Click HERE to see this and other Qur'ans.
See the entire ONLINE EXHIBITION.