Tonight the creative community will gather for the unveiling of contemporary art exhibitions and events to mark the opening of the 2016-17 arts season at Alserkal Avenue.
Leila Heller Gallery, Dubai, will debut its space on the Avenue with separate solo exhibitions by Ghada Amer and Wim Delvoye on Galleries Night on November 16, 2015, when galleries simultaneously open new exhibitions from 6pm – 9pm. The creative community is welcomed to the unveiling of new gallery openings, contemporary art exhibitions and artist talks.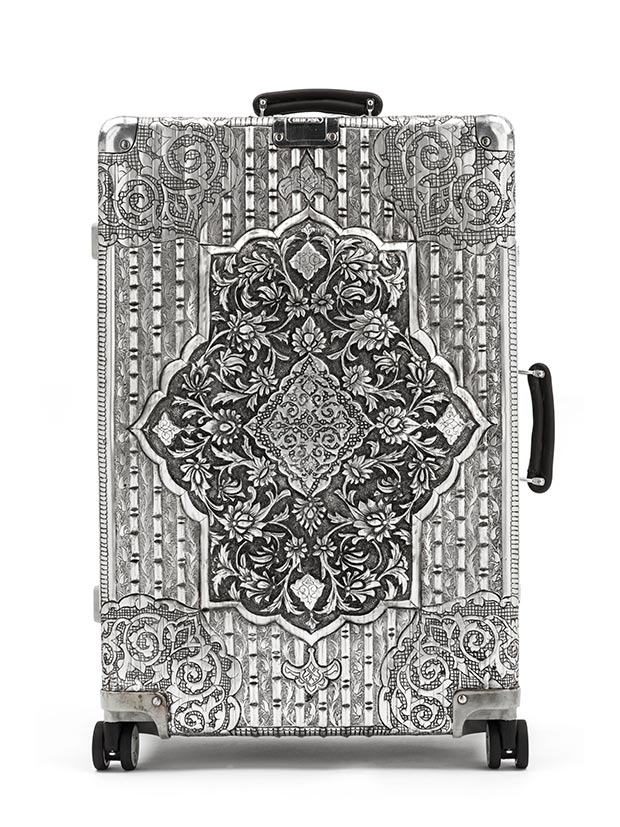 Delvoye Wim, Rimowa Classic Flight Multiwheel, 2014, Embossed aluminum, 71 x 47 x 25.5 cm / Courtesy of Leila Heller Gallery
Abdelmonem Bin Eisa Alserkal, Alserkal Avenue Founder and Patron of the Arts comments, "The launch of the Alserkal Avenue expansion is affirmation of the development of a sustainable ecosystem for arts in the region with Middle Eastern and international talents laying their foundations here."
1x1 Gallery will be relocating and opening its new space in Alserkal Avenue with an exhibition of select works by Anju Dodiya, Bharti Kher, Chittrovanu Mazumdar, Hema Upadhyay, Mithu Sen, Nasreen Mohamedi, Sudarshan Shetty, and Zarina Hashmi. The new gallery will comprise of two large exhibition spaces, a viewing room, as well as an edition shop, Editions1X1, will be a permanent space, housed within the premises and will feature an eclectic selection of books and limited edition works of art, design and craft and will be curated in conjunction with the exhibition programme.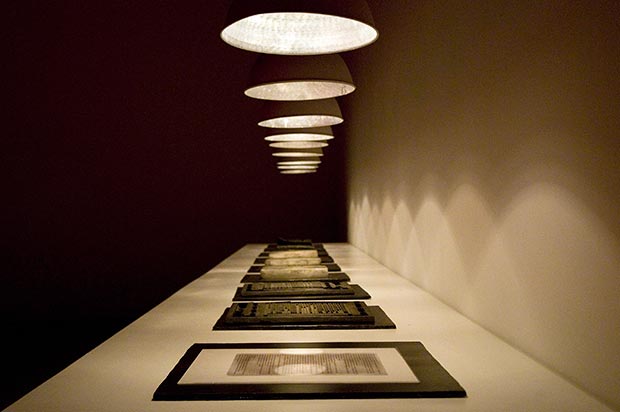 Chittrovanu Mazumdar, MACRO / Courtesy of 1x1 Gallery
As part of the launch of their new space, El Marsa Gallery will open with 'Il n'est d'autres souverains que ceux qui me regardent' by Tunisian artist Rachid Koraichi, featuring a site-specific installation of monumental sculptural and two dimensional works. The show puts forward the spiritual, intellectual and political power of scripture in Koraichi's art.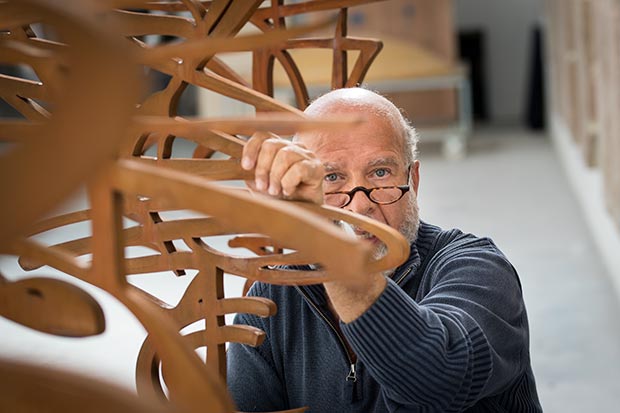 Portrait of Rachid Koraichi / Courtesy of Elmarsa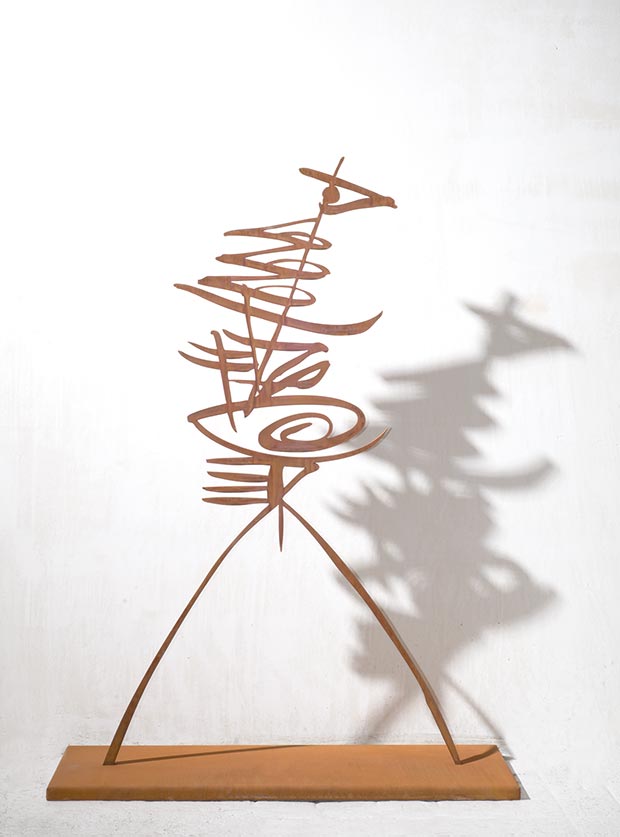 Rachid Koraichi, Les Prieurs 2 / Courtesy of Elmarsa
Vilma Jurkute, Director of Alserkal Avenue remarks, "The interest from international galleries in moving into MENA reflects the growth of the region's contemporary art scene. Together with our homegrown galleries, they create a strong foundation for dialogue, collaboration and exchange - all central to what Alserkal Avenue is passionate about and strongly invested in."
To inaugurate its new space in warehouse 12, Ayyam gallery will present a solo show by Khaled Hafez titled 'A Temple For Extended Days'. Characterised by dichotomous juxtapositions of epochs, genres, and cultures. Hafez's practice demonstrates an inclination towards the collision of worlds. Next door, Ayyam Gallery's existing space will showcase a solo show by Shama Al Shaibi. 'Collapse' will feature a diverse range of work spanning several years of her artistic career, the exhibition highlights Alshaibi's conceptual approach to photography and the layered and collapsing signs that are integral to her distinctive aesthetic. There will be a talk by Sama Alshaibi with Maymanah Farhat, moderated by Wael Hattar at 5pm.
The Junction, Dubai's first black-box theatre, will be previewing its space with a dress rehearsal of Noel Coward's The Vortex at 7.30pm. November 18 will mark the opening of the space and its three-day performance. This is an independent, community production by George Anastasiades with support and production assistance provided by The Junction.
Lawrie Shabibi will open Farhad Ahrarnia's, first solo exhibition in the Middle East region. Ahrarnia's central premise is the ambivalent engagement between West and East spanning centuries or even millennia. Ahrarnia explores the aesthetic outcome of parallel sensibilities, where high modernism converges and entangles with the ancient and the exotic in order to spiritually articulate itself.
Down the street, Gallery Isabelle van den Eynde will welcome South African artists Hasan and Husain Essop's second solo exhibition with the gallery in Dubai. Where the Essop brothers' 2011 show served as an extension of their on going concerns with the art's relationship with religion, often based on memories, rituals and stereotypes, 'Unrest' focuses on new works created in the last year as part of the Standard Bank Young Artist Award for Visual Art.
Green Art Gallery's opening is entitled 'In Surfaces & Solids', in which Nazgol Ansarinia considers the years since Iran's revolution, the post-1979 economic recovery, and how these dual efforts have manifested themselves in Tehran's urban and socioeconomic fabrics.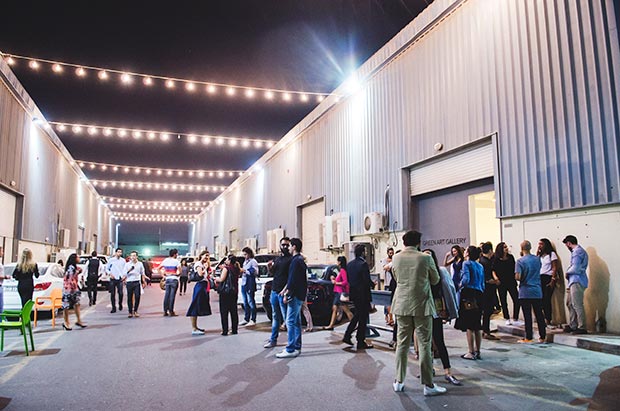 Galleries Night at Alserkal Avenue / Courtesy of Alserkal Avenue
Across the road Grey Noise presents a solo show by Caroline Aoun. 'Concrete Layers' is composed of a series of site-specific printed works on Negative Permajet transfer paper, as well as a large installation work in concrete, which show the artist's continual interest in muting and or inventing objects and materials, so as to reawaken us to new possibilities of envisioning space.
Around the corner Carbon 12 presents 'On a Boat, Looking to Land' by Gil Heitor Cortesao and Daniel Rich. Like the buildings they depict, the paintings hold in a duality the process of their own making and the allegorical intention of their own condition. If architecture can never be free from its self-imposed image, providing the signposts to where we are, then stood in front of the work of these artists we can perhaps determine that we are on disconcerting ground.
Gulf Photo Plus will welcome Dennis Dailleux, with 'Eygpt', a photography exhibition that will have a guided tour led by the artist at 8pm. Dailleux's portraits celebrate the quiet corners of Cairo, the long afternoon as it slips into the night at a shisha cafe, and the compassionate embrace of a grown son encompassing his ageing mother.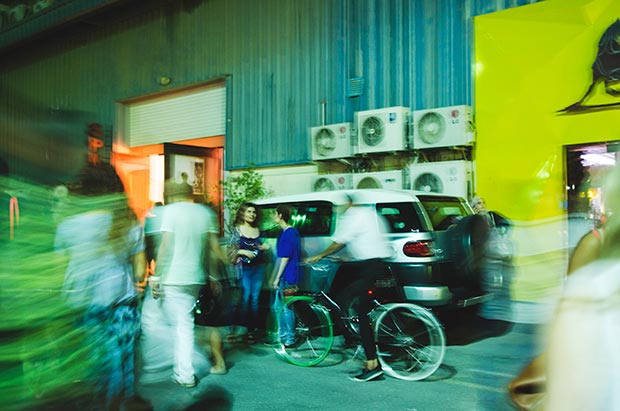 Galleries Night at Alserkal Avenue / Courtesy of Alserkal Avenue
Salsali Private Museum will present a group show by German artists titled 'German Cool'. Showcase gallery presents 'The Material Presence of the Past' by Helen Teede who attempts to subvert the inextricable link between power and writing by seeing every mark on a surface as a kind of writing. FN Designs will present 'Until The Dreams Come' by Danabelle Gutierrez and Kris Kang, showcasing all watercolor paintings that were inspired by the book & Until The Dreams Come, along with photographs of the details with excerpts from the book illustrating that while you can view any story as a whole. Lastly, La Galerie Nationale will present designer Olivier Gagnère first exhibition in the Middle East with a collection of 80 pieces and 10 paintings and drawings, in partnership with Galerie Maeght – Paris.
In honour of eL Seed opening his new artist studio space on the Avenue, the artist will be inviting visitors to preview the raw space before it is converted into his studio. Ending the night on a high note DJ MoCity, who is involved with OHM Events, will be spinning on the decks from 7pm onwards. Wild & The Moon will also be holding a pop-up.