SARAJEVO / In this article we are presenting the exclusive photos from the current restoration of the Ferhat Bey Mosque, one of the most important Balkan mosques from the Ottoman period.
Photo above: The restored dome's decoration in the Ferhat Bey Mosque, detail / Photo by Islamic Arts Magazine
Ferhat Bey's Mosque in Sarajevo is one of the most important religious buildings in Bosnia, a national monument. Its founder was a Bosnian Sanjak-Bey (governor) Ferhat-Bey Vuković, a well-known descendant of the Bosnian medieval noble family Vuković-Desisalić.
The mosque was built in 1561-62, in the classical Ottoman style, and is considered to be one of the most successfully designed single-domed mosques in the Balkans. The name of the architect is not known, but by comparing the specific characteristics like perfection, stylistic features and high standards of construction, the architect could have been one of the Mimar Sinan's students.
Due to the deterioration of its interior, the authorities of Sarajevo have launched the conservation project to preserve the painted decorations, partly from 16th century. The project is lead by a well known Bosnian restorer Nihad Čengić and his team.
The restoration launched in 2012 and is now in the final stage, the full completion is expected in summer 2013.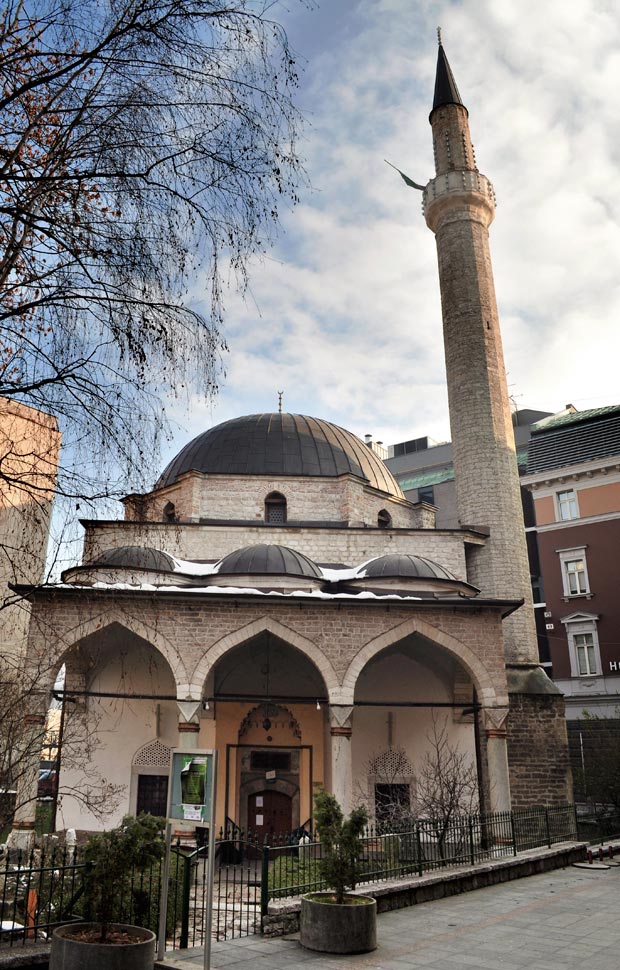 The Ferhad-Bey Mosque in Sarajevo, front view / Photo by Islamic Arts Magazine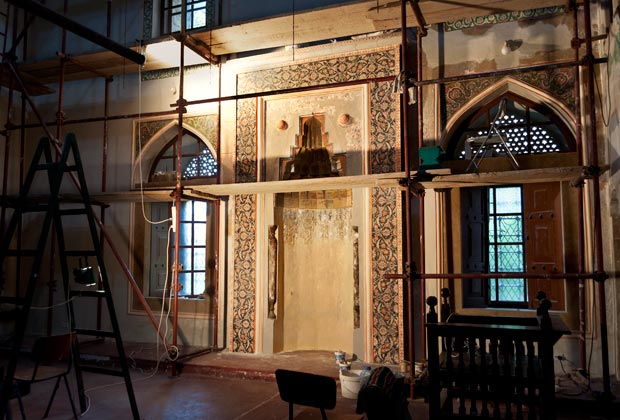 The restoration of the mihrab's decoration in the Ferhad-Bey Mosque in Sarajevo / Photo by-Islamic Arts Magazine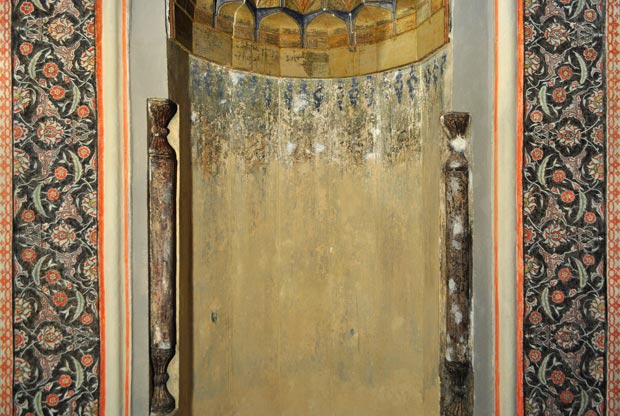 The restoration of the mihrab's decoration in the Ferhad-Bey Mosque in Sarajevo / Photo by Islamic Arts Magazine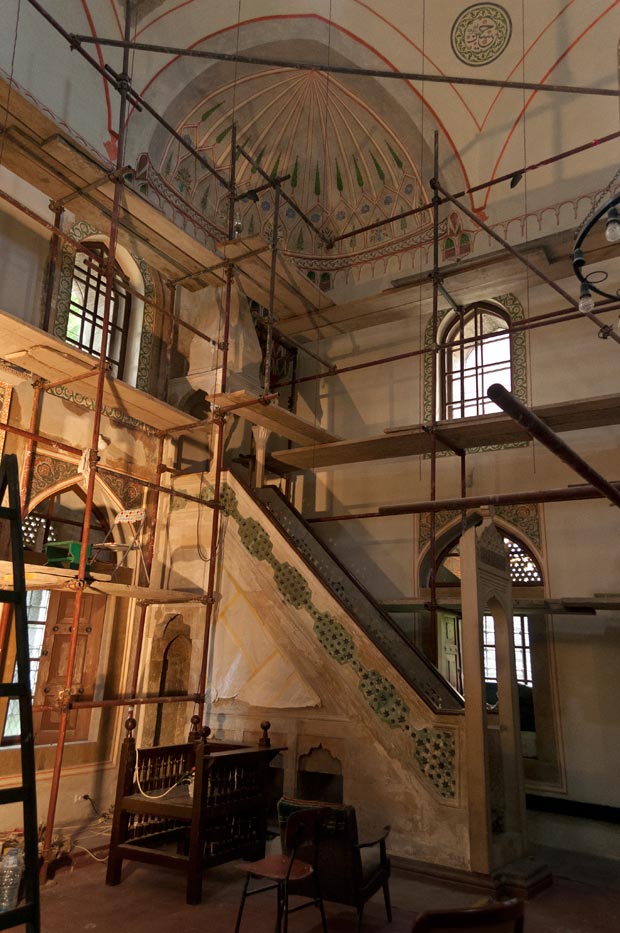 The restoration of mimber's decoration in the Ferhad-Bey Mosque in Sarajevo / Photo by Islamic Arts Magazine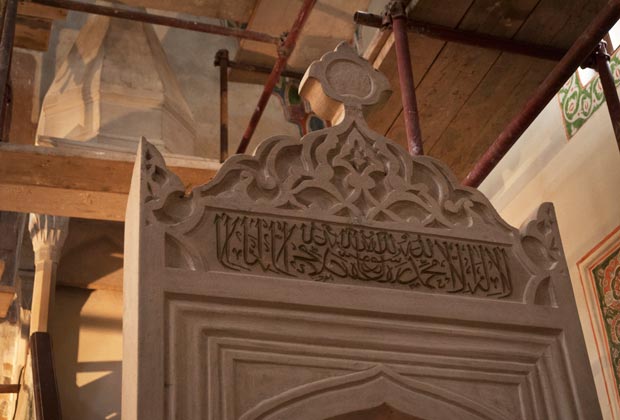 The restoration of mimber's decoration in the Ferhad-Bey Mosque in Sarajevo, detail / Photo by Islamic Arts Magazine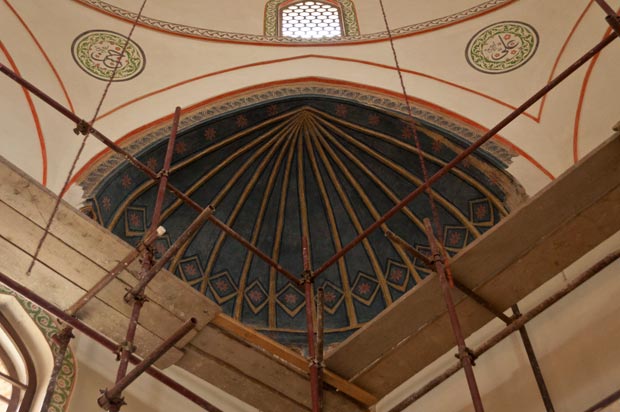 The restoration of interior decoration in the Ferhad-Bey Mosque in Sarajevo / Photo by Islamic Arts Magazine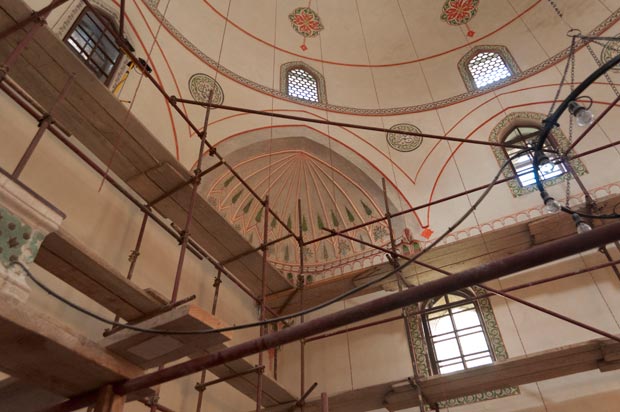 The restoration of interior decoration in the Ferhad-Bey Mosque in Sarajevo / Photo by Islamic Arts Magazine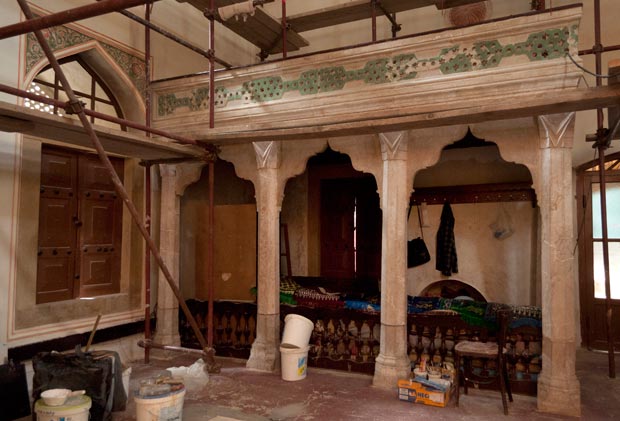 The restoration of mahvil's decoration in the Ferhad-Bey Mosque in Sarajevo / Photo by Islamic Arts Magazine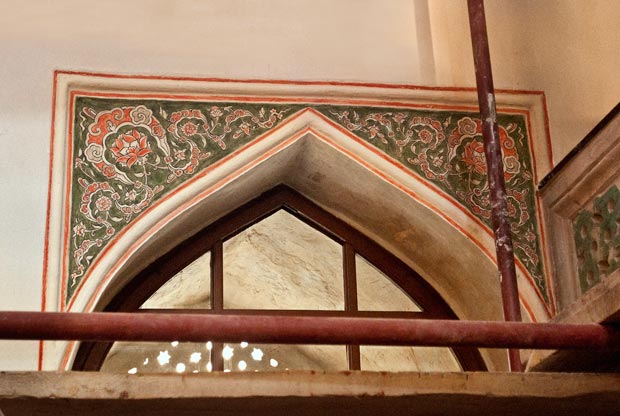 The restoration of interior decoration in the Ferhad-Bey Mosque in Sarajevo / Photo by Islamic Arts Magazine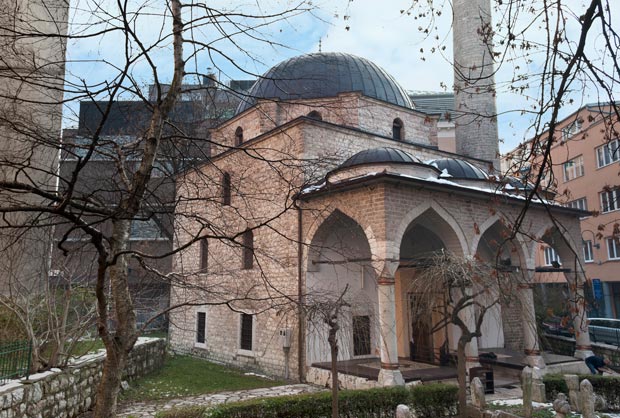 The Ferhad-Bey Mosque in Sarajevo, side view / Photo by Islamic Arts Magazine