'Return to Homs', directed by Talal Derki was screened as part of the Human Rights Award at Sarajevo Film Festival
In cooperation with the Embassy of Switzerland and the Swiss Federal Department of Foreign Affairs, Sarajevo Film Festival on August 18, 2014 hosted the Human Rights Day for the sixth year in a row.
The film, shot over three years in the Syrian city Homs, follows the story of a young duo Basset and Ossama. Basset, a promising goalkeeper of the national team, placed himself at the head of peaceful protests against the Assad regime, and later joined the armed resistance. Osama, a peace activist and photographer, appearing in the first part of the film, was first injured and later arrested by regime's authorities and his whereabouts remain unknown. 'Return to Homs' shows a lot, especially the development of conflict within the city and the key moments in which the peaceful demonstrations, as a result of the bloody suffocation by the Syrian government, have grown into legitimate armed resistance.
Through the documentary we witness psychological transformation in which young people full of hope for a better and more peaceful tomorrow become hardened warriors aware of the uncertain future of their country. The young and joyful spirit of Basset dominates though the film, as his idealism and the desire for a free Syria blends with harsh reality which he is facing with more or less success. The film contains scenes of real street fights, injuries and severe destruction of the town. In the documentary we can also see the elements of war crimes against civilians by the regime as well as the unwillingness of the international community, especially the UN specifically to help the people of Syria. Overall, the movie gives the outstanding direct insight into the war, but leaves many open questions regarding the future of Syria.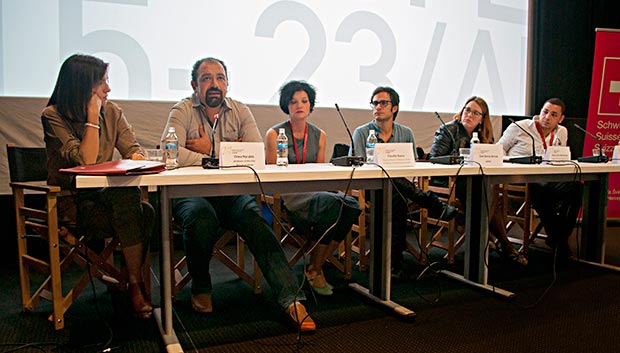 A panel, titled 'Point of No Return?' L-R: Sabina Čudić, Orwa Nyrabia, Claudia Buess, Gael Garcia Bernal, Mary Ann Hennessey and Amar Ahmed / Photo © Islamic Arts Magazine
At the end of the screening in a packed hall of Sarajevo Cinema City a panel, titled 'Point of No Return?' was opened with the honorary guests of the Festival, among which were: Orwa Nyrabia, Producer of the film 'The Return to Homs'; Claudia Buess, Deputy Head of Mission of the Embassy of Switzerland in BiH; Gael Garcia Bernal, Mexican actor; Mary Ann Hennessey, Head of the Counsil of Europe in BiH; and Amar Ahmed, journalist and activist. The moderator of the panel was a political scientist Sabina Čudić.
Scenes from the Documentary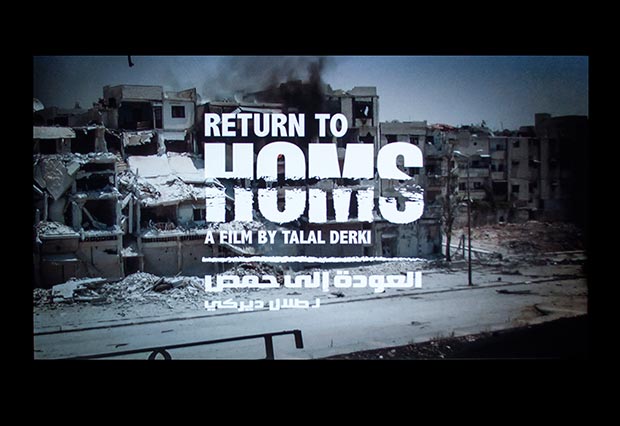 'Return to Homs' / Photo by Islamic Arts Magazine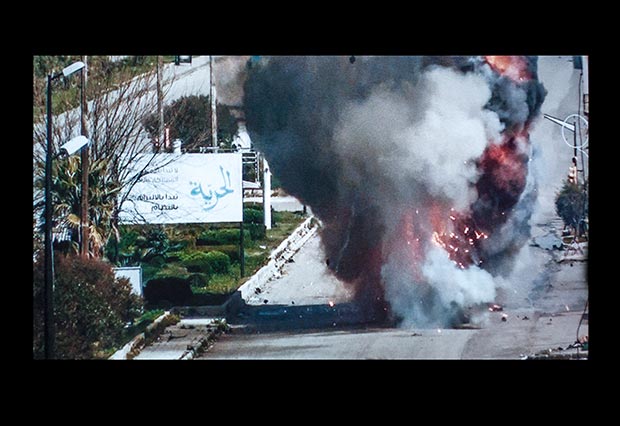 'Return to Homs' / Photo by Islamic Arts Magazine
'Return to Homs' - peaceful demonstrations led by Basset / Photo by Islamic Arts Magazine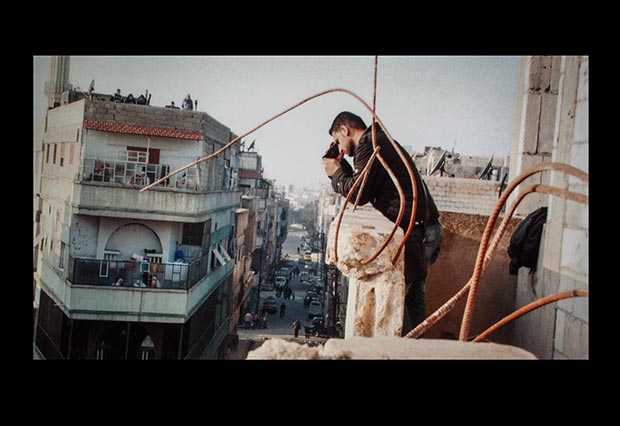 'Return to Homs' - Ossama takes photographs / Photo by Islamic Arts Magazine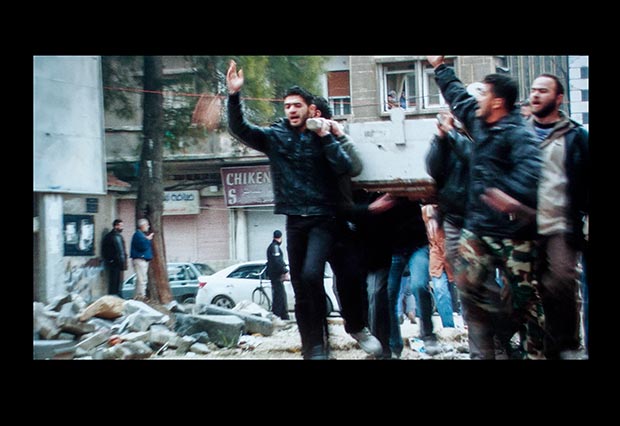 'The Return to Homs' - the victims of the war / Photo by Islamic Arts Magazine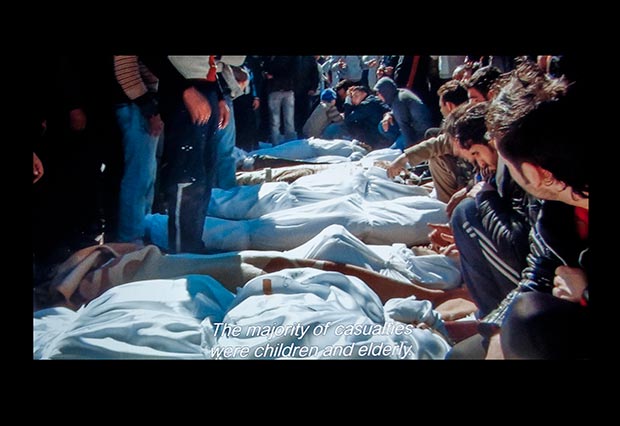 'Return to Homs' - the victims of the war / Photo by Islamic Arts Magazine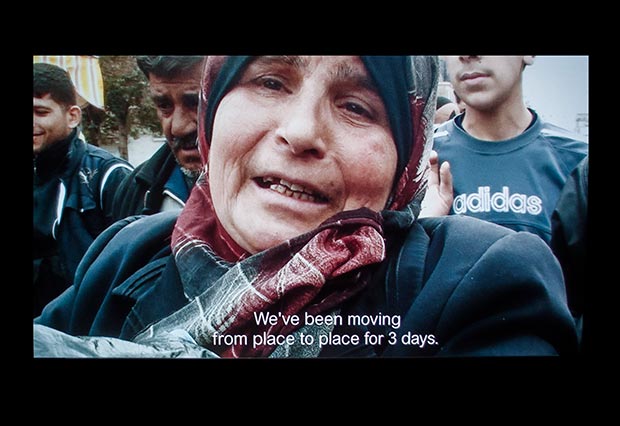 'Return to Homs' - displacement of Syrian people / Photo by Islamic Arts Magazine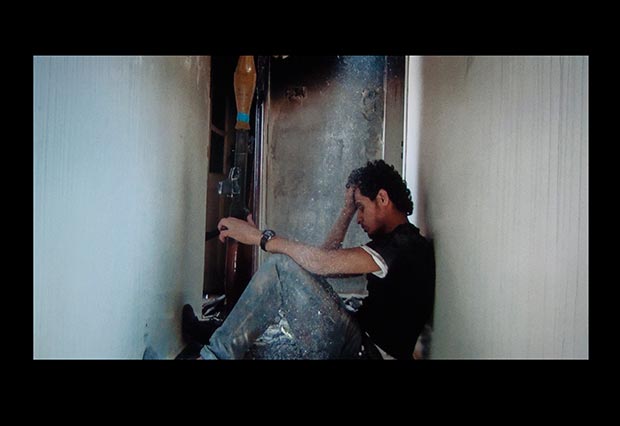 'Return to Homs' - Basset / Photo by Islamic Arts Magazine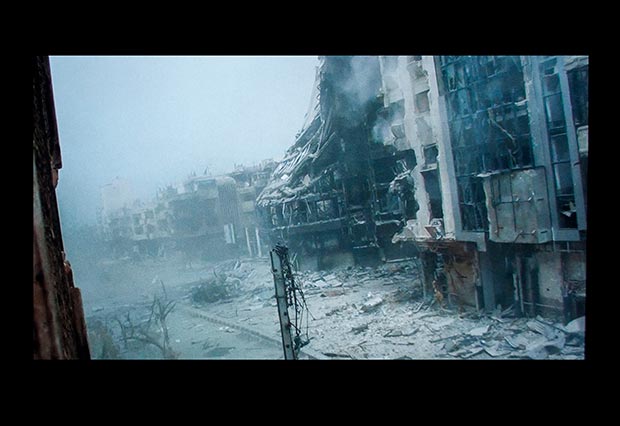 'Return to Homs' - the destruction of the town / Photo by Islamic Arts Magazine