LONDON, 6th October 2010/ The sale of Arts of the Islamic World contains a fine selection of rare objects encompassing the full scope of the Islamic lands. There are 408 lots available for buying and you can see all of them on their website.
We present some of the the highlights in this auction
1.) lot 60 - Estimate: 650.000-800.000 GBP
An extraordinary set of twenty-four preparatory paintings depicting Tipu Sultan's victory over the British at the 1780 Battle of Pollilur in India. The paintings were likely to have been produced by an Indian artist after the battle and (among many different scenes) illustrate Tipu and his father Haydar 'Ali splendidly attired on their elephants supported by their army, French mercenaries and the Maratha troops, all advancing towards the British Army.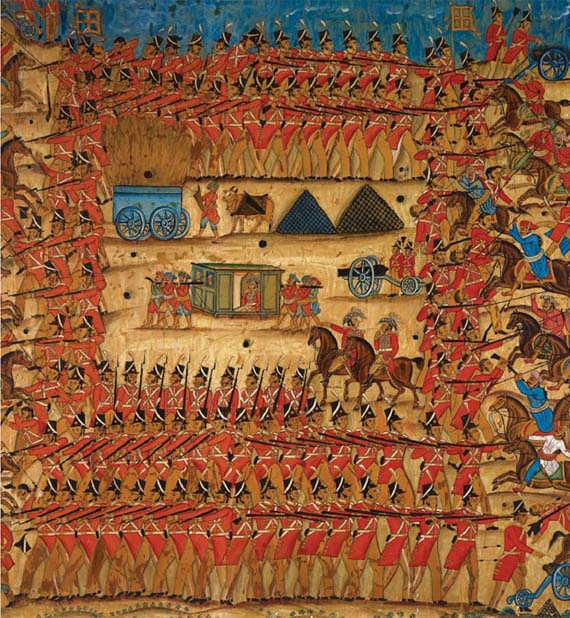 2.) lot 94 - Estimate: 500.000-800.000 GBP
A further outstanding painting is an important oil portrait of a lady by Mirza Baba, one of the foremost painters of the early Qajar period in Persia, dated 1215 AH/1800-01 AD.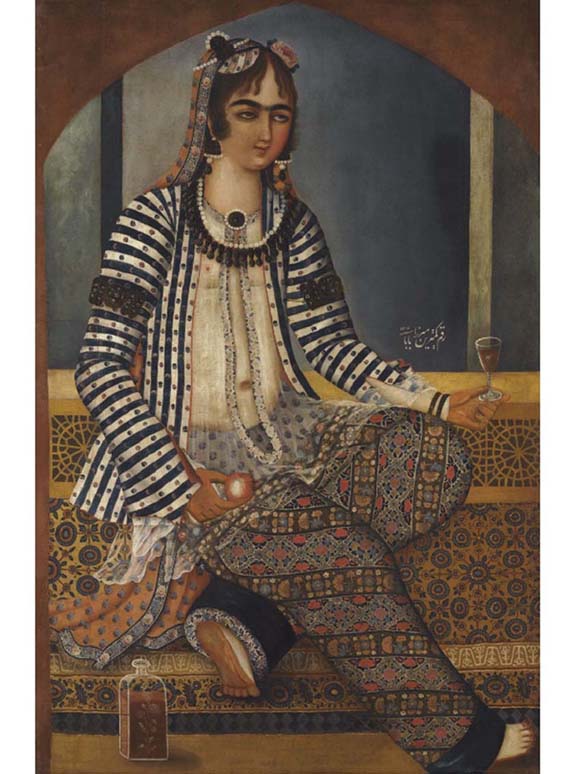 3.) lot 250 - Estimate: 600.000-800.000 GBP
An exceptionally rare and important 15th century Nasrid 'ear-dagger' from Spain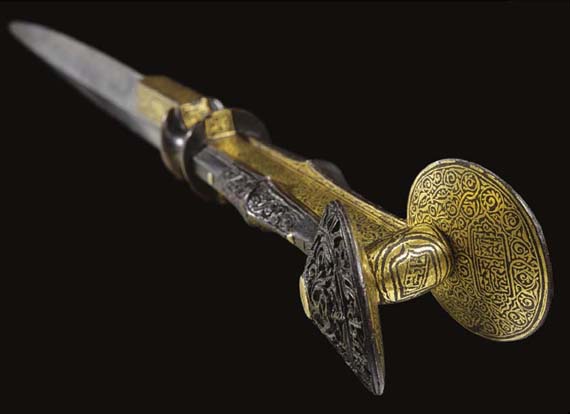 4.) lot 159 - Estimate: 40.000-60.000 GBP
Representing the illustrious tradition of Islamic pottery is a striking seated figurine of a man, possibly a mullah, from 12th/13th century Persia.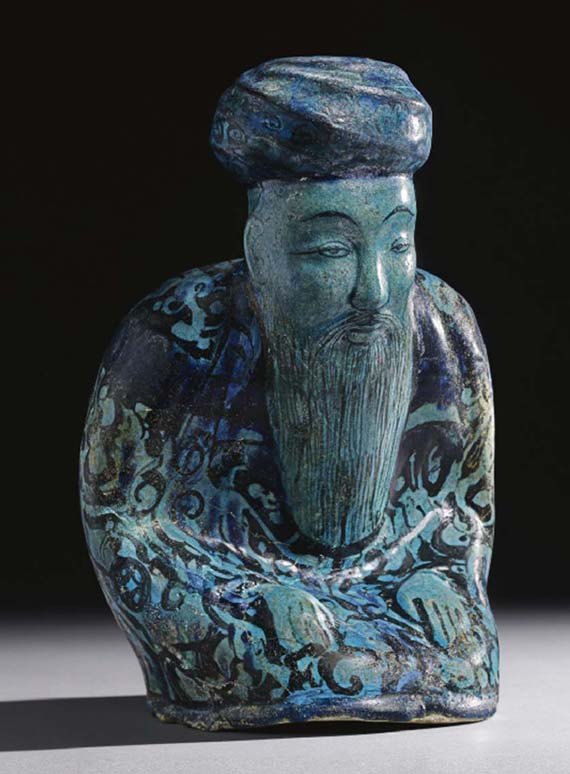 5.) lot 3 - Estimate: 100.000-150.000 GBP
Magnificent examples of the Islamic arts of the book include an exceptionally rare 7th-century Qur''an leaf from the Arabian Peninsula, belonging to the earliest group of Qur'an manuscripts, originating from the very first century of Islam.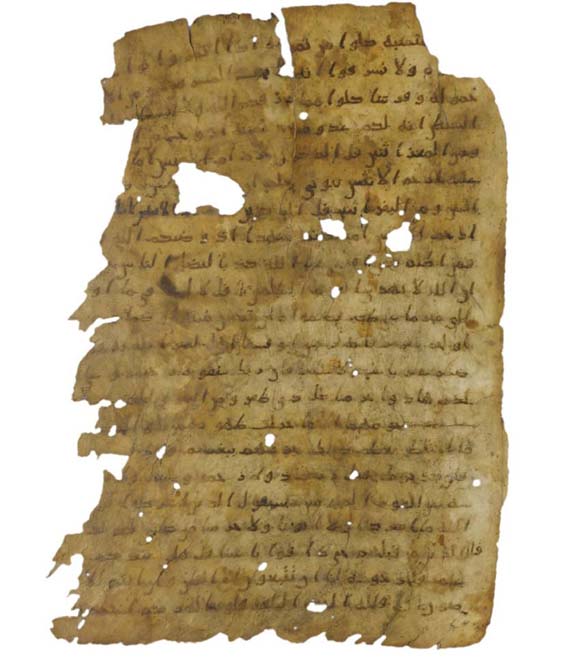 6.) lot 344 - Estimate: 80.000-120.000 GBP
From the later Islamic period comes an extremely rare Ottoman gold pocket watch gifted by Sultan Abdülhamid II (r.1876-1909) to the archaeologist, scholar and former British ambassador to Constantinople, Sir Austen Henry Layard (1817-1894). Made by Mehmed Sukri Effendi, one of the leading Turkish clock makers of the 19th century, it was originally intended for Dr Mehmed Rasim Pasha, one of the founders of the Turkish Medical School, and is extremely fine in terms of quality and craftsmanship.

7.) lot 142 - Estimate: 60.000-80.000 GBP
Reflecting the contribution of Islamic civilization to science, mathematics and astronomy, an 18th-century brass astrolabe from Morocco displaying a particularly elegant throne is also included in the sale.

8.) lot 15 - Estimate: 80.000-100.000 GBP
A fine and large illuminated Qur'an, copied by Shaykh Kamal Al-Din Abdulhaq, Persia, Safavid, 16th century.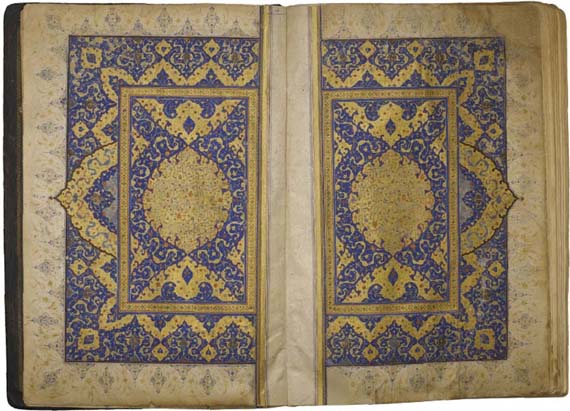 9.) lot 180 - Estimate: 70.000-100.000 GBP
A fine and monumental Mamluk brass basin with roundels and inscriptions, Egypt or Syria, Early 14th century.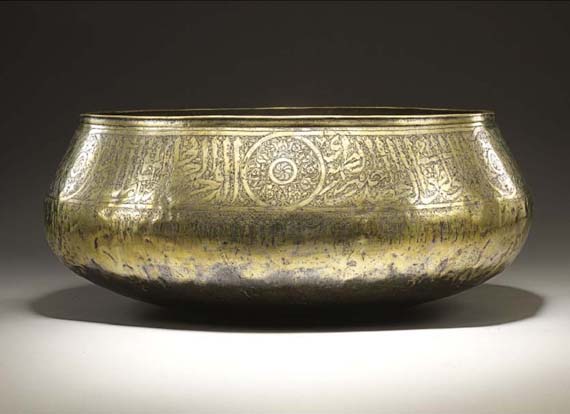 DATE & TIME of the auction
Session 1: Wed, 6 Oct 10, 10:00 AM, Lots 1 - 219
Session 2: Wed, 6 Oct 10, 2:30 PM, Lots 220 - 408
LOCATION London
For more information: http://www.sothebys.com/app/paddleReg/paddlereg.do?dispatch=eventDetails&event_id=29958
Source for text and photos: http://www.sothebys.com/app/ecatalogue/fhtml/index.jsp?event_id=29958#/r=index-fhtml.jsp?event_id=29958|r.main=event.jsp?event_id=29958/
Photos: © Copyright Sotheby's