Galleries from Around the World and an Interactive Public Programme to Engage Audiences Across The City from November 5-8, 2014
The sixth edition of Abu Dhabi Art presents a selection of innovative and renowned galleries from around the world along with an interactive public programme that celebrates the cultural diversity of the UAE and the region.The world's leading modern and contemporary art galleries will be back to Abu Dhabi from November 5-8 and be a part of an evolving platform of diverse programmes that introduces the public to Abu Dhabi's cultural landscape.
Taking place at Manarat Al Saadiyat on Saadiyat Island, Abu Dhabi Art is organised by Abu Dhabi Tourism & Culture Authority (TCA Abu Dhabi), and offers a multi-disciplinary experience combining an art fair with a diverse public programme which includes art, talks and sensational events. As Abu Dhabi Art prepares to welcome the artists, cultural leaders, scholars and collectors from around the world, the fair is establishing itself as a leading event on the international arts calendar.
"In its sixth edition, Abu Dhabi Art has developed into an international art event, bringing the art world to Saadiyat Cultural District and to Abu Dhabi. As the event grows annually, Abu Dhabi Art continues to cultivate a viable cultural eco-system for the city, and establish Abu Dhabi, along with the future museums of Saadiyat Cultural District, as a global cultural hub,"says HE Sheikh Sultan bin Tahnoon Al Nahyan, TCA Abu Dhabi Chairman.
Galleries will continue to exhibit under the five established sections of the fair:
(1) Modern & Contemporary Galleries;
(2) Bidaya, highlighting one emerging gallery;
3) Signature, galleries presenting their emerging artists;
(4) Design, showcasing an innovative experience combining traditional and modern design aesthetics,
(5) Beyond, the section for large-scale installations, sculptures and site specific commissions by selected artists.
The highlight of this year's edition will be in the section of 'Beyond' that will extend for the first time to various venues across Abu Dhabi, actively engaging with the audienc eand reflecting the significant role that public art plays within society and throughout the city's landscape.

Abu Dhabi Art sixth edition will also include the successful return of Artists' Waves, the section that showcases a presentation of innovative works of art which allows the discovery and re-discovery of artists. Artists' Wavespresentsworks reflecting the dynamism of new artistic movements and shifting perceptions and gives to the galleries the possibility to integrate Abu Dhabi Art through their artists. The section also includes a special salon in which visitors can engage with galleries representing the participating artists.

The Abu Dhabi Art Public Programme returns with an extensive agenda of public talks, book launches, film screenings, and a wide performing arts platform including, Durub Al Tawaya.Having been launched in ADA 2013, Durub Al Tawaya focuses on live and artistic expressionsthat take place throughout a number of locations across the city interactively engaging with the community and returns this year with a series of live performances, art installations and artistic interventions.

In an effort to continue to define the UAE design aesthetics, the Abu Dhabi Art Design Programme will present results from elements of the intangible heritage of the UAE with contemporary artistic interpretations. Highlighting the best of contemporary design, the Design Programme will feature presentations by winners of the Abu Dhabi Art UAE Designer Programmewhich was launched in 2013.Concluding a year of development, support and tailored professional workshops, the winning designers will unveil prototypes of unique contemporary design works that incorporates elements of UAE craft.

Running in Parallel with Abu Dhabi Art is the exhibition,Seeing through Light: Selections from the Guggenheim Abu Dhabi Collection. The exhibition will showcase18 artists whose works encompass a variety of media from the 1960s to the present. The exhibition will show a selection of artworksfrom the Guggenheim Abu Dhabi's permanent collection exploring the theme of light.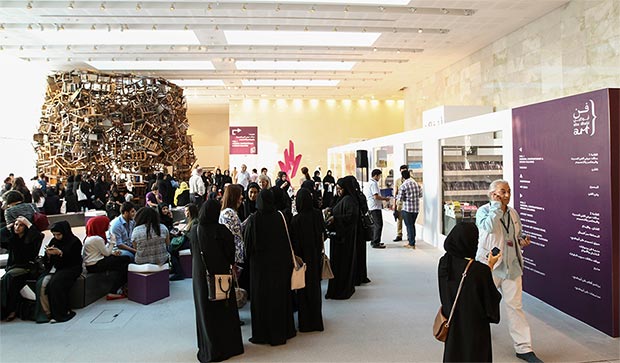 Abu Dhabi Art 2013 / Image Courtesy: The Cool box
Participating Galleries for 2014:
AB Gallery, Acquavella Galleries, Inc., Agial Art Gallery, Aicon Gallery, ARNDT, Athr Gallery, Ayyam Gallery, Carpenters Workshop Gallery, Edward Tyler Nahem Fine Art, L.L.C., Elmarsa, GaleriZilberman, Galerie Brigitte Schenk, Galerie Enrico Navarra, Galerie GP & N Vallois, Galerie Janine Rubeiz, GalerieTanit, GalerieThaddaeusRopac, GALLERIA CONTINUA (San Gimignano/Beijing/Les Moulins), Gallery Isabelle van den Eynde, Hanart TZ Gallery, Hauser & Wirth, Horrach Moya, Hunar Gallery, kamelmennour, Kashya Hildebrand Gallery, Kukje Gallery / Tina Kim Gallery, Lam Art Gallery, Le Violon Bleu, Leehwaik Gallery, Leila Heller Gallery, Lisson Gallery, Meem Gallery, October Gallery, Park RyuSook Gallery, Paul Kasmin Gallery, Paul Stolper Gallery, SalwaZeidan Gallery, Sfeir-Semler Gallery, Simon Lee Gallery, The Breeder, The Park Gallery, The Third Line, Whitestone Gallery, XVA Gallery, Bidaya:Taymour Grahne Gallery
About Abu Dhabi Art
Abu Dhabi Art is a distinctive platform that is continuously evolving to adapt to the ongoing developments in the cultural landscape of Saadiyat Cultural District and the Emirate of Abu Dhabi. Organised by Abu Dhabi Tourism & Culture Authority (TCA Abu Dhabi), Abu Dhabi Art further promotes the city as a catalyst for art and culture, and presents a vibrant programme of the world's most innovative galleries, artists, cultural leaders and collectors from across the globe.
Abu Dhabi Tourism & Culture Authority (TCA Abu Dhabi)
Abu Dhabi Tourism & Culture Authority (TCA Abu Dhabi) conserves and promotes the heritage and culture of the Abu Dhabi Emirate and leverages them in the development of a world-class, sustainable destination of distinction which enriches the lives of visitors and residents alike. The Authority manages the Emirate's tourism sector and markets the destination internationally through a wide range of activities aimed at attracting visitors and investment. Its policies, plans and programmes relate to the preservation of heritage and culture, including protecting archaeological and historical sites and to developing museums, including the Louvre Abu Dhabi, Zayed National Museum and Guggenheim Abu Dhabi. TCA Abu Dhabi supports intellectual and artistic activities and cultural events to nurture a rich cultural environment and honour the Emirate's heritage. A key Authority role is to create synergy in the destination's development through close co-ordination with its wide-ranging stakeholder base.