DUBAI / "The World in Ramadan" exhibition in the Dubai Mall was on Monday (July 23, 2012) officially launched by His Excellency Saeed Al Nabouda, the acting Managing Director of the Dubai Culture and Arts Authority and the Vice Chairman of the HIPA. Also in attendance were board members of the award: Ali bin Thailth, Sahar Al Zarei, Mater bin Lahej and Majed Al Bastaki. The exhibition includes 22 photographs by 16 photographers from all around the world, showing various Islamic traditions practiced by Muslims during the holy month of Ramadan.
The opening of the exhibition coincides with the launch of the second season of the Hamdan bin Mohammed bin Rashid International Photography Award, which is scheduled to be the largest photography award in terms of prize money in the world. With a Grand prize award of US $120,000, the award also hopes to spread awareness of Islamic art through photography during the holy month.
Photographs taking part in the exhibition were chosen from submissions that competed in the first season of the award. This marks the award's pledge of keeping an association with competitors that competed in the award even after the conclusion of competition. Bringing the chosen photographers to Dubai to share their work with the general public is a sign of Dubai's emergence as a hub for photographers from all around the world.
Ali bin Thalith, the Secretary General of the Hamdan International Photography Award revealed that the Ramadan exhibition complies with the strategic plans of the award of taking part and organising photographic and arts exhibitions on a regular basis. This he hoped would in turn help attract some of the world's major photography exhibitions to Dubai and to spread the message of photography further in the region.
The exhibition will be shown in the Bloomingdale's atrium and will be open for the general public through mall shopping hours.
Here are some highlights from the exhibition: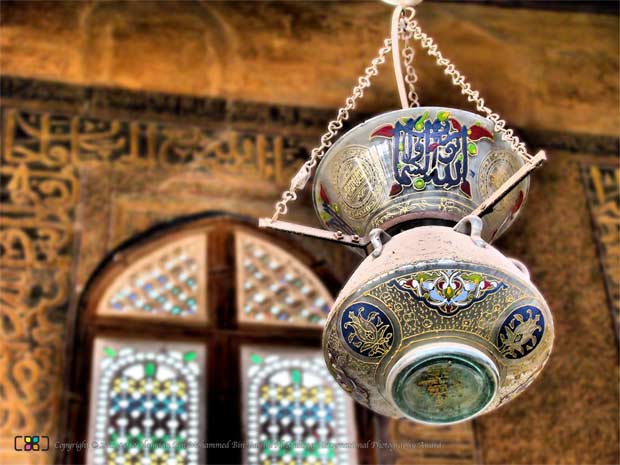 An old oil lantern with verses from the holy Quran reading "God is the light of the heavens and the earth" hangs in the 'Mo'ayed Sheikh' Mosque in Old Cairo, Egypt / Photo by Mohammed Aziz / Courtesy of HIPA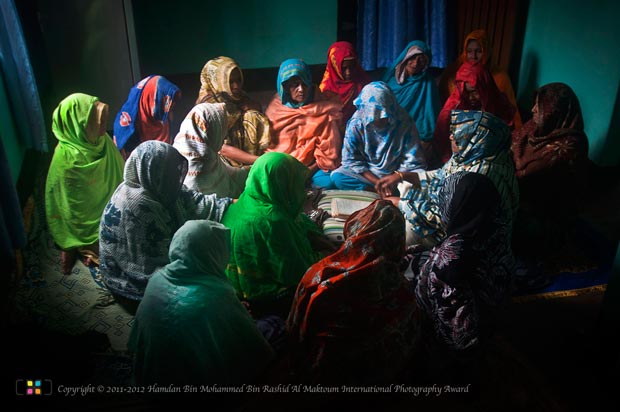 A group of local women gather in a room to learn the Holy Quran and Hadith during the holy month of Ramadan. The gathering is called a 'Ta'lim' and is commonly practiced by women in Bangladesh throughout Ramadan / Photo by A.M.Ahad / Courtesy of HIPA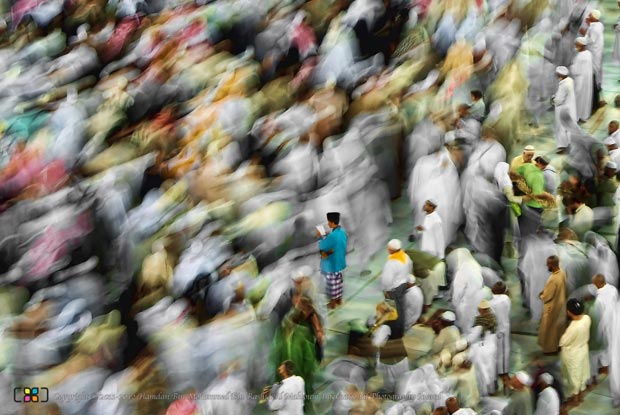 A man stands alone in supplication amongst crowds of worshippers and people performing prayers at Islam's holiest site 'The Masjid Al Haram', Mecca / Photo by Abdul-Aziz AlBaqshi / Courtesy of HIPA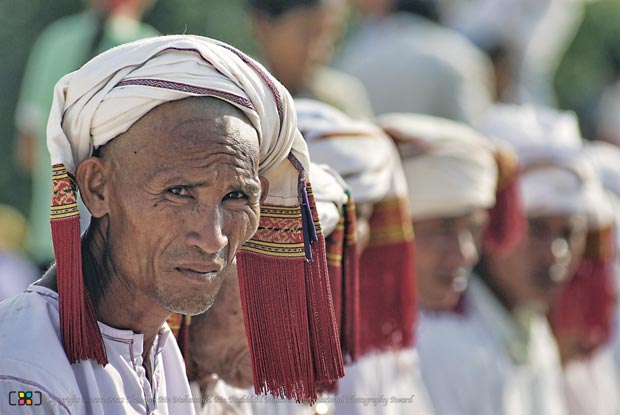 During the holy month of Ramadan, the Champa Muslim community in Ninh Thuan, Vietnam practice a ritual of remembrance for their dead ancestors. This ritual involves visiting burial sites of ancestors and leaving offerings such as cigarettes, crackers and fruits / Photo by Ly Long / Courtesy of HIPA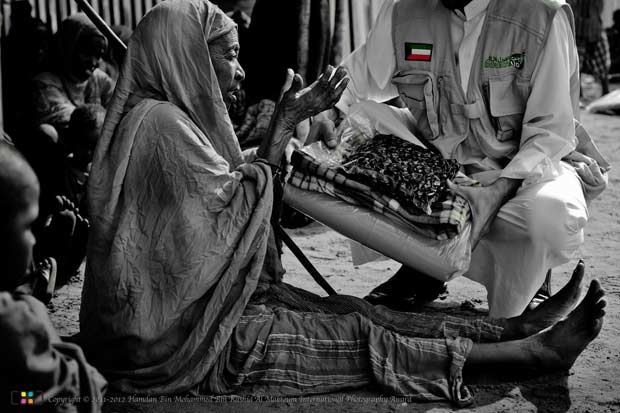 An elderly woman lifts her arms in supplication as she receives food and blankets from a Kuwaiti aid worker in Mogadishu, Somalia during the East Africa drought in 2011 / Photo by Majid Sultan / Courtesy of HIPA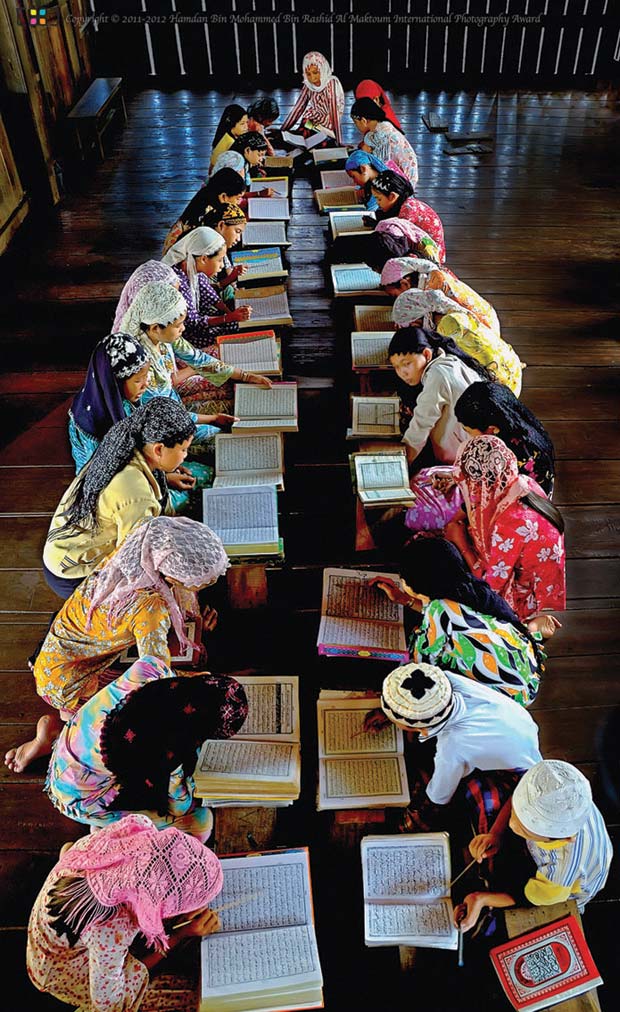 A class of children reading the Quran sit in two rows parallel to each other. The teacher sits at the front of the class with her own Quran / Photo by Phan Hein / Courtesy of HIPA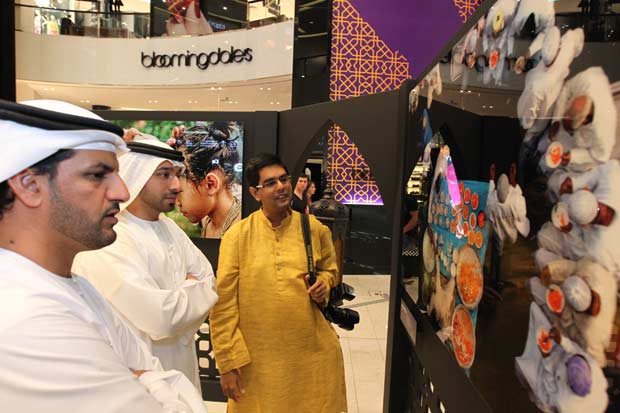 From the opening of the exhibition / Courtesy of HIPA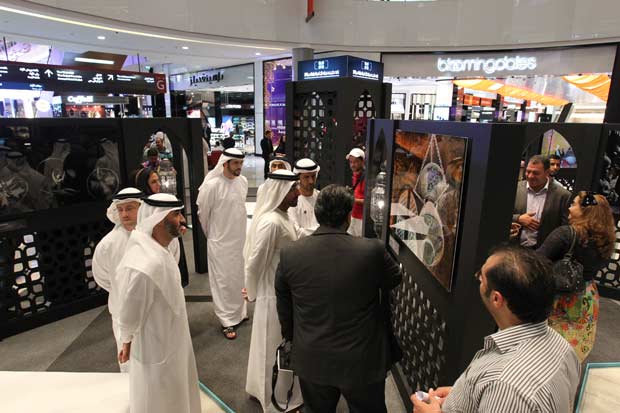 From the opening of the exhibition / Courtesy of HIPA