Selected Works of Eastern and Western Calligraphy. The exhibition will run at Sakıp Sabancı Museum in Istanbul until June 26, 2010.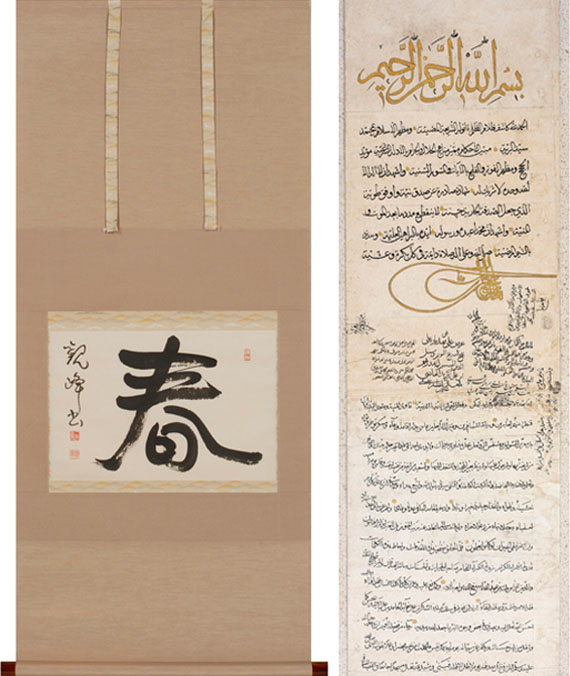 L - SPRING, Calligraphy by Kampo Harada, Semi-cursive style, 125 x 54 cm / R- VAKFIYE (Endowment deed), Derviş Hasan bin İlyas, 1503, 475 x 24 cm, Ink and gold on paper. This endowment deed carrying the signature (tuğra) of Sultan Bayezid II (r. 1481-1512) is an important document concerning the history of the Ottoman Empire. The text pertains to the endowed estates of one İlyas bin Abdullah, marking the boundries of certain lands in Istanbul and Çorlu, and stating the conditions for their management / Photo: © Copyright Sakıp Sabancı Museum
Sabancı University Sakıp Sabancı Museum (SSM), in collaboration with Mitsubishi Corporation and Japan Tobacco (JT), is hosting the exhibition entitled 'Transcending Borders with Brush and Pen - Selected Works of Eastern and Western Calligraphy' as part of Japan Year 2010 in Turkey.
With this exhibition, (April 15 - June 27, 2010) SSM aims to provide an introduction to the art of calligraphy by displaying fine samples of Ottoman, Far Eastern, and Latin calligraphy. The exhibition has been curated by SSM Consultant Dr. Filiz Çağman, President of the MG School of Latin Calligraphy Muriel Gaggini, and the Director of the Kampo Museum Yuri Harada.
The exhibition encourages visitors to discover the feelings master calligraphers imbued into the letters they craft with traditional tools which continue to be used in modern times such as the pen, the brush, ink, and paper. Selections from SSM's Ottoman calligraphy collection and examples of Chinese and Japanese calligraphy from Japan's Kampo Museum will be on display at the exhibition. In addition, along with the historical samples of Latin calligraphy, there will be famous Turkish texts written by artists from the MG School of Latin Calligraphy.
Within the framework of the exhibition, Muriel Gaggini, one of the exhibition curators and the President of the MG School of Latin Calligraphy, will conduct workshops for adults on calligraphy. Besides, the children will have occasion to find out the art and theory of calligraphy via workshop programs designed by SSM Education Department.
SSM Director Dr. Nazan Ölçer stated that, "As you know, the year 2010 which is the 120th anniversary of friendly relationships between Turkey and Japan is being celebrated as the 'Japan Year in Turkey'. We are very proud of being part of these events trough the exhibition entitled "Transcending Borders with Brush and Pen". The exhibition presents precious works of Ottoman, Chinese, Japanese, and Latin calligraphy. I would like to invite all art lovers to discover the feelings which the master calligraphers of East and West imparted to their letters by brush, pen and ink."
Mitsubishi Corporation General Manager for Turkey Taichi Ito said that, "We are extremely proud to be one of the sponsors of this beautiful calligraphy exhibition at the Sakıp Sabancı Museum. To date, Mitsubishi Corporation has been engaged in similar activities in other parts of the world by, for example, sponsoring the Japanese Gallery at the British Museum in London, as well as running our own Art Museum called Seikado Bunko in Tokyo, and supporting the Art Gallery right next to our new headquarters in Tokyo which just opened very recently. This will be our very first sponsorship of an exhibition in Turkey, and it is our great honour to have the opportunity to collaborate on this calligraphy exhibition with very reputable partners, such as SSM, Kampo Museum and MG School of Latin Calligraphy. We have decided to participate in this special event within the context of our company's Corporate Social Responsibility programme, which we believe is just as important as our day-to-day business activities. By combining various precious calligraphies from different cultures, sharing these with our Turkish friends, I believe that this exhibition, as mentioned in its name, is a way to transcend borders and create a bridge between East and West, just like the city of Istanbul. This beautiful city, I feel, is definitely the ideal location to host such an artistic event with high historical and cultural value. And moreover to present this as an official event of 2010 Japan Year in Turkey makes it all the more meaningful."