Afghan Artisan Sughra Hussainy Featured on International Women's Day
As the world notes the achievements of women on March 8, International Women's Day, a newly opened exhibition, presented by the Smithsonian's Arthur M. Sackler Gallery, casts a spotlight on young Afghan women artists and arts entrepreneurs who are reviving the culture and economy of their country. 'Turquoise Mountain; Artists Transforming Afghanistan,' which opened on March 5 and runs through January 2017, tells a powerful human story of resilience and creativity amidst the ruins of war in Afghanistan, focusing on the lives of the young Afghan artists living and working there.
Sughra Hussainy, a young painter who was orphaned as a child, went on to study at Turquoise Mountain's arts institute in Kabul. For Hussainy, who lives with her brother in western Kabul, art is a source of solace and hope. For this exhibition, she and two friends have made all the raw material-including paper, pens, and pigments-to create a piece of illumination work and calligraphy.
Sughra Hussainy trained at the Turquoise Mountain Institute in Kabul. She is the first of 17 Afghan artisans who will visit the US and appear in person at Turquoise Mountain throughout the year / Courtesy of Turquoise Mountain
The immersive exhibition is told through the voices of these artisans, including Hussainy. Site-specific installations created by the artists depict Murad Khani, the cultural center of Old Kabul. The installation will be enhanced by video projections, large-scale photographs and text panels written by the artisans. All the artisans are connected with Turquoise Mountain, a charity that has been working for the past decade in Afghanistan to preserve and revive the country's cultural heritage and traditions. These revived artistic practices-jewelry making, calligraphy, carpet making, woodworking and ceramics-have an economic and social impact, creating income for Afghan women and empowering women to become contributors to Afghan public life and economy.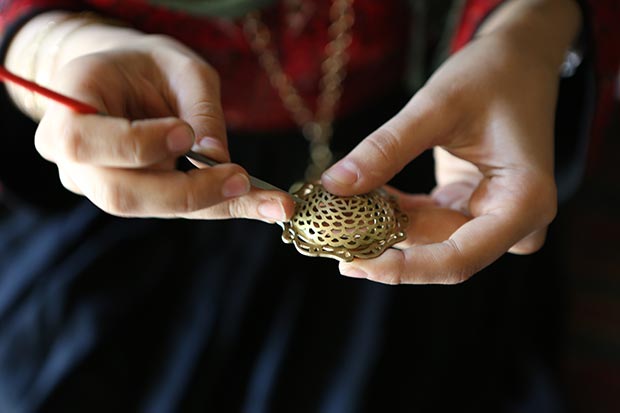 Born in 1992 in Pakistan, Storai Stanizai comes from an Afghan family with a strong connection to the arts. "In life you must do the things you want," Stanizai says. "I do not see myself as just a jeweler... I am also an artist." / Courtesy of Turquoise Mountain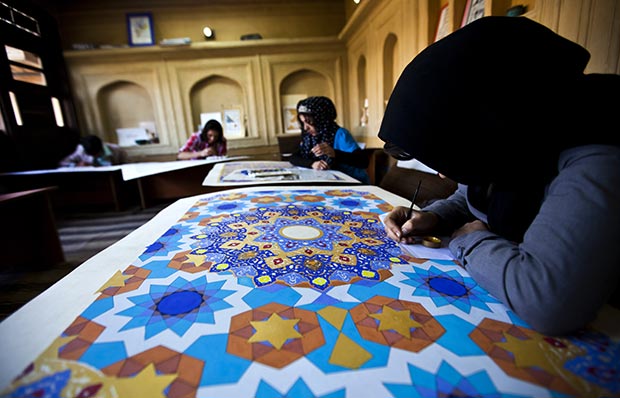 Turquoise Mountain is also committed to providing a sustainable source of income for Afghanistan's young women. Currently over half of Turquoise Mountain's calligraphy and jewelry students are women / Courtesy of Turquoise Mountain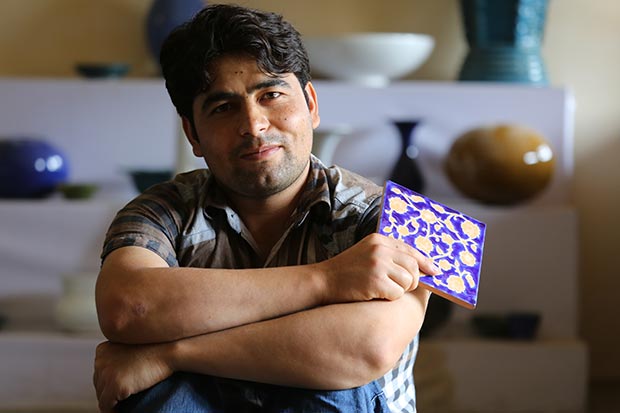 Born in 1988 in Mazar-e-Sharif, Zahir Shah Amin is the son of one of Afghanistan's most renowned tile makers. He joined the first tile-making program of the Turquoise Mountain Institute in 2007, and today he is its head teacher / Courtesy of Turquoise Mountain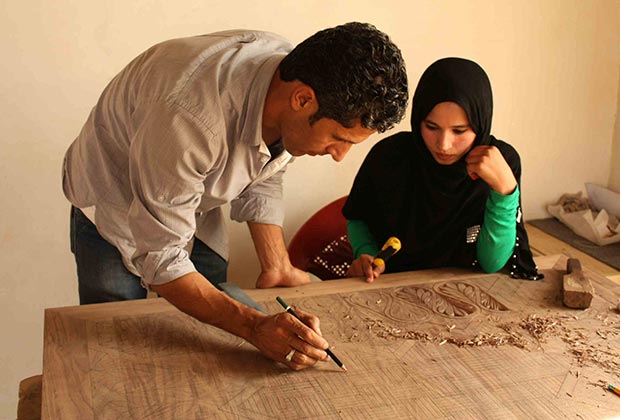 Following the Soviet invasion of Afghanistan, Nasser Mansouri (left) fled to Iran at the age of 11. There, he was apprenticed to an Iraqi master of classical wood carving. When he returned to Afghanistan in 2006, Mansouri became a woodwork master at the Turquoise Mountain Institute / Courtesy of Turquoise Mountain
Through the run of the exhibition, pairs of other Afghan artisans, graduates of Turquoise Mountain, will follow Hussainy: These skilled practitioners in other crafts will travel to Washington and share their skills and traditions with museum visitors. This exhibition is made possible by the support given to Turquoise Mountain Trust through the United States Agency for International Development (USAID). Since 2008, USAID support has provided education and training through Turquoise Mountain increasing economic opportunities and incomes for artists and participants.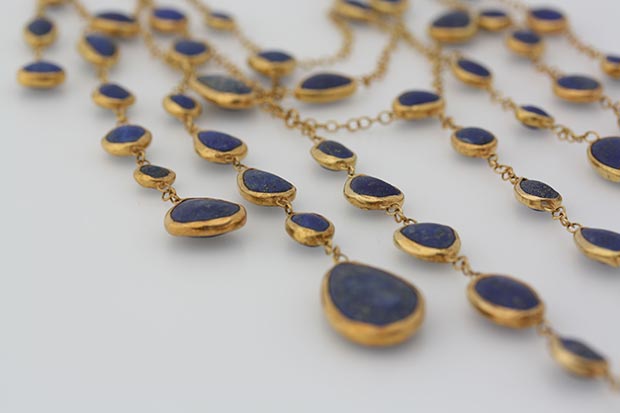 Afghan lapis lazuli has been traded for thousands of years. It can be found in Tutankhamen's funeral mask and was ground into powder for the blue pigments used by Renaissance artists in Europe / Courtesy of Turquoise Mountain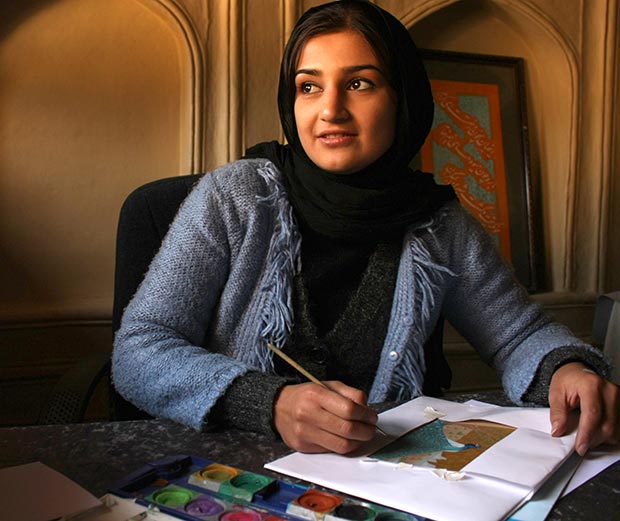 Fakhria Nezami was born a refugee in Peshawar, Pakistan, in 1989. As a teenager she enrolled at the Turquoise Mountain Institute, where she specializes in the technique of nuqtapardazi. She uses the tip of a paintbrush to dab thousands of tiny dots that create an intricate design / Courtesy of Turquoise Mountain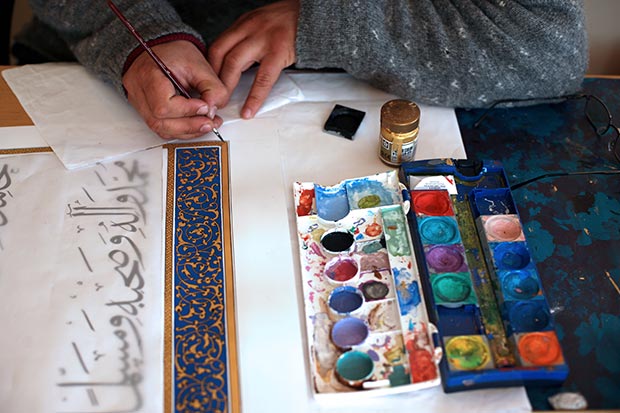 Artisans at the Turquoise Mountain Institute receive an intensive three-year training in their chosen craft, graduating with an internationally recognized City and Guilds accreditation. The Institute is home to the Alwaleed Bin Talal School of Calligraphy and Miniature Painting, the premier school for these arts in Afghanistan / Courtesy of Turquoise Mountain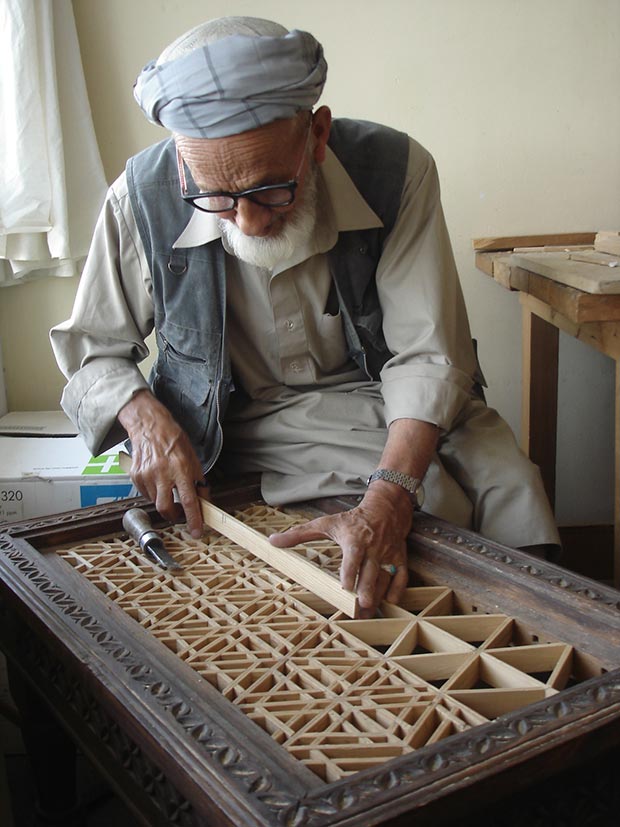 Jali is a form of woodwork that uses slivers of wood, held together by delicate joints, to form hundreds of geometric patterns / Courtesy of Turquoise Mountain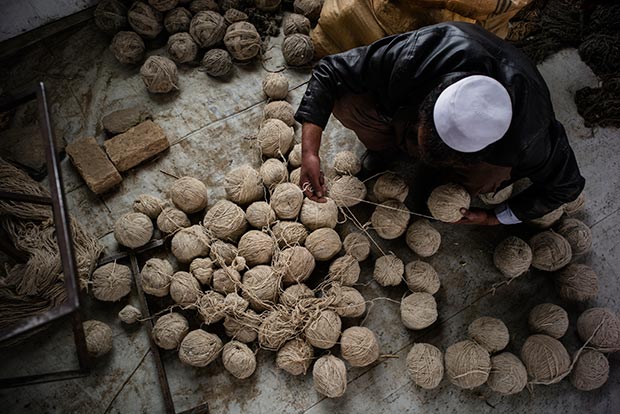 Afghanistan is one of the last countries where carpets are made completely by hand with natural dyes / Courtesy of Turquoise Mountain
The Smithsonian's Freer Gallery of Art and the adjacent Arthur M. Sackler Gallery, located on the National Mall in Washington, D.C., together comprise the nation's museum of Asian art. It contains one of the most important collections of Asian art in the world, featuring more than 40,000 objects ranging in time from the Neolithic to the present day, with especially fine groupings of Islamic art, Chinese jades, bronzes and paintings and the art of the ancient Near East. The galleries also contain important masterworks from Japan, ancient Egypt, South and Southeast Asia and Korea, as well as the Freer's noted collection of works by American artist James McNeill Whistler. The Freer, which will be closed during the exhibition, is scheduled to reopen in spring 2017 with modernized technology and infrastructure, refreshed gallery spaces and an enhanced Eugene and Agnes E. Meyer Auditorium.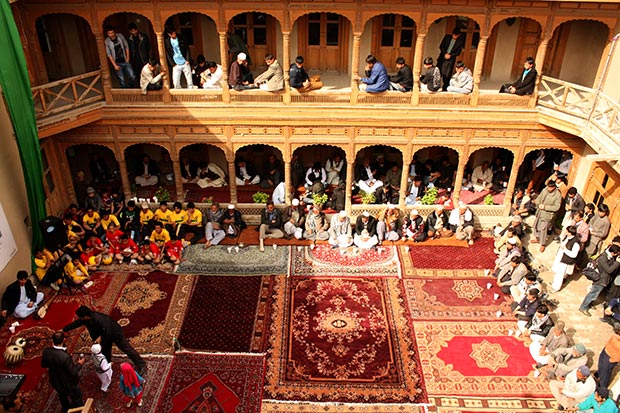 During the 1990s rubber shoes were made from tires at this site. Today this grand serai is home to the Turquoise Mountain Institute ceramics school / Courtesy of Turquoise Mountain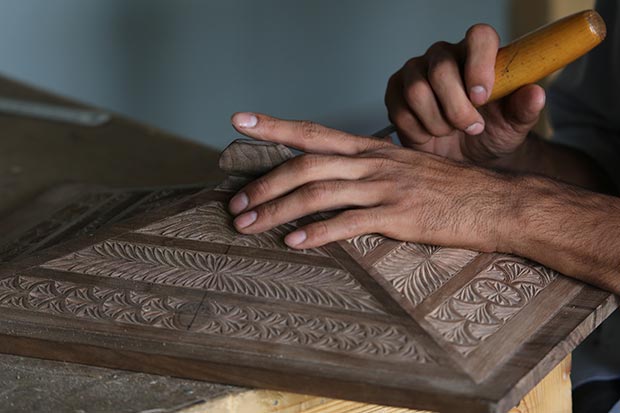 Turquoise Mountain regularly produces pieces tailored to the specific needs of clients, from individuals to museums, hotels, architecture firms, and other businesses / Courtesy of Turquoise Mountain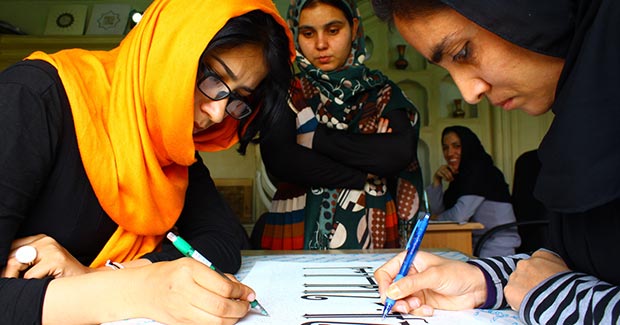 At the age of 25, Samira Kitman (middle) is running Muftah-e Honar, one of Afghanistan's most successful arts businesses. After spending three years learning calligraphy at the Turquoise Mountain Institute, she secured a prestigious commission from the five-star Anjum Hotel in Mecca in 2014 / Courtesy of Turquoise Mountain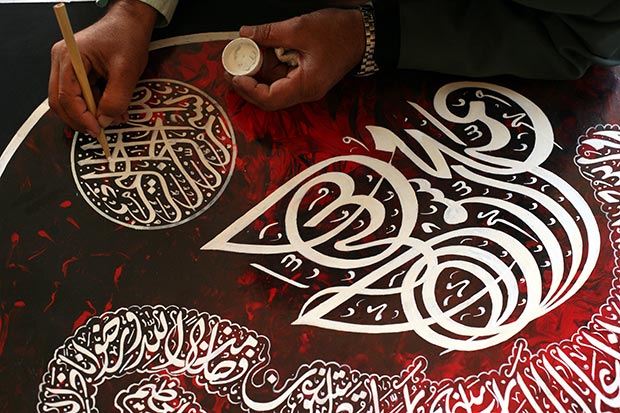 This calligraphy was created by a teacher at the Turquoise Mountain Institute in Kabul. The Institute has trained more than 450 artisans since its founding eight years ago / Courtesy of Turquoise Mountain
Turquoise Mountain woodworkers often incorporate traditional styles and techniques, such as jali latticework and nuristani carving, into contemporary pieces for everyday use / Courtesy of Turquoise Mountain
Turquoise Mountain was founded in 2006 by Rory Stewart OBE (British Member of Parliament, former Harvard professor and best-selling author), under the patronage of HRH the Prince of Wales and then-president of Afghanistan HE Hamid Karzai, Turquoise Mountain Trust has trained hundreds of artisans in traditional arts, rebuilt 112 historic buildings in the Murad Khani district of the historic Old City of Kabul, set up a local primary school and family health clinic serving more than 20,000 patients per year, organized major international exhibitions from the Venice Biennale to the Museum of Islamic Art in Doha and established partnerships with prestigious international retailers from Bloomingdales and Kate Spade in New York, to Pippa Small and Monsoon-Accessorize in London.