An Interview with Abdul Waheed Khalili, director of Kabul's Turquoise Mountain Foundation.
Hello and assalamu alaikum Mr. Khalili. Could you begin by telling us about Turquoise Mountain and how and why it came to be established in 2006?
President Hamid Karzai was on a trip to Europe in early 2006. In a conversation with Prince Charles about the traditional arts of Afghanistan, he mentioned with sadness how most craftsmen had left the country. This discussion on the loss of this long rooted heritage was the impetus for the foundation, established only a few months later with Rory Stewart, now a British Member of Parliament, appointed at its head.
The mission of Turquoise Mountain's Institute for Afghan Arts and Architecture is to safeguard the traditional arts of Afghanistan. Could you tell us a little bit about the Institute and its four schools?
In the beginning there were only three schools: calligraphy and miniature painting, woodworking and ceramics. However, in 2007, we decided, in light of the rich mines of the country, to set up a fourth school: jewelry and gem cutting. We were also concerned that much of Afghanistan's precious stones were being smuggled out of the country and wanted to stop this unfortunate situation. The head of the four schools are all Afghans as are all the professors. When we want to hire a professor, we first go to the crafts district of Kabul to look for one. All of our masters learned their art and craft in an apprenticeship system and they are going to transfer their knowledge and skills through the same apprenticeship way to the new generation because we are looking to preserve it as part of the Afghan cultural heritage.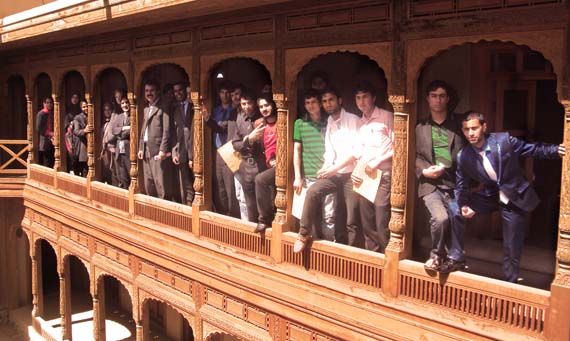 TM Institute - Students of the Ceramic Department / Image Courtesy of TM Institute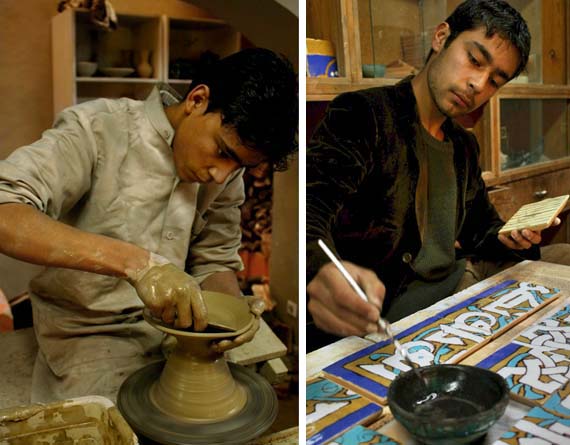 TM Institute - On the left we see Shaeeq and on the right is Samim, both students at the Ceramic Department / Image Courtesy of TM Institute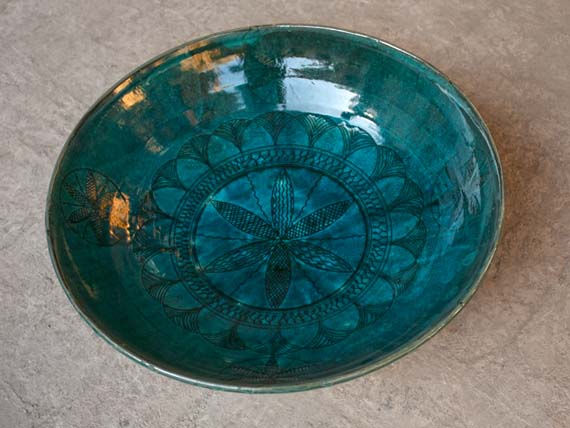 TM Institute - Artwork done by students at the Ceramic Department / Image Courtesy of TM Institute
Modernity and industrialization have affected the state of traditional arts and crafts the world over. How were the traditional arts faring in Afghanistan before the opening of the school and were there still sufficient Afghan master craftsmen and women able and willing to transmit their knowledge to future generations?
When the school opened, there was no other institution in the country to revive Afghan art and architecture. Most of the craftsmen and women were living outside of the country, for example in Pakistan and Iran and so we had to find them. However, what is important to note is that we are so well established now that we have inspired the emergence of smaller schools and centers. People now come to us asking for help and direction, wanting to know how to organize a crafts training center, how to choose masters, how to make a curriculum and so on. In fact, we are hoping to open branches of the school in different provinces sometime in the near future.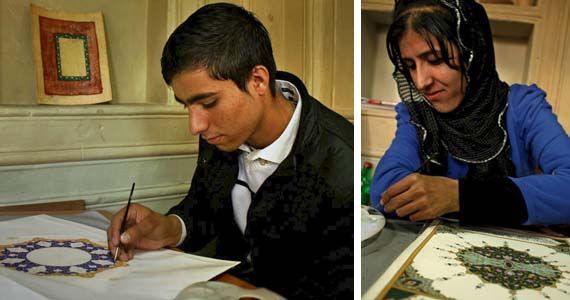 TM Institute - On the left we see Abdullah, a student of calligraphy and on the right is Rita, a miniature painting student / Image Courtesy of TM Institute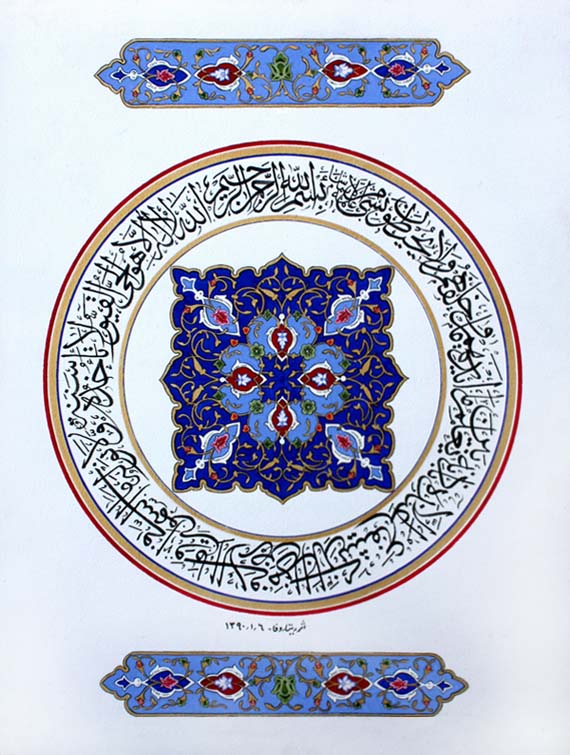 TM Institute - Artwork done by students at the Calligraphy Department / Image Courtesy of TM Institute
Could you say a few words about some of the master artisans teaching at the school?
Our Master woodworker and jali-maker Abdul Hedi, now 83, is perhaps the most famous. He used to carve jali screens and other diplomatic gifts for the former Afghan king Zahir Shah. He was from a family of craftsmen. He learned the art from his father who had in his turn learned it from his father. During the period of turmoil, he was earning his living in Kabul by making small wooden objects that he would send to an international company. The former head of Illumination and miniature painting, Mohammad Tamim Sahib Zader is also a gifted artist; he is now teaching in another school in Kabul both traditional miniature painting and contemporary art. The current teacher of this division at TM, Muhammad Mehdi Banaee, is in fact from Heart, which has a rich artistic history and a well-known art school. His father was also a miniature painter and teacher trained in the Herat style.
Historically, Afghanistan was an important centre for a variety of Islamic arts from textiles, to metalwork, or the book arts and architecture. The teachers and students at the institute all express a great attachment to and pride in this artistic heritage. How widespread is this appreciation in the general public and is there a growing local demand for handcrafted goods?
You know, in the last five years we have witnessed a very big change. In 2006, no one came to see our first exhibit. But our last exhibit brought in more than 2000 visitors! The mayor of Kabul and the Minister of Culture and Information came, as did several deputy ministers and Members of parliament. There was also a positive response from the general public. That locals are starting to buy traditional ceramics, calligraphy, jewelry, and woodworking shows a big and positive change for our society.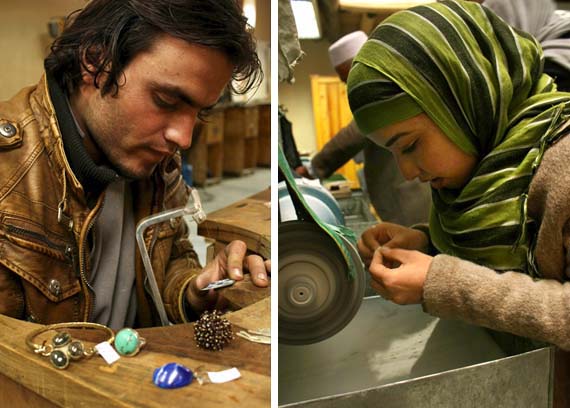 TM Institute - On the left we see Monawer Shah, a jewellery student and on the right we see Rohina Gem, a cutting student / Image Courtesy of TM Institute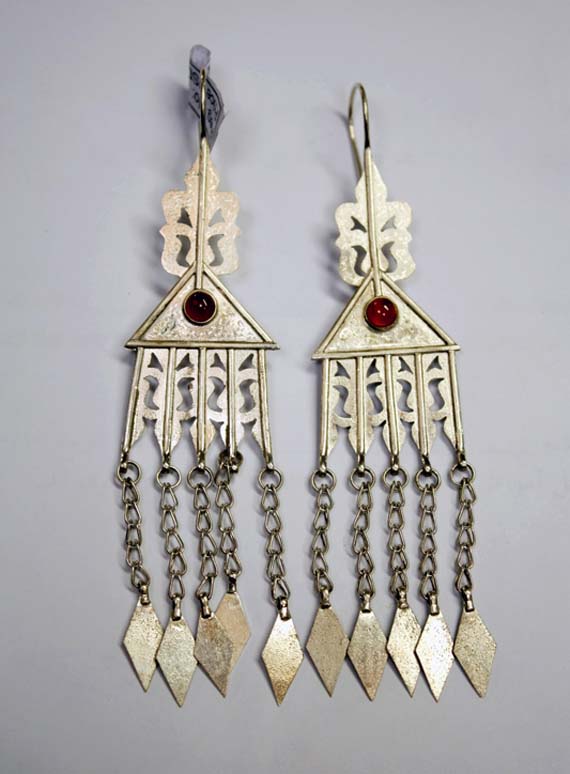 TM Institute - Artwork done by students at the Jewelry Department / Image Courtesy of TM Institute
I find it interesting that students learn traditional techniques while equally integrating newer technologies when useful. I imagine that this same fruitful type of negotiation between past and present comes into play in the decision-making around the designs of the collection of artifacts that you now sell worldwide.
As you know, Turquoise Mountain was approved by the City and Guilds of London Awarding Organization, and is now therefore Afghanistan's only internationally accredited vocational education institution. One of the requirements of City and Guilds is that forty percent of the curriculum focuses on the teaching of design and sixty percent on practical education. This emphasis has brought about a siginificant change, even for our masters because they now also have a new language and tools. So while the Institute's master craftsmen are training a new generation of artisans, students are now discussing design issues with their teachers and experimenting more actively. This is good because the demand of the market is different than twenty years ago: clients want a product to be both traditional and modern.
The pre-modern world, perhaps most particularly the Muslim world, was largely premised on and throve on a crafts-based economy. Today, despite the proliferation and low cost of the mass-produced objects that have come to generally replace handcrafted ones, the market for and economic potential of the global crafts market remain very strong. How successful has Turquoise Mountain been in this regard and how important is the craft sector to the Afghan economy.
In the past Afghanistan's income was based on local handicrafts, and now we have many goods that are being imported from India and Iran that are cheaper, and this has a bad effect on the Afghan handicrafts sector. However, the public increasingly wants to buy products of good quality to decorate their homes or offices. We have developed very good relationships with Afghan businesses, Kabul businessmen in particular, who are appreciating Afghan made crafts more and more. When you compare for example Pakistani and Afghani carved wood, you can see a difference in quality. People are also aware that it is good to encourage national products and to keep the money in the country. The government is also developing the handicraft sector through, for example, the Social Affairs Department, and so we are hopeful that traditional arts and crafts will become again an important part of the Afghan economy.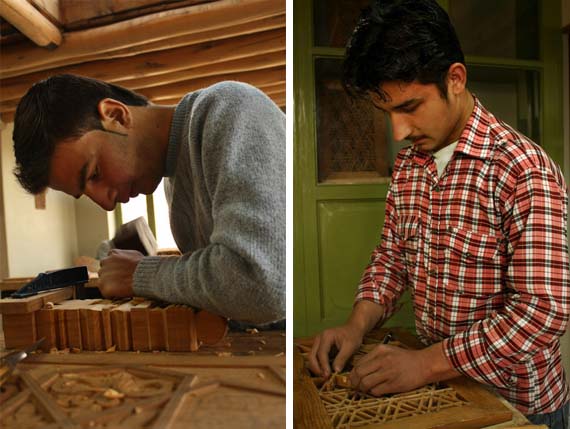 TM Institute - On the left we see Mustafa and on the right we see Khalid, both woodwork student / Image Courtesy of TM Institute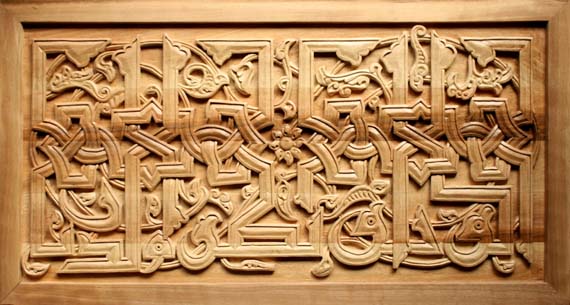 TM Institute - Artwork done by students at the Woodwork Department / Image Courtesy of TM Institute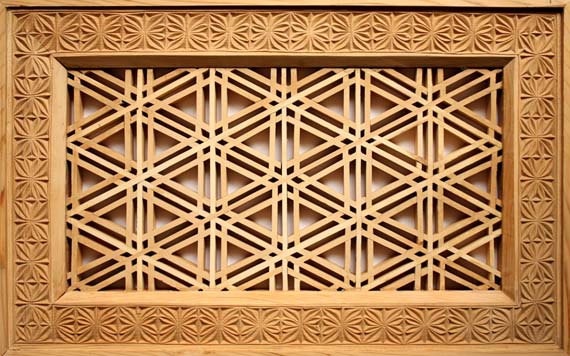 TM Institute - Artwork done by students at the Woodwork Department / Image Courtesy of TM Institute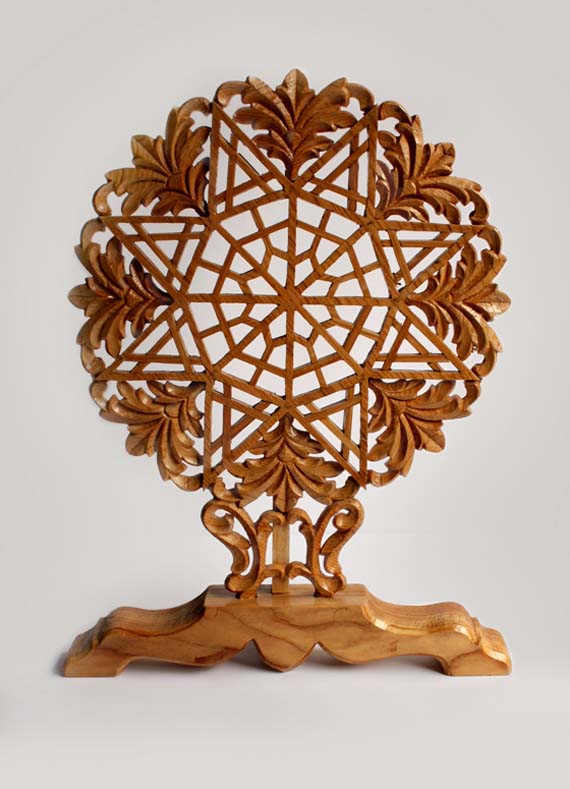 TM Institute - Artwork done by students at the Woodwork Department / Image Courtesy of TM Institute
Which country is your best market and who buys more, individuals, private patrons, or businesses like museum shops, department stores and so?
In the past, Afghanistan found a good market in Europe and there is some potential for us in countries like Germany and France. We have good market customers in Canada, Britain, and Arab countries like Qatar. We are trying to establish more and further develop relationships with Arab countries. We have two kinds of customers, companies that sell our work like the new Canada-based Jali Designs, or else individuals that have heard about TM through the press, the internet or while visiting Afghanistan.
Turquoise Mountain has also been involved in curatorial events. You have organized several exhibits outside of Afganistan such as "Ink from Ashes". Could you tell us something about the art exhibited and how the show was received?
In 2007, we had an exhibit in Bahrein at the Bait al-Qur'an. "Ink from Ashes", a show of Afghan calligraphy, was the biggest show of this type ever held in the Middle East. Showcasing, the best Afghan calligraphers, it was very well received by the Bahreini public. We have also held two shows in Pakistan displaying Afghan contemporary art which were also very successful. We entertain good relationships with institutions in other countries, and we will be having an exhibit in Qatar in February or March 2012.
In addition to teaching craft techniques to the students, you also equip them with the skills to set up their own workshops and businesses. A good generation of students, male and female, has now graduated from the Institute for Afghan Arts and Architecture. Have most managed to make their living from their art?
The total number of graduates from TM is 69. We keep in close contact with all students for for three to five years after their graduation. Twice a year, we survey our gradates about what they are doing, who is working in his or her related craft, who left the craft, who came back to the craft, who completed further study, etc. Out of this 69, 46 are working on their own craft, 11 went on for further study, 12 have other businesses but continue to work on their crafts in their own time, after work as a supplementary income. TM Institute graduates have in fact established four new companies and one artistic foundation.
My last question concerns location. The school is, I believe, now settled in the Murad Khane district of Kabul. Why was moving the school into the historic part of town so important for you?
Murad Khane is one of oldest areas of Kabul, all the houses and buildings are traditional houses. The architecture, materials and architectural decoration are traditional and in harmony with our culture and cultural identity. Many Afghans had lost their culture because of three decades of war but we have in our mission to bring it back and to sustain and preserve it. We have a very strong community in Murad Khane now. People are caring for their houses, keeping the streets clean and so on. We are confident that this area will be as important as it was a hundred years ago. That is the purpose of the Turquoise Mountain Foundation: to help people ensure the future and continuity of their tradition and cultural identity.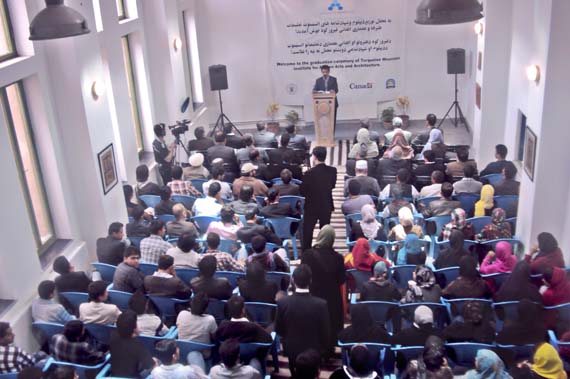 TM Institute Asemble / Image Courtesy of TM Institute
I thank you very much Sir. I applaud you for the great achievements of Turquoise Mountain as I urge the readers to visit your site and even shop online at Turquoise Mountain Foundation
I thank you for the opportunity. We want to spread the message of our work and the beauty of our art as wide as possible.