Bespoke Pieces to Showcase During Design Days Dubai in March
A panel of internationally-established contemporary design experts selected four UAE-based designers Talin Hazbar, Rand Abdul Jabbar, Saher Samman and Latifa Saeed for Tashkeel's 2014-15 Design Programme. As part of Tashkeel's long-term commitment to supporting locally-based designers, this programme enhances the diversity of the region's cultural skills and resources, influenced from traditional to modern elements of the UAE. Tashkeel annually selects talented designers from an open call, providing an opportunity to create products that exemplify a design, style and production processes innate to the UAE. These final works will be presented at the fourth edition of Design Days Dubai.
In collaboration with PAL Labs, the UK's leading organization for studio based processes designed to facilitate the needs of designers to create pioneering and imaginative work, this programme has provided the designers with an exclusive opportunity of sustained mentorship with established designers and curators through a series of workshops. With continuous evaluation throughout the programme, the designers have produced work individually and in groups, encouraging experimental and collaborative practice, while receiving constructive feedback and exploring new methods.
Rand Abdul Jabbar moved to the UAE in 1995 from Iraq and has formed a deeply rooted relationship with the land, people and its customs. The multi-ethnic backdrop of her upbringing in the UAE has driven a desire and commitment to engage opportunities for dialogue and cultural exchange through a variety of creative processes. She is creating 'Forma,' a series of furniture including chairs and table, with the objective to expose people to the beauty and craft of dhow building and provide them with a new sense of appreciation for a profession that has been slowly dying away over the past few decades.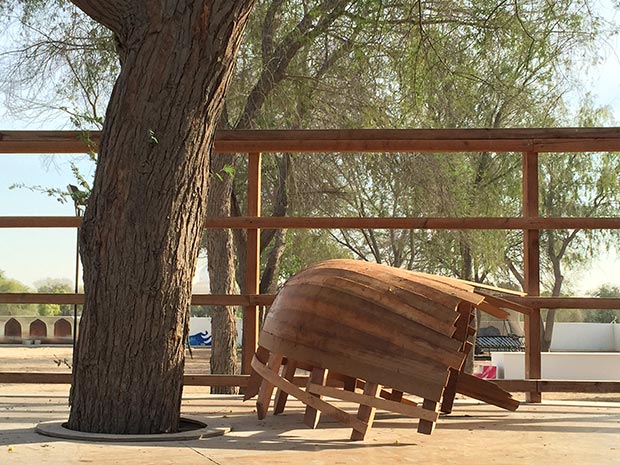 Rand Abdul Jabbar, 'FORMA', furniture, dimensions variable, 2014/2015 / Courtesy of Tashkeel
Saher Oliver Samman, born in London to an English mother and Palestinian father, has mastered the skills of traditional leather design, creating bespoke garments and objects. His work 'Woven' (a hammock) is a furniture piece which identifies with the sadu aesthetic using both a material that he's very familiar with along with woods and metal.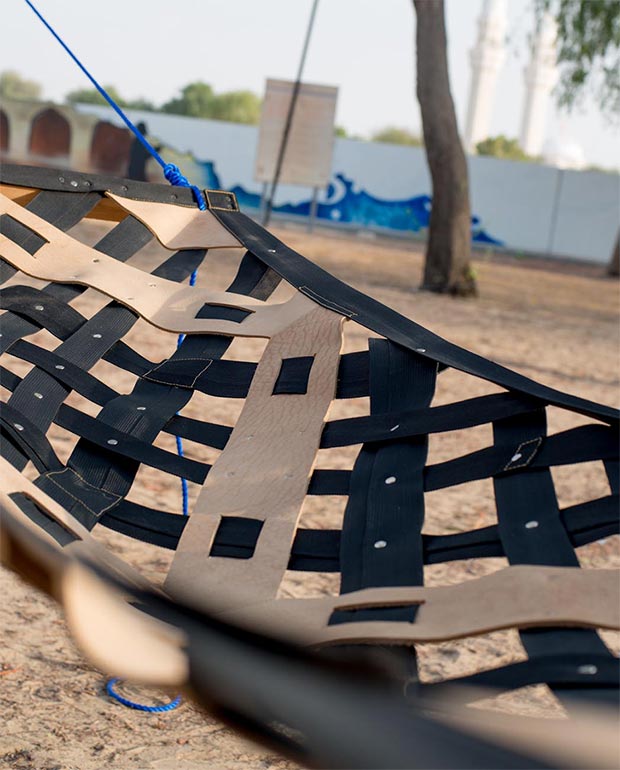 Saher Oliver Samman, 'Woven', hammock, leather, wood and metal, 250x100 cm, 2014 / Courtesy of Tashkeel
Talin Hazbar is Aleppo-born and raised in the UAE and a recipient of various regional and international art awards. She explores structure and the material possibilities of natural resources and plans to work with travertine, a form of limestone deposited by mineral springs. Hoping to bring a local folktale to life, Hazbar is creating 'Lithic', an innovative lighting piece.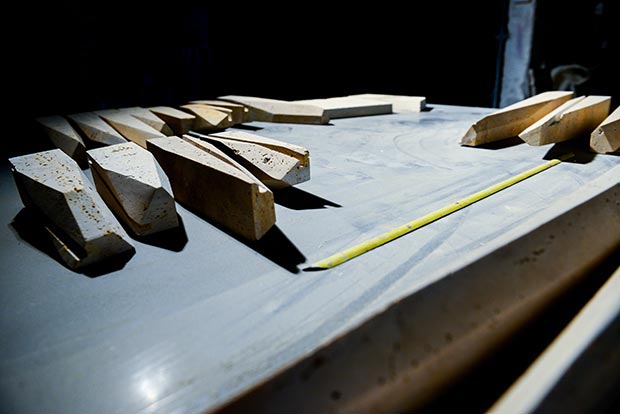 Talin Hazbar, 'Lithic', light installation/chandelier, marble and stone, dimensions variable, 2014 - 2015 / Courtesy of Tashkeel
Latifa Saeed, participating in this programme for the second time, enjoys exploring concepts, collaborating with artisans and designing without limitations. Having presented a seating collection made up of cushion tubes in the form of braids, this year, she adopts khoo sweaving, using palm tree leaves which makes up 98% of the fruit trees in the region. Playing a significant role in the history of the Emirates, the fronds also provide shelter for the people as well as fans, baskets, food trays and similar functional items. She hopes that 'Kinetic Khoos,' a series of children's toys, will challenge people's perception of a traditional craft and recognise the importance it can play in daily life.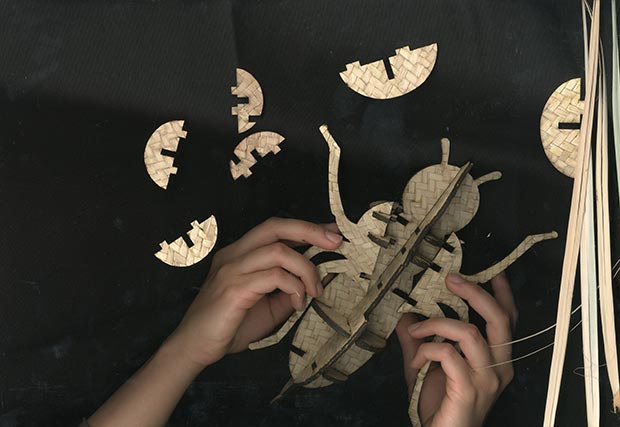 Latifa Saeed, 'Kinetic Khoos', series of kinetic design installations, Khoos (Palm frond / leaf), dimensions variable, 2014-2015 / Courtesy of Tashkeel
The Design Programme panel is made up of: Deyan Sudjic, Director of the Design Museum in London; design historian, curator and gallerist Libby Sellers; Emirati designer Khalid Shafar; and artist Lateefa bint Maktoum, Founder and Director of Tashkeel.
Further information about the designers or the 2014-15 programme.