Wissam Shawkat's conceptual calligraphic style works by are on view at the XVA Gallery
Iraqi born, Dubai based, Shawkat, known for his conceptual calligraphic style works is presenting his most recent works on paper and linen, a continuation of a series that marked his departure from traditional calligraphy and made his introduction to the Middle Eastern contemporary art scene.
Wissam Shawkat explains his transition from traditional calligraphy to abstract art, "I am a calligrapher turned conceptually motivated artist. How does someone self-trained in the most rigid, rule-based medium break out into abstraction? Now more than 30 years into my calligraphy practice, I dutifully studied traditional scripts, compositions, and forms until at last I felt qualified to judge which principles could be overridden and unbound, and which were to remain. Before calligraphy was canonized as a form it was once considered revolutionary and experimental. My practice is an effort to take it back to that disorienting place that teeters on the edge of what is known and what is unfamiliar."
Shawkat continues, "I am drawn to the graphic value of the Arabic letters well beyond their literal meanings. For instance, the sharp tail of a 'ha' can be cut off from the curved body of the letter and serialized with pen or brush at unrecognizable angles. Although it may have initially come to me by meditating upon a letter, the ultimate shape is a monumental form that is not exclusively anchored in the Arab world. I am moved as much by old Turkish masters as I am by the Bauhaus, Geometric Abstraction, Futurism, Cubism, and Cecil Touchon's collages."
His style, which is referred to as Calligraform, focuses on the precise forms of the letters, but also the abstract shapes generated by examining the geometric spaces inside and outside of their structures.

Wissam Shawkat, 4 Seasons, 2016_8 color screen print acid free paper, 20x80 cm / © Wissam Shawkat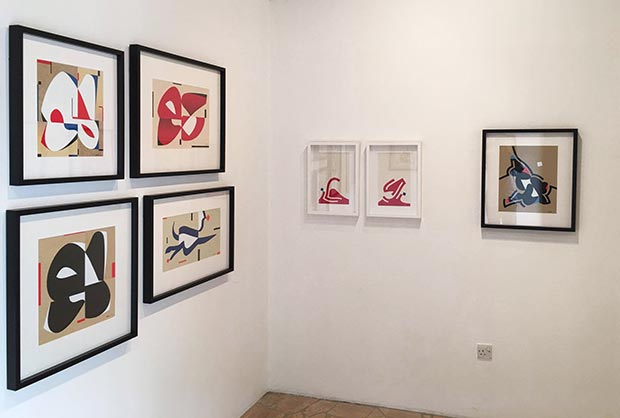 Wissam Shawkat, Installation view / © Wissam Shawkat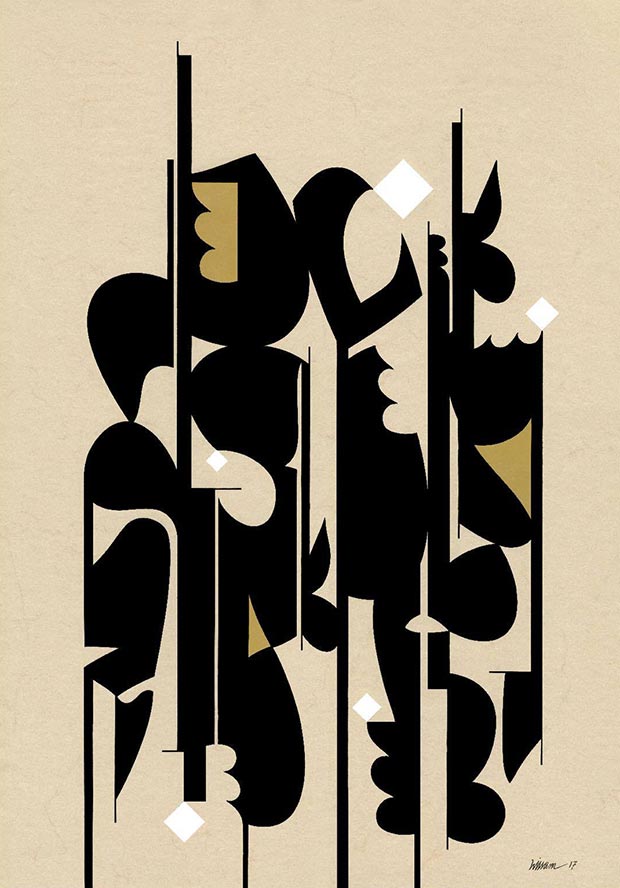 Wissam Shawkat, A New Geometry, 2017, Acrylic colors on treated paper, 80x56 cm / © Wissam Shawkat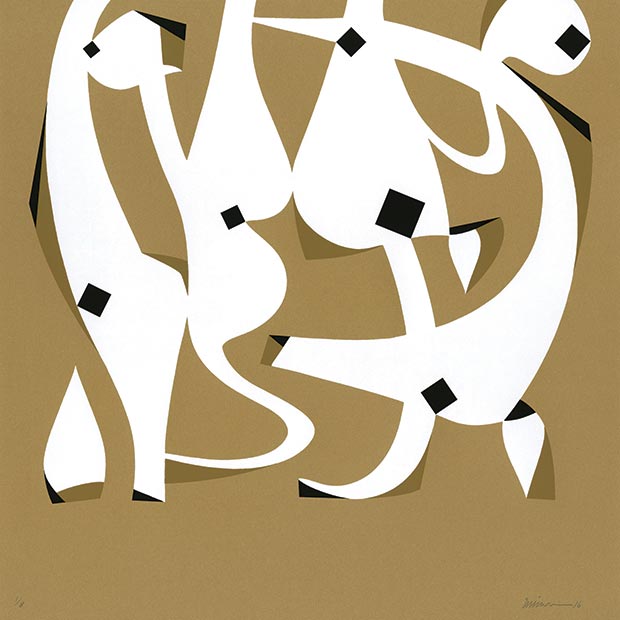 Wissam Shawkat, Dancing Figures, 2016, 3 color screen print acid free paper, 40x40 cm / © Wissam Shawkat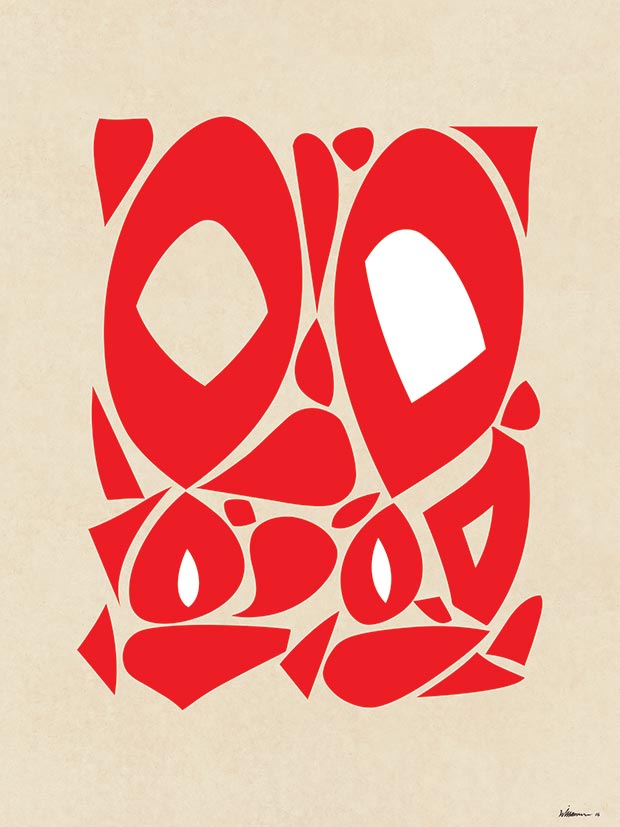 Wissam Shawkat, Through the Eyes of Letters, 2016, Acrylic colors on treated hand made paper, 60x45 cm / © Wissam Shawkat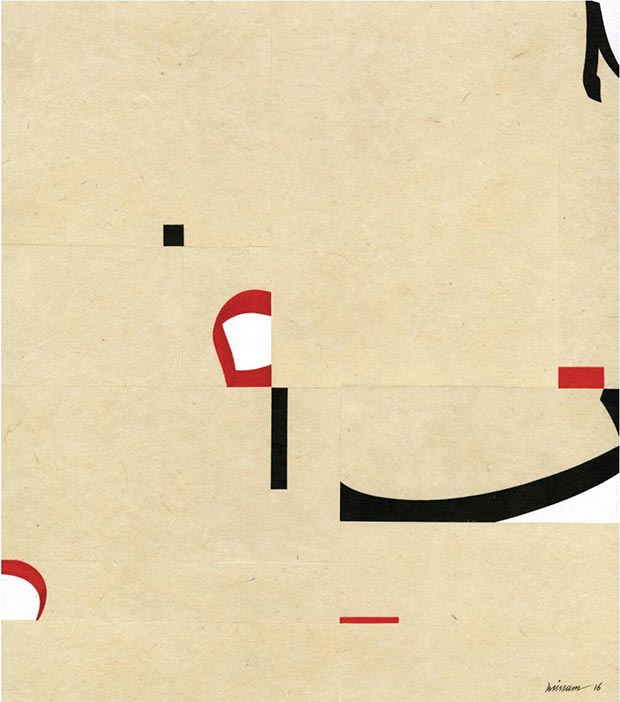 Wissam Shawkat, Lost, 2016, Mixed media acrylic on acid free board, 35x30 cm / © Wissam Shawkat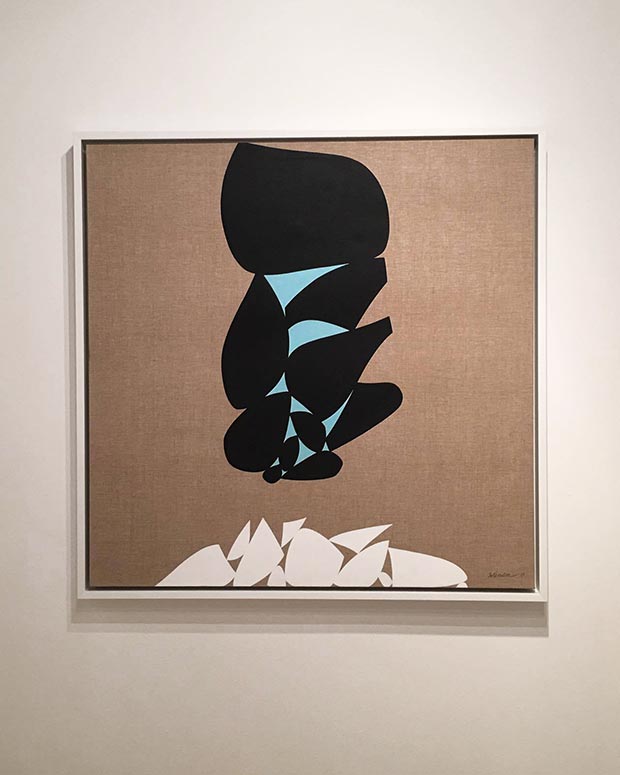 Wissam Shawkat, Balance, 2017, Acrylic colors on linen canvas, 100x100 cm / © Wissam Shawkat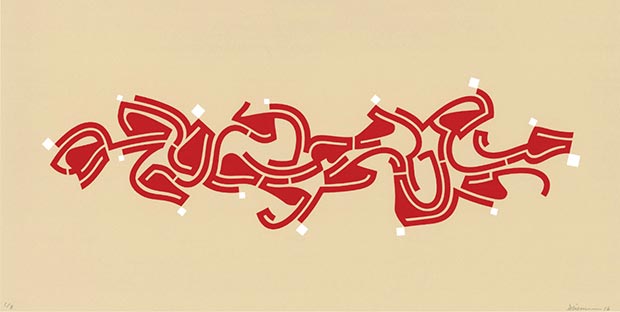 Wissam Shawkat, Symphony 4, 2016, 2 color screen print on acid free paper, 20x40 cm / © Wissam Shawkat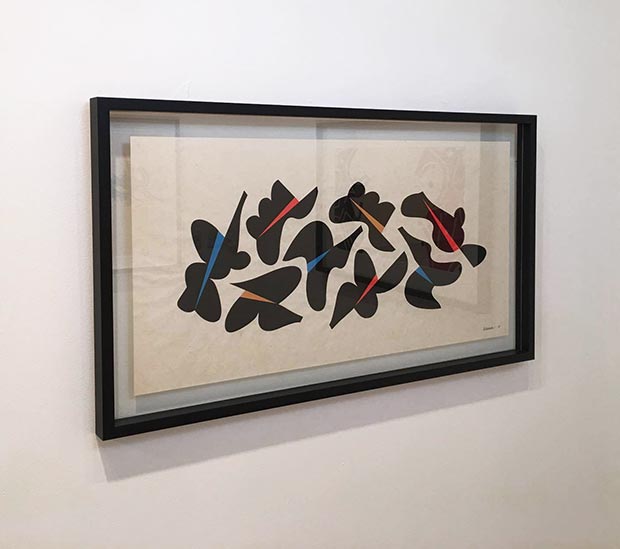 Wissam Shawkat, Together, 2016, Acrylic colors on treated handmade paper, 45x91 cm / © Wissam Shawkat
Wissam Shawkat was born in 1974 in Basra (Iraq). As a master of calligraphy he has received numerous prizes and has participated as both an artist and committee member at multiple editions of the Sharjah Calligraphy Biennial and the Dubai International Calligraphy Exhibition. 'Letters of Love', his 2011 solo exhibition at Reed Space in New York, introduced a global audience to a series of contemporary compositions. With 'Monumental 11/11', a 2016 exhibition at Tashkeel (an influential creative hub and gallery in Dubai), Shawkat visually announced his break with traditional calligraphy and his commitment to instead use the letters as a foundation for works of dynamic abstraction.
Shawkat is based in Dubai, where he is engaged full time as an artist, designer, and Arabic typographer. His work is regularly featured in books on Arabic calligraphy and typography, included in museum exhibitions, and acquired by private collectors.
The exhibition is on view at the XVA GALLERY, Al Fahidi Historical Neighborhood, Bur Dubai until March 7, 2017.