The fifth edition of Abu Dhabi Art presented a broad spectrum of art and design, registered unprecedented sales and hosted its most diverse public programme to date
Photo above: Manarat Al Saadiyat / Courtesy of Abu Dhabi Art
A world-class display of quality art that ranged from monumental works to small scale creations, and curated exhibitions to solo performances; a stimulating array of talks and discussions by luminaries from the art world; and a multi-sensory public programme encompassing art, music, dance, poetry and films - these were some of the highlights of Abu Dhabi Art 2013, which closed on November 23.
50 leading galleries from around the globe presented modern, contemporary art and design by more than 400 artists at Manarat Al Saadiyat on Saadiyat Island. The event attracted a growing number of collectors and well-known personalities such as designer Rick Owens, Ferrari Chairman Luca di Montezemolo and collector Guy Ullens, as well as representatives of more than thirty esteemed art institutions such as The British Museum, Musée du Louvre, Musée Rodin, Solomon R Guggenheim Foundation, Musée d'Orsay, Tate Modern, Musée l'Orangerie, Musée Guimet, Musée du Quai Branly, Moderna Museet, Musée de Cluny, Qatar Museums Authority, Sharjah Art Foundation and Centre Georges Pompidou, underlining Abu Dhabi's position as an international cultural centre and art hub.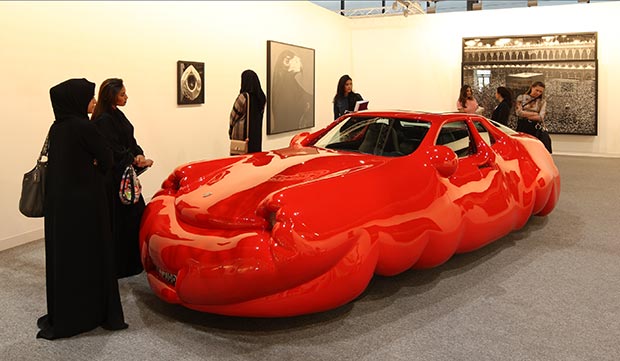 Fat Car by Erwin Wurm, Galerie Thaddaeus Ropac / Courtesy Hesmerg Photography
One of the most exciting elements of Abu Dhabi Art 2013 was Bidaya (from the Arabic word 'beginning'). The galleries less than three years old were offered the opportunity to showcase their artists and programmes on an international stage. This year, UAE gallery Lawrie Shabibi showcased artists from their impressive repertoire.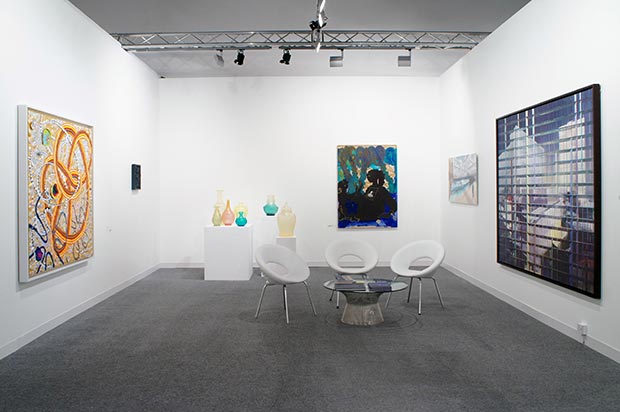 Lawrie Shabibi at Abu Dhabi Art 2013 / Courtesy of Lawrie Shabibi
The new Artists' Waves section of the fair presented works by artists selected by a curator rather than the artists' galleries. This part of the fair was designed to reflect the dynamism of new artistic movements and shifting perceptions of art, and featured a relaxed salon-style setting that offered an innovativeway for visitors to interact with the galleries and to discover new artists.
Another new feature of the fair was the Small is Beautiful exhibition. This addition to Abu Dhabi Art's popular Art, Talks and Sensations programme, curated by Fabrice Bousteau, featured small scale artworks by artists such as Jean Michel Basquiat, Erwin Wurm and Subodh Gupta. Describing it as 'the smallest art fair in the world', Bousteau presented the artworks on tables under spotlights in a darkened area to create a spectacular visual experience.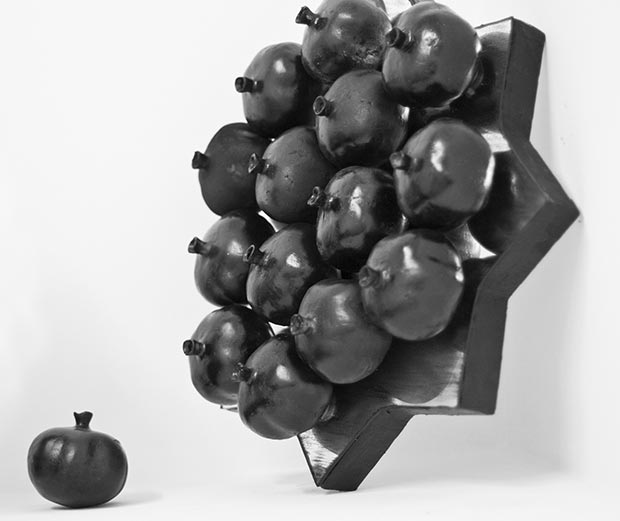 Small is Beautiful / Samira Hodaei, Baagh-e Jahan Nama, The Wishing Well, 2013 / Courtesy of Abu Dhabi Art
At the other end of the spectrum, the fair featured an expanded Beyond section with 11 monumental works such as Jukhee Kwon's waterfall-like paper installation 'Arabesque dream' and Hassan Sharif's outdoor installation 'Iron No. 5'.

Beyond / Hassan Sharif, IronNo.5, Gallery Isabelle van den Eynde / Courtesy of Abu Dhabi Art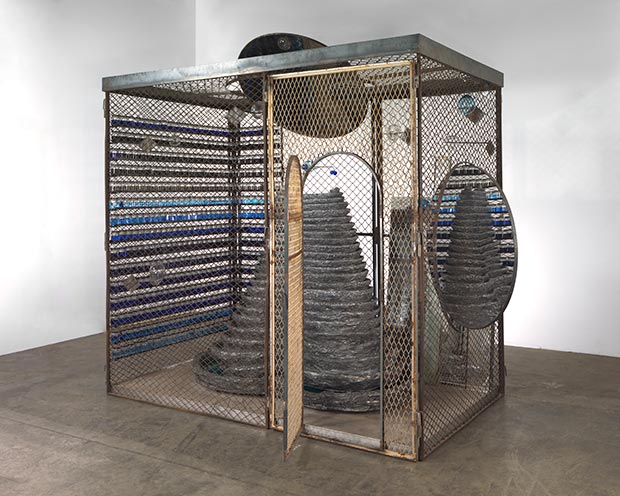 Beyond / Cheim and Read, LouiseBourguoise, Cell XV (for turner) / Courtesy of Abu Dhabi Art
For Abu Dhabi Art 2013, galleries brought a very wide variety of art, ranging from monumental museum quality works to small works on paper, and from iconic pieces by masters to experiments with new media by dynamic young artists. With price points ranging from $ 2,500 to more than $ 23,000,000, there was something for everyone. The fair attracted buyers from across the region, as well as international collectors and museums. Despite a few hours on the second day being lost due to severe weather, galleries reported strong sales, right from the vernissage up to the last hour before closing.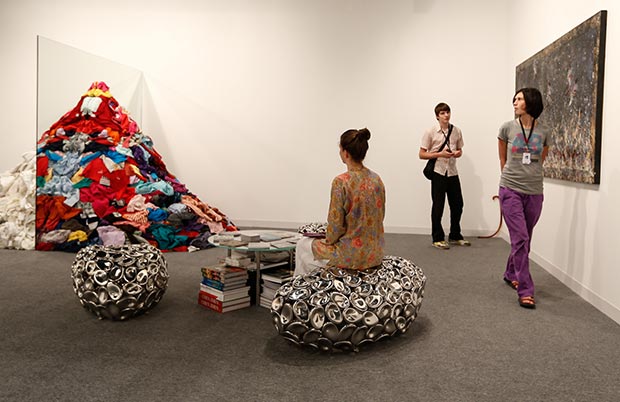 Abu Dhabi Art 2013 / Courtesy of Abu Dhabi Art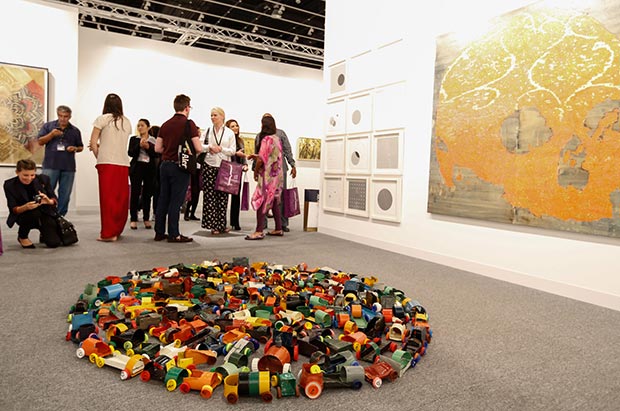 Abu Dhabi Art 2013 / Courtesy of Abu Dhabi Art
The expanded Abu Dhabi Art Design programme showcased a wide spectrum of avant-garde designs and highlighted the UAE's unique aesthetic, with a special focus on architecture. The centrepiece of the Design programme was a structure made from recycled cardboard rolls by legendary Japanese architect Shigeru Ban. The specially commissioned work housed the Design Souq featuring products, talks, demonstrations, and workshops by Emirati and international artists and artisans.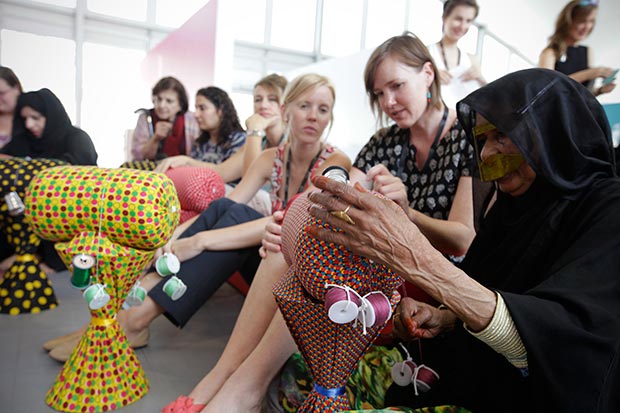 Abu Dhabi Art Design / Courtesy of Abu Dhabi Art
The public programme was the fair's most diverse to date. Art, Talks and Sensations returned with a new theme of 'Dunes and Waves', representing the visual and transitional desert landscape and the constant rippling of the sands. The performances included Chassol's mesmerising film and live musical performance 'Indiamore', a choreographic depiction of human relationships by hip hop dancers Honji Wang and Sebastian Ramirez, and an installation of plants that produced sounds when touched.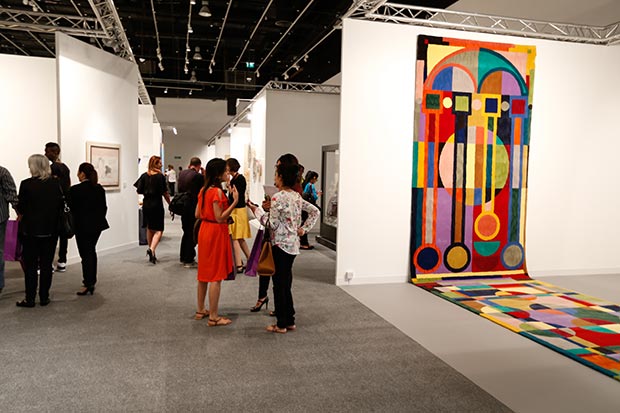 Abu Dhabi Art 2013 / Courtesy of Abu Dhabi Art
The launch of Durub Al Tawaya, a performing arts programme, curated by Tarek Abou El Fetouh, took the fair beyond Saadiyat Island into the city of Abu Dhabi, by creating a route connected by cultural happenings at various locations around the city. Besides converting four public buses into travelling art installations, holding workshops and storytelling performances on boats and poetry reading sessions and hip hop dance competitions, the programme also engaged with new audiences on the streets of Abu Dhabi through public buses decorated by artists with extracts from traditional Emirati poems.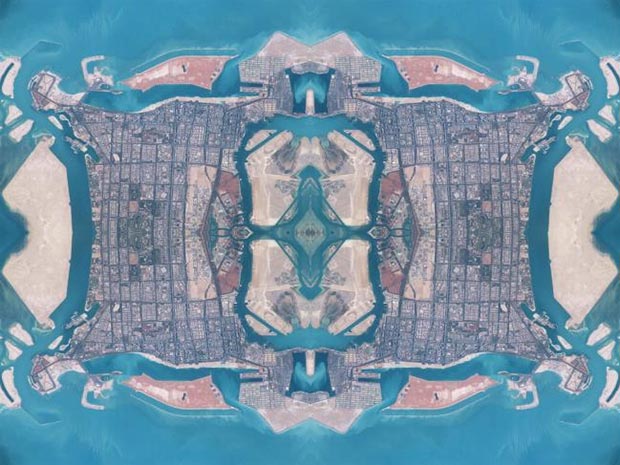 Zeinab Al Hashemi, Phantasmagoria, Series 1, 2013, ©Zeinab Al Hashemi / Courtesy of Abu Dhabi Art
Guggenheim Museum and Foundation Director Richard Armstrong and Centre Georges Pompidou President Alain Seban, architect Jean Nouvel and writer Anna Somers Cocks participated in stimulating panel discussions on issues related to contemporary art, design and architecture as well as in the Guggenheim Abu Dhabi: Talking Art Series, which featured in-depth conversations with contemporary artists Yang Fudong, Heinz Mack, Marwan, Hassan Sharif and Monika Sosnowska.
Emirati and regional artists, designers and filmmakers were well represented throughout the fair. Hassan Sharif, Abdul Qader Al Rais and Dr. Najat Makki were among those who participated in talks and in a discussion on the history and future of Emirati art, alongside six artists showing in the Emirati Expressions: Realised exhibition also garnering significant attention from visitors (Abdullah Al Saadi, Ebtisam Abdulaziz, Layla Juma, Mohamed Al Mazrouei, Mohammed Ahmed Ibrahim, and Mohammed Kazem).
As always, the art and design workshops were heavily oversubscribed and the Art Zone, reserved for children, was buzzing with thousands of youngsters looking to discover the artist within themselves. The Julius Baer Lounge, hosted by the leading Swiss private banking group and principal sponsor of Abu Dhabi Art 2013 also got into the artistic spirit with an artwork that offered visitors a virtual tour of Switzerland, reaffirming the fair's theme of cross cultural exchange and blurring of geographic boundaries.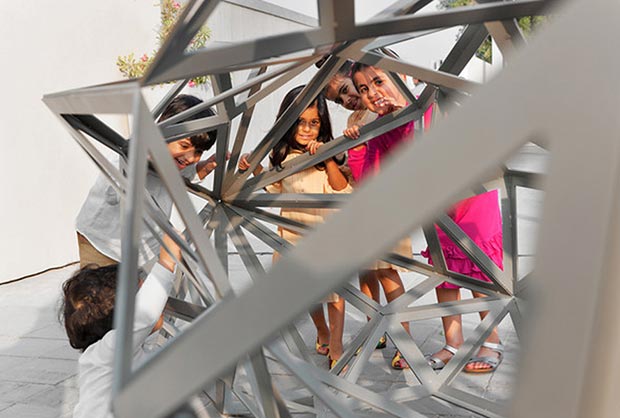 Family Day out at Abu Dhabi Art 2013 / Courtesy of Abu Dhabi Art
"The quality of art brought by top galleries, the presence of collectors and visitors from around the world, the participation of leading artists, curators and art professionals from prestigious international and regional art institutions in our public programme, the variety and calibre of the performances and the positive response from the community have all contributed to the success of Abu Dhabi Art 2013. The vision for Abu Dhabi Art goes beyond that of a traditional fair and the 2013 edition facilitated a deep and meaningful cultural dialogue that has enriched the art landscape, further invigorated the market in the region and reiterated the UAE's position on the international art map," said HE Sheikh Sultan bin Tahnoon Al Nahyan, Chairman of Abu Dhabi Tourism & Culture Authority (TCA Abu Dhabi).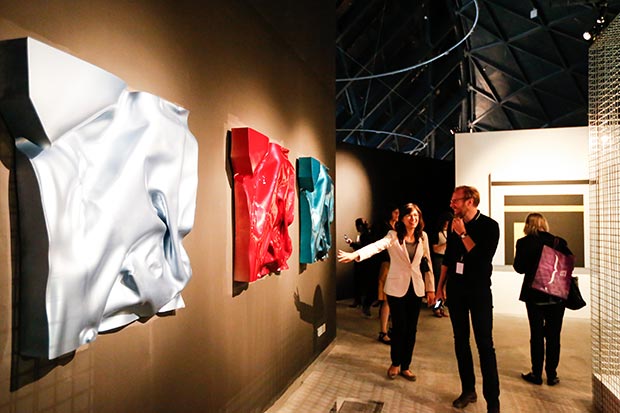 Abu Dhabi Art 2013 / Courtesy of Abu Dhabi Art
Abu Dhabi Art,is organised by Abu Dhabi Tourism & Culture Authority, and sponsored by Bank Julius Baer Co. Ltd., is an annual platform for modern and contemporary art and design. The sixth edition will be held from 19-22 November 2014.